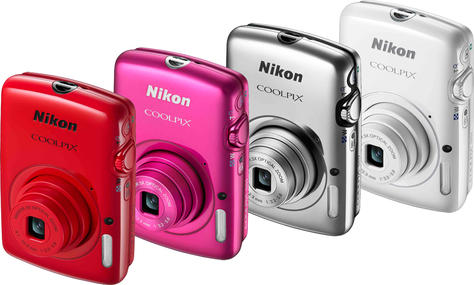 The Nikon COOLPIX S01 is the new ultra-compact camera produced by Nikon with a weight, less than 100 grams and the size comparable to that of a credit card. Nonostrante of the reduced size the camera incorporates a CCD sensor 1/2, 9 " by 10 Mp in combination with a NIKKOR 3x optical zoom lens (29-87 mm) and a LCD display 2.3 inch TFT touch screen with a resolution of 230k points.
The Nikon COOLPIX S01 also allows you to create HD movies (720p) with no blur, as well as still images, thanks to the reduction of vibrations in combination with the detection system-blur technologies that compensate for the movements of the subject and the camera.
Nikon COOLPIX S01:Design
The Nikon COOLPIX S01 is an ultra-compact camera that is the size of one of its strengths. The camera is available in different colors (black, Rosss, white, pink and gray) and comes with an attractive design, all in a weight of just 96 grams, an aspect that helps makes this device ideal for every occasion.
The dimensions are precisely of the most interesting since they are comparable to those of a credit card (approximately 7.7 x 5.12 x 7.72 cm). Despite the compact size of the camera body at the back, we will find a display 2.5-inch TFT LCD touch screen with a resolution of 230,000 dots and anti-reflective treatment.
Nikon COOLPIX S01:Features and Functionality
The Nikon COOLPIX S01 is a camera that makes the latest generation of style and glam of his character one of its strengths without neglecting the technological features with the height of the higher-end compact cameras. One of the most interesting is certainly the lack slot for memory cards because they are not made necessary due to an internal flash memory of 7.3 GB; probably, this choice was necessary given the small size of the camera, but it is not absolutely detrimental since with such an ability, you can store up to 3000 images (at a maximum resolution of 3,648 x 2,736 pixels) and 3 hours of video (VGA).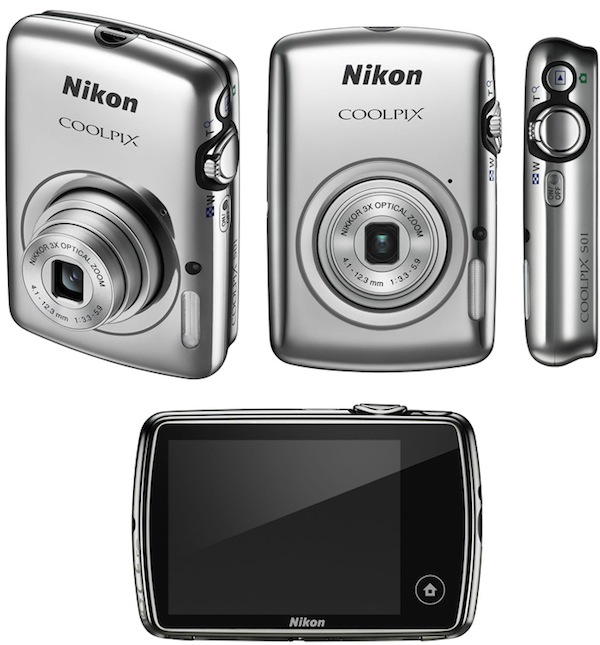 The camera has a CCD image sensor 1 / 2.9 inches with a resolution of 10.1 MP in combination with optical zoom NIKKOR lens with a 3x (29-87 mm) can guarantee a good accuracy even if it has an optical zoom slightly limited. On the back of the camera is a 2.5-inch touch screen LCD display with an anti-glare coating that allows use even in direct sunlight, the camera's menu has been made deliberately simple and functional thanks to the icons of great size. Very interesting is the ability to customize your Home screen according to your needs, even using their own photos for the background image.
Despite the compactness of this Nikon COOLPIX S01 has a technological heart of all respect, and we will also find the system blur reduction through which the movement of the camera offsets so as not to affect the result. Moreover, thanks to a fairly high ISO sensitivity (up to ISO 1600) the risk of blurred images caused by fast-moving subjects or low-light conditions.
Also simplified thanks to automatic mode with Scene Auto Selector the camera automatically selects the optimum scene mode according to lighting conditions. This mode will allow the user to obtain the best images in any shooting condition.
Thanks to the advanced image processing system made that thanks to the processor EXPEED C2. Like any camera, last generation that respects this ultra-compact is also able to make movies HD 720p (1,280 x 720) or VGA (640 x 480) all via a simple "touch" on the display if you have previously selected the movie.
Conclusion
The Nikon COOLPIX S01 is an ultra-compact camera with a size comparable to that of a credit card and weighs less than 100 grams. In spite of these small dimensions, the compact camera boasts features worthy of the latest generation of much more bulky and heavy. Extremely attractive option (probably necessary) not to use external memory cards but to equip the device with a 7.3 GB flash memory, that memory will be sufficient for most users. The design of Nikon COOLPIX S01 is extremely cool thanks to the availability of different colors very young and fun. All at a price appropriate to the portability of the camera and the features it is with equipped.
Where to Buy Nikon COOLPIX S01
---

---
PROS : Internal Memory 7.3 GB, HD movies, electronic vibration reduction system for movies; Dimensions and weight; Sensitivity ISO 80-1600; contrast-detect AF system, touchscreen display, 2.5".
CONS :
Sensor resolution, 3x optical zoom.
Product prices and availability are subject to change. Any price and availablility information displayed on Amazon at the time of purchase will apply to the purchase of any products.