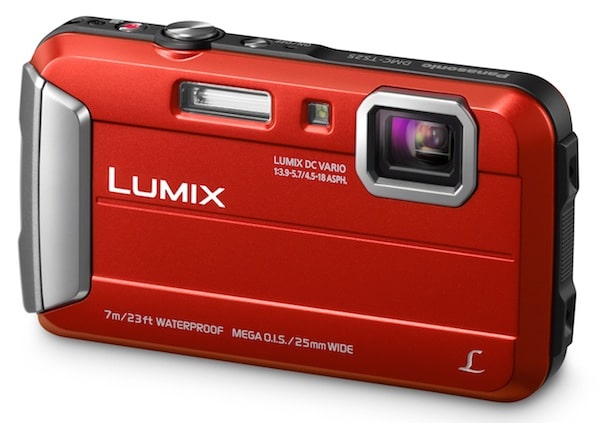 The Panasonic Lumix DMC-TS25 is a compact digital camera rugged type, ie it has a body resistant to water, shock, dust and ice, so it can also be used in extreme weather conditions. As for the technical specifications, it features a 16.1 mega pixel CCD sensor, a 4x optical zoom with ultra-wide-angle 25 mm and with Intelligent zoom up to 8x, the underwater mode to capture the colors of the sea bed, an LCD display 2.7 inches, the optical stabilizer, the Time-Lapse Shot and the Creative Panorama, movies HD video in mp4 format, ready to be loaded on the Internet and an internal memory of 70 MB, expandable with SD, SDHC or SDXC.
Panasonic Lumix DMC-TS25: Design
The Panasonic Lumix DMC-TS25 is a compact rugged design, with a robust body, watertight, but also attractive, especially in the blue color. It has a 2.7-inch LCD display with a resolution of 230,000 dots. As for size, the camera measures 103.7 mm wide, 58.3 mm high and 19.7 mm thick, while the weight is 125 grams vacuum and about 144 grams with battery and memory card.
Panasonic Lumix DMC-TS25: Features and Functionality
The Panasonic Lumix DMC-TS25 is one of the latest compact digital cameras made this year by the manufacturer, just in january along with other models such as the Panasonic Lumix DMC-TS5, belonging to the same family. Its main feature is that it is resistant to almost everything, while the rest of the technical specifications makes it fall into the mainstream.
Starting right from the technical data, the camera features a CCD image sensor, 1/2.33 inches in size and with a total resolution of 16.6 effective mega pixels and 16.1 mega pixels. The lens has a focal length of 4.5 to 18 mm, equivalent to 25-100 mm in the traditional format, 35 mm and a maximum aperture of F3.9-F5.7. Completing the picture 4x optical zoom with Intelligent zoom up to 8x, and 4x digital zoom.
Analyzing, time, the characteristics of the Panasonic Lumix DMC-TS25, it should be stated at the outset that it is a camera so-called " rugged ", dedicated to extreme sports enthusiasts and those wishing to take photos and videos in a whole variety of particular weather conditions, what that you cannot do with the vast majority of cameras available.
The Lumix DMC-TS25 presents a machine body practically hermetic which makes it able to withstand immersion in water up to 7 meters depth, to dust, sand, and withstand drops from a height of 1.5 meters. Finally, unable to bear well even at low temperatures.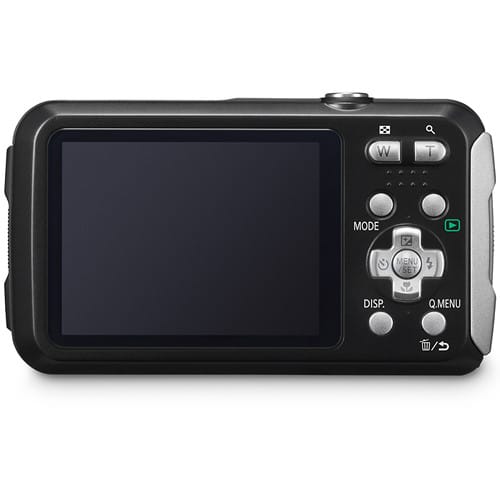 Given its vocation, the Panasonic Lumix DMC-TS25 also has a number of specific ways, such as the Underwater mode, a feature that allows you to play the red and divers to capture the true colors of the seabed, or the function Flashlight, which uses the brightness of the display. Another interesting feature is the Time-Lapse Shot.
In a nutshell, you simply set the start time, the interval and the number of images, and the camera will automatically perform a series of shots who, in the end, will be combined into a single video, to give the idea of ​​something in motion. It is a particularly useful feature, for example, if you want to resume events in time, as the blooming of a flow.
Speaking of the other features offered by the Panasonic Lumix DMC-TS25, one cannot but mention the Optical Image Stabilizer MEGA OIS, now present on almost all camera models from this manufacturer is that of others. It is very useful for sharp pictures even if you move the machine.
It should be mentioned again that the sensitivity reaches a value of 6400, the focus, white balance, built-in flash, various scene modes and movie recording HD video, so with resolution 1,280 x 720 pixels, in the MP4 format. The photos instead can reach a maximum resolution of 4,068 x 3,456 pixels at 4:3 format.
Finally, the Panasonic Lumix DMC-TS25 has AV output and USB port for connection to TVs and other devices. As for autonomy, the supplied lithium battery can support up to 250 shots. Finally, memory cards of the type SDSC, SDHC and SDXC memory cards and internal memory are 70 MB. The package includes wrist strap, 2 GB card, USB cable and charger.
Conclusion
The Panasonic Lumix DMC-TS25 is a compact digital camera that, from the point of view of specifications and features. It has nothing special but pointing substantially all of its watertight housing, which protects it from almost everything, so water, dust, sand and bumps, and that makes it perfect for extreme sports enthusiasts or for those who want to film and take pictures in any weather, or even just at the beach.
Where to Buy Panasonic Lumix DMC-TS25
---

---
Panasonic Lumix DMC-TS25 16.1 MP Tough Digital Camera with 8x Intelligent Zoom (Black)
16.1 Mega Pixel, 4x optical zoom, 8x Intelligent Zoom, Mega O.I.S., Rugged...
2.7" LCD Screen, Intelligent Auto Mode, Venus Engine, 12 Effective Create...
720p Motion JPEG Video, Sonic Speed Auto Focus, Creative Panorama Shot, 12...
PROS : Resolution, Resistant to water, shock, dust and sand, Shot Time Lapse Function, Function Creative Panorama.
CONS :
Internal memory, Zoom, Display size, Quality Sensor.
Product prices and availability are subject to change. Any price and availablility information displayed on Amazon at the time of purchase will apply to the purchase of any products.