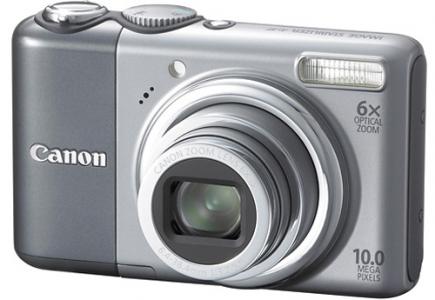 The Canon PowerShot A2000 IS is a compact digital camera is ideal for anyone who wants to take great pictures even without being particularly experts. Among the most interesting specifications include the 10 megapixel sensor, 6x optical zoom, so above average, 4x digital zoom, image stabilizer, and a 3-inch screen with a resolution of 230,000 pixels.
It also includes the technology of face detection, red eye correction and various scene modes. The processor is still the DIGIC III, and not the 4 as on other more advanced models, but still guarantees excellent results.
Canon PowerShot A2000 IS: Design
The Canon PowerShot A2000 IS is a compact digital camera, easy to handle in practice. It has a large 3-inch TFT display with a resolution of 230,000 pixels and a coverage of 100%. The dimensions of the camera are 101.9 mm wide, 63.5 mm high and 31.9 mm thick, while the weight is about 190 grams excluding battery and card.
Canon PowerShot A2000 IS: Features and Capabilities
The Canon PowerShot A2000 IS is one of the latest newcomer to the family, which has always made up of practical models and portable, and is, also according to the manufacturer, the successor to the Canon PowerShot A720 IS, with respect to which does not have manual controls, which is, from a certain point of view, a step back, perhaps justified by the fact that you want to focus more on a consumer inexperienced.
Speaking of technical specifications, the camera features a CCD image sensor, 1/2, 3 inches in size and with an effective resolution of 10 megapixels. It is, therefore, a high resolution, which allows you to take high-quality photos, which can reach a maximum resolution of 3,648 x 2,736 pixels. E 'can also select other resolutions based on the needs, for example to use a higher ISO.
As for the optics, the Canon PowerShot A2000 IS attaching a lens branded Canon, composed of 9 elements in 7 groups, including 1 aspherical, which has a focal length of 6.4 to 38.4 mm, equivalent to 36 -216 mm in the traditional format 35 mm and a maximum aperture of F3.2-F5.9. The camera also allows you to capture people in the distance as fine a 6x optical zoom, and better than average, and a digital zoom of about 4x, for a total capacity of approximately 24 times magnification.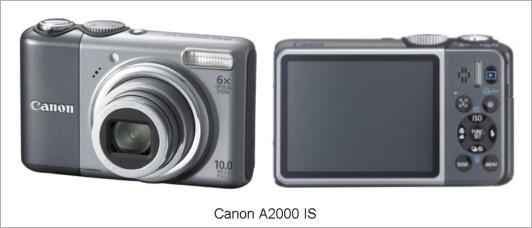 Turning now to the features offered by this camera, it should be mentioned, first of all, the exceptional ease of use of this model, extremely compact and equipped with automatic functions that enable everyone, including and especially the less experienced to get great pictures in any circumstances. As for the image processing, the A2000 IS is based on the DIGIC III processor, which offers fast reaction times, and iSAPS technology that analyzes the scene and optimizes the camera settings accordingly.
To ensure sharp photos, also, the Canon PowerShot A2000 IS is equipped with image stabilizer incorporated in the lens that counteracts the effects of camera shake, allowing you to compensate for camera shake. Motion Detection Technology Activated in High ISO also detects movement of the camera and subject to set the optimum values ​​of sensitivity, depending on the scene.
Face Detection technology recognizes up to 9 faces in the frame and adjusts focus, exposure and white balance to achieve the best results depending on the subject, the Face Select & Track lets you choose the main subject of a photos and to never lose focus on it.
For users who are approaching for the first time in the world of photography, the Canon PowerShot A2000 IS has 17 shooting modes, so as to enclose all the options and scene can have your perfect shot. Filter effects My Colours, finally, allow you to apply special effects to the photo, such as black and white.
Finally, this camera can also record video with a maximum resolution of 640 x 480 pixels and up to 30 frames per second. As for saving your photos and videos, the camera is equipped with a memory card of 32 MB, but you can purchase more than choosing between SD, SDHC, MMC, MMCplus and HC MMCPlus. As regards, finally, the power, the 2 alkaline batteries included provide up to 240 shots or 540 minutes of playback.
Conclusion
Handy, compact and very aesthetically pleasing, the Canon PowerShot A2000 IS is a compact camera of good quality, with a 10MP sensor, an optical zoom above average, various technologies for the optimization of portraits, the stabilizer and a sensitivity high. The included memory is not very high and does not have lithium battery but only 2 alkaline batteries.
Where to Buy Canon PowerShot A2000 IS
---

---

---
PROS : Face detection, sensor resolution; Optical Zoom, Motion Detection.
CONS :
Alkaline batteries; Processor old.
Product prices and availability are subject to change. Any price and availablility information displayed on Amazon at the time of purchase will apply to the purchase of any products.