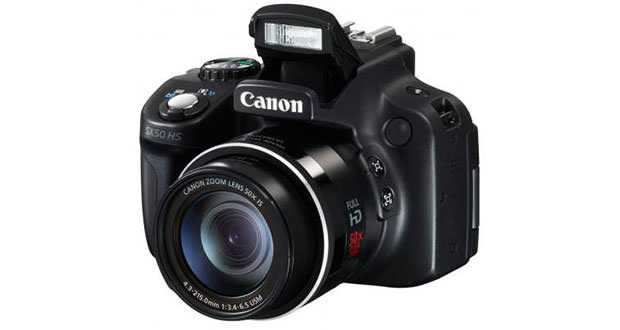 Canon PowerShot SX50 HS is a compact camera-type bridge whose most striking feature is its super ultra wide-angle 50x optical zoom, which provides a focal truly remarkable. The SX50 HS is also equipped with 2.8-inch vari-angle LCD, Optical Image Stabilizer with Intelligent IS technology, CMOS sensor with 12.1 megapixel resolution, DIGIC 5 processing engine, manual mode, RAW format support, assistance for the shot, Full HD movie recording, high ISO sensitivity, HDMI input, high-speed burst mode and automatic detection of fewer than 58 scenes.
Canon PowerShot SX50 HS: Design
The Canon PowerShot SX50 HS is a bridge camera that has, in addition to a convenient side handle, a swivel LCD display, 2.8-inch with a resolution of 461,000 dots. Above the screen there is also a resolution EVF with 202,000 points 4:3. As for size, the camera measures 122.5 mm in width, 87.3 mm in height and 105.5 mm thick, while the net weight is about 595 grams, including battery and memory card.
Canon PowerShot SX50 HS: Features and Capabilities
The Canon PowerShot SX50 HS is a digital camera of type "bridge", ie a middle ground between the performance and the compact SLR, as it has manual controls and a body very similar to that of the SLR, with a comfortable grip, while maintaining compact dimensions and a fixed lens, and of course to ensure maximum ease of use.
Speaking of specifications, this camera is equipped with a CMOS image sensor 1/2, 3 inches in size and with an effective resolution of 12.1 megapixels. Nowadays it may seem a resolution is not particularly high but due to the quality of the sensor and the lens and DIGIC 5 image processor, you can get still images and movies of the highest quality, even in low light conditions and without flash.
As for the optics, the Canon PowerShot SX50 HS is equipped ultra wide-angle lens with a range of 24-1200 mm focal length, 35 mm in the traditional format, and with a maximum aperture of F3.4-F6.5. But it is the optical zoom the most interesting, since it reaches a maximum value of 50x, but that can be expanded up to 100x with digital zoom Zoom Plus is equal to 4x.
Among the integrated functions, then, the first point to note is the stabilizer Optical Intelligent IS, which allows you to take photos and shoot always sharp and clear, even in low-light conditions or when using the zoom at full capacity. Among other things, the IS automatically selects the mode of stabilization suitable among those available.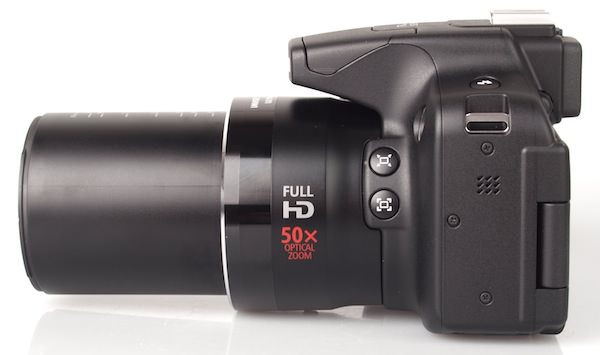 Other features for which the Canon PowerShot SX50 HS can be counted among the bridge is the RAW format support, allowing you to not miss a single detail because the format is not compressed, and the ability to manually manage all the camera settings such as aperture, shutter speed, white balance, and ISO sensitivity, which among other things has values ​​between 80 and 6400, with a value automatically.
For those who want to leave it all to the car, this is the Smart Auto mode, which analyzes the brightness, contrast, distance, hue and movement of the subject and selects the scene type from the 58 available, applying the best settings appropriate to achieve the best result. Another interesting feature is the high-speed burst, thanks to which you can capture fast-moving images, even at maximum resolution, up to 13 shots per second.
Canon PowerShot SX50 HS also allows you to record video in Full HD, so with a maximum resolution of 1920×1080 pixels, up to 24 frames per second with stereo audio. Among other things, even during movie recording is possible to activate the optical stabilizer.
Finally we must mention the swiveling display, to get the shot you want, and HDMI port which, combined with that USB port allows you to connect the camera to any digital device available. As for saving photos and videos, this is the slot for memory cards such as Secure Digital, SDHC and SDXC while, with regard to autonomy, including the lithium battery allows up to 315 shots or play back up to 420 minutes.
Conclusion
The Canon PowerShot SX50 HS is a good bridge camera whose most striking feature is the 50x superzoom, which places it at the top of its similar, but that also increases the size of a lot. Stand also support RAW format, the swiveling display, manual controls, the optical stabilizer and HDMI port. Perfect for those who want a quality camera without spending an exorbitant amount.
Where to Buy Canon PowerShot SX50 HS
---

---

---
PROS : CMOS sensor, Full HD movies, zoom, swivel LCD, RAW Support, Manual Mode, Burst at high speed, high sensitivity ISO, optical image stabilizer, auto mode, HDMI port, Support for framing.
CONS :
Quality viewfinder.
Product prices and availability are subject to change. Any price and availablility information displayed on Amazon at the time of purchase will apply to the purchase of any products.