Guide
Best Mini PC: Which One to Buy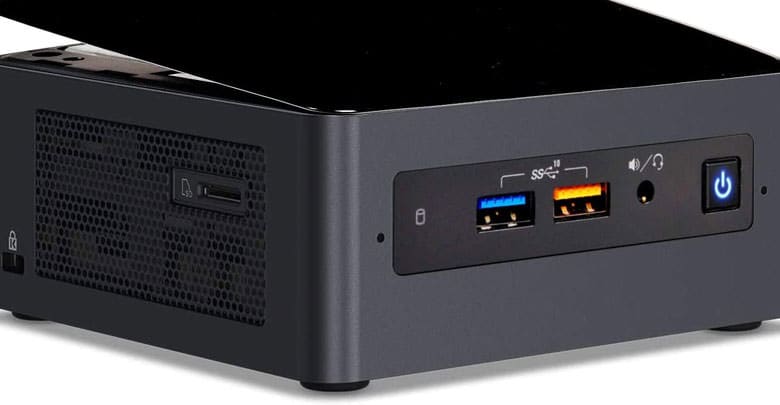 Not everyone knows a world (obviously technological) parallel to notebooks and desktop PC, Windows Mini PC, and a mix of the previous products that become interesting and useful in several situations. However, these are usually cheap and not particularly powerful PC, created specifically to save space if you need a PC that is not too performing for simple daily operations.
In other cases, many prefer to combine their main computer with a Mini PC (sometimes even powerful) to delegate some operations, such as recording and streaming contents from the main PC, not to tire them further.
In this case, we are talking about NUC (Next Unit of Computing), designed by Intel. In this guide, we will recommend what is, in our opinion, the best Mini PC to buy based on your budget and your needs!
You are choosing a Mini PC: What to pay attention to?
Multimedia Mini PC is a device created to reproduce multimedia content without any effort or noise, guarantee acceptable performances, and compatibility with wired or not internet networks. All this inside a tiny and sometimes metal body (to help dissipation) can be adapted to any environment without attracting attention.
The characteristics are often particularly narrow, although sufficient to play any multimedia content that is not overly heavy: we can reproduce 4K, but let's forget about most of the latest generation games:
CPU and GPU: Usually, these devices are equipped with the latest Intel Atom, which has shown extraordinary maturity, becoming suitable for all devices that need a CPU with few demands in terms of performance. Usually, we are talking about four deficient consumption physical cores (SDP of just 2W) thanks to the 14nm production process. In addition, the integrated graphics card allows multimedia playback of the vast majority of files (even 4K).
RAM: as a rule, most Mini PC has 2GB or 4GB of DDR3L RAM, but going up in price (and therefore with better processors), you can find larger memories (even 8GB), faster (DDR4), and more performing in terms of frequency. Mini PC also supports RAM expansion in some cases, thanks to additional slots.
Connectivity: These devices make portability and connectivity their strong point. Staying low with the pretensions, you can easily find a Mini PC that supports Dual Band WiFi, always ensuring an Ethernet input. Then there are Bluetooth, HDMI, or VGA for video outputs, two or more USB ports, and the 3.5mm jack for headphones. The higher you go with the price range, the greater the probability of finding outputs with newer and faster standards (for example, USB 3.1, HDMI 2.1, USB-C, and so on).
We chose the best Mini PC
Below is a selection of the best Mini PC currently on the market. We update this guide periodically to bring you the latest hardware, but we have listed them to meet different performance and budget needs. Here are the ones we chose:
Z83-F Mini PC
For those looking for an economical (without particular pretensions) but functional Mini PC, the Z83-F model of MINIS FORUM is, not surprisingly, among the best sellers. It is an improved version of an older model that now adopts an Intel Atom X5-Z8350 CPU combined with 4GB of DDR3 RAM and 64GB of internal memory in eMMC technology, which is expandable microSD up to 128GB.
The processor has a meager consumption (SPD of 2W), and being fanless – without fans – it does not emit any noise. In fact, through a small bracket in the package, it is designed to be installed and hidden even on the back of a screen.
Windows 10 is already pre-installed on the Mini PC with support for WiFi ac, Bluetooth 4.1 and VGA output, HDMI, 3x USB (one of which is 3.0), and a Gigabit Ethernet port. The integrated graphics card in the processor is a UHD Graphics 400, which also allows the playback of 4K content.
ACEPC T11 Mini PC
ACEPC is a rather well-known brand in the sector, and the T11 model is undoubtedly one of the best budget Mini PC. The reason is simple: for much less than $200, you have hardware similar to what we saw a little while ago (and therefore Intel Atom Z8350) combined with 8GB of DDR3 RAM and 128 GB of eMMC memory, plus a slot 2.5″ HDD/SSD to be able to install a more performing and faster disk.
This would allow the Mini PC to be more responsive and manage multiple apps simultaneously, making it particularly suitable for those who use it daily. Then we have Windows 10 Pro with support for WiFi ac, Bluetooth 4.2, VGA output, HDMI, 4x USB, and Gigabit Ethernet port. The graphics card integrated into the processor is a UHD Graphics 400, allowing the reproduction of 4K content.
Beelink U55
While those mentioned so far were mostly Mini PC for multimedia, this Beelink U55 is a real computer. You can ask for a little more! Beelink is undoubtedly one of the leaders in the Mini PC sector, and in this model, we can also define rather cheap.
We find an Intel Core i3-5005U (with much better performance than the computers mentioned so far) that incorporates a card graphics Intel HD Graphics 5500 and is flanked by 8GB of DDR3 RAM and (again, unlike the others mentioned above) a 256GB SSD that exponentially improves startup speed, loads and multitasking.
Complete the Dual Band WiFi connectivity, Bluetooth 4.0, Gigabit Ethernet port, 4x USB ports (two standard and two 3.0), 2x HDMI, microSD input, and the 3.5 mm audio jack port. Onboard we have Windows 10 and an active dissipation system.
Intel NUC NUC8i5BEH Mini PC
NUC, an acronym for Next Unit Computer, is a series of Intel proprietary Mini PC called barebones, within which we find highly respectable hardware. In short, it is no longer a mini PC but a real (high-performance) PC with reduced dimensions, particularly suitable for creators or those who need to combine their main PC with a device with great computational skills.
The numbers speak for themselves: Intel i5 processor, two empty RAM slots (but use up to 64GB), and an empty SSD slot (where to insert an M2 or a standard SSD/HDD) with supported RAID configuration. There is no standard USB, USB Type-C, HDMI, and connectivity to use it as a real PC. Recommended to a more experienced audience, we refer to our purchase guides for SSDs and RAMs.
Apple Mac Mini
We could not fail to mention the Apple Mini PC, called Mac Mini, moving to the high end of the market. Specifically, we describe the Mac Mini that adopts Apple M1 Chip with 8 ‑ core CPU, 8 ‑ core GPU, and 16 ‑ core Neural Engine.
In this "basic" version, we have 8GB of RAM and 256GB of storage via SSD, but you can also find the 512GB version or the version with an Intel i5 processor (which we do not recommend because it is overpriced). In addition, it supports up to two monitors simultaneously: one with a resolution of up to 6K at 60Hz connected via Thunderbolt (there are two) and one with a resolution of up to 4K at 60Hz connected via HDMI 2.0.
Of course, there is also a Gigabit Ethernet port and two USB inputs. In short, a real PC with which you can also work through professional software (without too many pretensions) takes up very little space or, in any case, allows us to take it with us wherever we go.
The most purchased Mini PC on Amazon
After seeing Mini PC, we have chosen for you, let's take a quick look at the most purchased by users on Amazon! Specifically, below, you can see a list of the 10 devices currently best sold on Amazon; be careful though they are the best-sellers, which does not mean that they are the best to buy!
Product prices and availability are subject to change. Any price and availablility information displayed on Amazon at the time of purchase will apply to the purchase of any products.