Guide
Mini Keyboard: The Best to Buy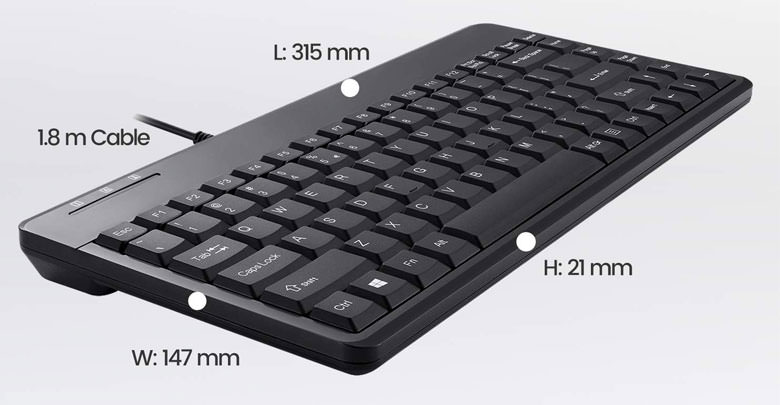 Looking for a mini keyboard that allows for easy transport or reduces the clutter in a cramped study or work location? As part of the review of articles dedicated to the world of keyboards, we decided to dedicate one of them to small peripherals.
On the other hand, space is never enough, yet it is often necessary to adapt one's needs in the best possible way. A principle that applies if you are renovating (or creating from scratch) your work, study, or play station.
In the same way, using the keyboard with which a particular feeling has been established overtime on the move turns out to be really an added value, especially if you change your workstation frequently.
Mini Keyboard: Why it's worth buying one
Working on the move, having a peripheral that can also be used in a lying position, maintaining the perfect balance between typing comfort, ergonomics, and tactile feeling, are just some of the key aspects to consider when you need to buy a small keyboard.
This is how we found it useful to combine the series of articles dedicated to the essential elements in a self-respecting tech corner with a piece focused on mini keyboards.
Of course, choosing the best device ever is not easy given the fierce competition between the various manufacturers. To overcome the physiological doubts due to the high density of mini keyboards on the market, it is first necessary to define one's needs and tastes.
What features to consider when purchasing a mini keyboard
Having acknowledged that the best way to choose a mini keyboard is to consider all your needs, there are some key features to evaluate.
We summarize them below, while for a broader discussion, we refer to the index guide dedicated to the best keyboards (and to the in-depth study focused on the best mechanical keyboards to buy.
Construction technology: mechanical or membrane. Intended use: the increasing diffusion of mini keyboards has pushed towards specialization in the device you want to use. This is how it will be possible to find tablets, desktop computers, smart TVs, consoles, and more.
Type of mechanical keys (in case you opt for a mechanical mini keyboard), possibility to program macros, supplementary functions such as anti-ghosting, key rollover, and degree of polling rate (speed of sending signals to the PC).
Noise when typing: important to consider especially if you want to write with discretion.
Layout: key layout, essential for typing well and smoothly. The most common layout in Italy is "QWERTY."
Connectivity: small Wi-Fi keyboards allow for quick transport and use via a Wi-Fi network connection. The Bluetooth connection requires the presence of a homologous module in the terminal to which you want to pair the mini keyboard (or the provision of a special transponder). The previous types of mini keyboards, being wireless, allow almost instant use without requiring the installation of special software (they use plug-and-play technology). A third alternative, the connection via USB cable is perhaps the most limiting one if you usually carry the keyboard with you to use it quickly and possibly moving, or if you use it at a great distance from the monitor.
Equipped with a trackpad to avoid using the mouse. Very interesting but ends up having a significant impact on another aspect, that of size.
Backlight: very important if you use the keyboard in the dark.
Ergonomics, materials, and construction sturdiness.
Power supply: rechargeable lithium batteries or cells.
Cost: although many devices combine quality, functionality, and affordable prices in an absolutely advantageous way, especially in the gaming field, it is possible to find mini keyboards with top-of-the-range features and prices.
Mini Keyboard: The best to buy
In light of the key features to consider to buy a mini keyboard wisely, let's move on to the most interesting paragraphs dedicated to buying advice.
---
Our Proposals
Best Wireless mini keyboard: Rii Mini i8+
Our first choice within the category "best mini wireless keyboard" is represented by Rii Mini i8+ Wireless, a backlit mini keyboard equipped with a multi-touch touchpad mouse and ideal for mini PC, Home Theater Personal Computer, TV Box, smart TV, console, and PC (Windows, Mac, Linux).
Available in various colors (black, white, blue, red, and green), the Rii Mini i8 mini keyboard is a lithium polymer battery that can recharge in 3 hours with the supplied USB cable (and LED battery level).
Best compact USB Keyboard: Perixx PERIBOARD-409U
Slightly larger than the most popular mini keyboards, this Perixx PERIBOARD-409 H stands out for its compact (12. 40″ x 5. 79″ x 0. 79″) and linear monobloc design, USB interface with 5. 9 ft long USB cable, and 2 USB hubs integrated for connection with other peripherals. Other features at a glance:
Compact monobloc design (back raised by 2.1 cm) without logo.
Dimensions: 12. 40″ x 5. 79″ x 0. 79″.
Plug and Play USB interface, 1.8m USB cable.
2 integrated USB hubs.
Operating systems compatibility: Windows 7, 8, 10.
Best Mini Gaming Keyboard: Docooler HXSJ J100
Perfect for all gaming enthusiasts who want to take advantage of a good quality-price ratio without giving up functionality worthy of a top-of-the-range keyboard, Docooler HXSJ J100 inserts 35 clicky blue switches (not exactly the Cherry MX but give a very similar tactile feedback, to learn more, refer to the guide dedicated to the best mechanical keyboards) in a super-compact structure (25 x 18 x 4 cm) and perfect for professional players who need a secondary keyboard.
The RGB backlighting has 5 freely programmable setups (software included), and the ergonomic mini design ensures comfortable use even during prolonged gaming sessions.
Product prices and availability are subject to change. Any price and availablility information displayed on Amazon at the time of purchase will apply to the purchase of any products.