The Lenovo ThinkPad X1 Laptop is a stylish and simple, with metal alloy chassis and clean lines, dedicated especially for business users but can attract the attention of anyone looking for a powerful yet small. It has a display with LED-backlit 13.3-inch, Intel Core i5, up to 8 GB of RAM, SSDs up to 160 GB or 320 GB hard drive, an HDMI port, the LAN connection, the reader memory card, a USB 3.0 port, a maximum range of 10 hours and Bluetooth connectivity, and optional WiMax.
Lenovo ThinkPad X1: Design
The Lenovo ThinkPad X1 is a professional laptop features a simple design and a chassis resistant. A keyboard is comfortable, with concave keys and well spaced and the classic trackball in the center of the keyboard. It has an LCD display with HD SuperBright 13.3-inch LED backlight with a resolution of 1366×768 pixels and Gorilla Glass technology. The dimensions are 337 mm in width, 231 mm depth and 21.5 mm in height at the highest point, while the weight is approximately 1.67 kg.
Lenovo ThinkPad X1: Features and Functionality
The Lenovo ThinkPad X1 is a laptop presented by the manufacturer in the month to open this year and designed especially for business users. Heir to the Lenovo ThinkPad X300 model, characterized by a thickness and low weight, is the ideal choice for those who want a good tool but also economic.
Starting from the specifications, this laptop is based on Intel Core i5-2520M, 2.5 GHz speed, a memory of 4 GB RAM and a 320 GB hard disk or solid state  disk up to 160 GB.  The operating system is used by all the Windows 7 Professional.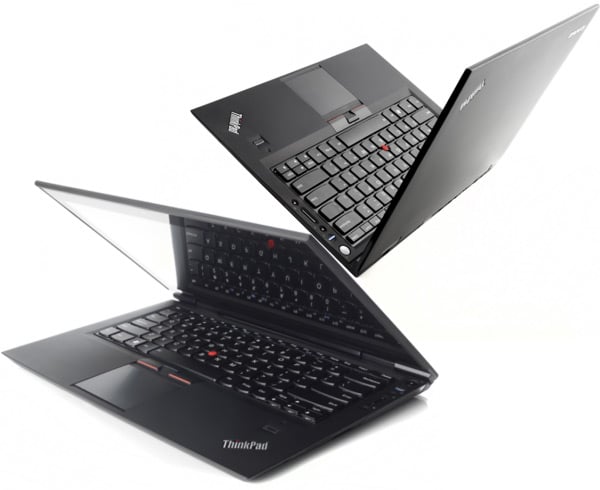 As for the graphics department, the Lenovo ThinkPad X1 is equipped with a graphics accelerator Intel GMA HD 3000 DirectX 10.1 compatible with libraries. The audio quality with Dolby Home Theater, as it requires a device for professional users. The main features of this laptop reside mainly in the overall quality of the display, keyboard and chassis in the complex.
The display is covered with Gorilla Glass cover, very durable and typically used for high-level smartphone. The  keyboard is backlit and spill-resistant water. The  body is made of carbon fiber and has passed all tests on military robustness.
Speaking of communication, the Lenovo ThinkPad X1 has a built-in webcam with microphone HD technology and suppression of background noise and echoes, thanks to which you can make calls via VoIP and video conferencing. The connectivity sees the presence of the Ethernet network, the Bluetooth version 3.0 and Wi-Fi connectivity.
Much space was devoted, then, to the security of information, and could not otherwise be considered to be the target. First the fingerprint reader to prevent unauthorized access to your computer. Do not underestimate, then, autonomy, of up to 5 hours. Finally, the notebook is equipped with 1 USB 3.0 port, 3 USB 2.0 ports, 1 VGA port for external monitor, input / microphone input and headphones, memory card slot, audio jack and the HDMI interface.
Conclusion
The Lenovo ThinkPad X1 is clearly a product for a consumer business, so a strong focus on quality, neglecting the design slightly. The strengths are a body strong and resistant to falls, an ergonomic keyboard and spill-resistant, the fingerprint reader to protect your data from prying eyes, HDMI, USB 3.0 interface and a display with Gorilla Glass technology.
Where to Buy Lenovo ThinkPad X1
---

---

---
PROS : RAM, USB 3.0 port, memory card reader, fingerprint reader, spill-resistant keyboard; Chassis resistant to falls, Bluetooth and optional WiMax.
CONS :
Internal memory, not eye-catching Design.
Product prices and availability are subject to change. Any price and availablility information displayed on Amazon at the time of purchase will apply to the purchase of any products.