Acer Aspire P3-171 is an extremely versatile device that transforms from a practical ultrabook tablet to take with itself, simply by removing the keyboard below the display. It features a refined aluminum alloy shell, a screen 11.6-inch IPS capacitive touch screen with HD resolution, an HDMI port, HD webcams. It is based on Intel Core i3 processor, 2 GB of RAM and has a solid-state disk of 60 GB. Do not miss the Wi-Fi, Bluetooth and built-in stereo audio.
Acer Aspire P3-171: Design
The Acer Aspire P3-171 ultrabook is a unique design, as it can become a practical tablet by simply folding keyboard and making you slip on the device. The display type is touch screen and has a diagonal of 11.6 inches and a resolution of 1,366 x 768 pixels. As to the other dimensions, measuring 295.4 mm deep, 190.8 mm in width and 19.75 mm in thickness, while the weight is 790 grams.
Acer Aspire P3-171: Features and Functionality
The Acer Aspire P3-171 is one of the novelties presented by the manufacturer this year, aimed at those who want a device very flexible and adaptable. Thin and light, the Acer Aspire P3-171 is a real ultrabook that is transformed, through an innovative mechanism, in a practical tablet which ensures maximum portability. This particular feature will be analyzed in more detail later, for now we will focus on the technical specifications, they see the presence of an Intel Core i3-3229Y from 1.40 Ghz, 2 GB of RAM, a hard to 60 GB solid state and the Windows operating system.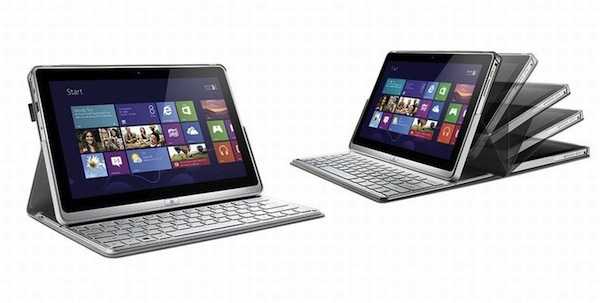 Speaking of connectivity, the Acer Aspire P3-171 has Wi-Fi to surf the Internet for free via a hot spot, and technology Bluetooth's version 4.0 HS, to exchange data with other devices wirelessly. As for wired connectivity are the 1-port USB 3.0 and HDMI interface, which allows you to connect your laptop to all types of devices. Not missing, then the webcam for video calls.
Down as anticipated the most interesting element of this device, which sheet is not particularly powerful is its extreme flexibility, thanks to the removable keyboard. When the keyboard is a true ultrabook compact size but removing it, you have available a tablet to take with him.
The Acer Aspire P3-171 is designed for those who are having to travel often for business or another, and must always be operational. It works simply. The cover with keyboard works as a support from the computer, holding it vertically, but can easily be folded by sliding the screen above the keyboard, and thus have available a tablet.
The mechanism, as you can see, is a bit different from the classic keyboard removable other tablet hybrids. The display is large enough to allow for a practical use, even if the resolution is not high. It has a 10-point multitouch technology, which ensures a perfect control on the various applications, thanks to an operating system optimized for the touch screen. Finally, the power is supplied by a rechargeable lithium ion 4-cell, from 5,280 mAh battery, which provides a maximum of 6 hours.
Acer Aspire P3-171 – Conclusion
The Acer Aspire P3-171 is definitely an interesting computer, like all similar hybrid devices that have the ability to switch from tablet to laptop and vice versa, but it presents a mechanism of disappearance of the keyboard innovative and unique, different from others. Aside from this the data sheet is not impressive. The storage capacity is very limited and underpowered processor. The rear camera and GPS.
Where to Buy Acer Aspire P3-171
---

---
PROS : Stereo sound HD Webcam, HDMI port, Wi-Fi and Bluetooth; Ultrabook convertible, touchscreen display IPS Design.
CONS :
Storage capacity, No rear camera, processor not powerful, No GPS.
Product prices and availability are subject to change. Any price and availablility information displayed on Amazon at the time of purchase will apply to the purchase of any products.