Guide
How to Choose Universal Remotes for Every Need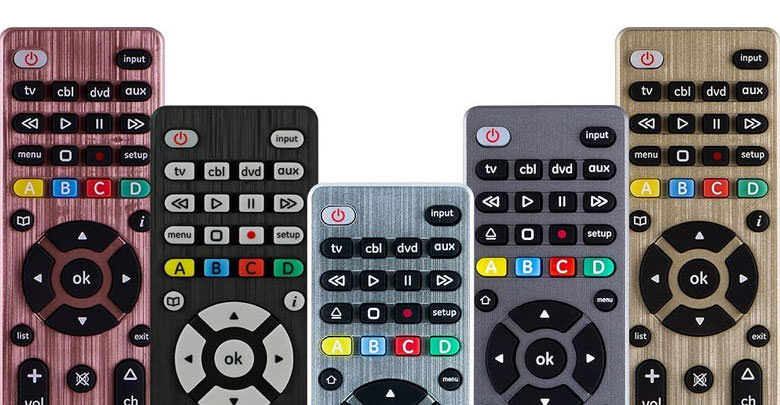 If you have lost your remote or mysteriously stopped working, buying a new compatible product is the only solution. However, the choice can be complex since you must always check the possibility of using the device in question with your TV.
How to choose the best universal remotes
If you are wondering which universal remote control to buy, undecided by the large number of devices available on the market, we invite you to carefully read our guide, where we will explain in detail all the tricks to understand how to choose a good universal remote control without wasting your money to no avail.
Compatibility
This factor must be considered even before the price, as the third-party remote controls are not always compatible with all televisions on the market. Before going into details, it is good to know that there are two different types of devices: those that do not require configuration, compatible with a single brand, and the universal ones, connecting to multiple televisions but need to be configured.
Taking the first into consideration, you will first have to identify the brand of your TV, among the most popular today, we have, for example, Samsung, LG, Sony, Sharp, and so on not only the brand will be enough, but you will also need the unique identification code, generally indicated in the instruction manual, on the purchase box or a sticker placed on the back of the TV.
Before making the purchase, take care to transcribe this code, which you will have to look for in the product data sheets to understand if it is among the TVs compatible with the selected remote control.
We invite you to keep in mind that not even devices compatible with a single brand guarantee the possibility of interfacing with all the devices ever made by a given company, so in this case, the online purchase is a favorite of consumers thanks to the possibility of making a made quickly and easily if the product is not suitable.
2 in 1
With the purchase of new appliances to connect to the TV, several remote controls soon accumulate in the house to manage a considerable amount of devices. Since there are universal products, why not take advantage of them? The so-called 2 in 1 are remote controls that can integrate both the TV and the decoder to have a single device to manage everything.
In this way, you will reduce the number of forgotten devices around the house and the consumption of batteries, which will be halved. But, of course, to break the proverbial eggs in the basket, there will always be the question of compatibility, a factor with which you will always have to deal in this area.
The 2-in-1 remote controls are supplied with instruction manuals, printed or downloadable online, with a wide range of codes to be entered to ensure that they recognize the devices you will have to associate them, sometimes also offering the possibility of programming the keys individually.
Remember that they are usually more complex to use and may not be suitable for older people who have difficulty remembering or memorizing long procedures.
Materials
Here come the sore points: construction materials, as third-party products, to maintain a lower than average cost, cut where possible. In addition, the plastics of non-original remote controls are fragile and break more easily following accidental falls.
Do not despair as there are devices that are a little more resistant or that use satisfactory materials. However, their cost is slightly higher. If you have children or pets in your home, and you know the remote control could get a bad quarter of an hour, then we strongly advise you to spend a little more on a product that has a rubberized coating or is built to withstand shocks.
Additional keys
In some cases, the newer products offer a few more options, which are extremely convenient. For example, in the case of Smart TVs, you may have keys available to immediately recall applications installed on the TV, such as Netflix or Amazon Prime Video, two of the most popular subscription streaming services.
In other cases, compatibility also extends to the 3D options of new-generation TV, a detail that sometimes makes third-party products even more complete and comfortable than the original ones.
Of course, it is necessary to have a basic TV that already has all these functions. Otherwise, it will be impossible to make these keys work. So don't expect an old TV without an Internet connection to be compatible with Netflix just because you buy a remote control with the appropriate button.
---
How to use a universal remote control
And so, after purchasing a universal remote control, you will have to dedicate yourself to its configuration and programming to be able to use it in conjunction with TV and decoder. Remember that this operation is unnecessary with all remote controls, always carrying out a functional test by simply inserting the batteries in the appropriate compartment. Only if this is not recognized immediately by the TV can you follow the steps below?
How to program the universal remote control
The first thing to do is to read the instruction manual included with the remote control carefully. Each product has a slightly different procedure to follow, with specific keys to press. Inside you will also find a long list of codes, among which you will have to identify the one of your TV.
If you don't have it yet, we remind you that you can find it both on the TV box and on the sticker behind the panel itself.
Once you have identified the code related to the TV in the instruction manual, you can write it down on a sheet of paper or use a highlighter always to find it, even later, without combing through a myriad of numbers and letters.
With the code at hand, insert the batteries into the remote control compartment, turn on the TV with the original product, or use the physical buttons near the panel.
The steps now begin to differ according to the product, but generally, you have to hold down the TV button on the remote control until the LED on the remote control lights up, a sign that the product is ready to receive the programming code.
Keep the button pressed, insert what you found in the instruction booklet, and lift your finger from the TV button at the end of the same.
If the code is recognized, the LED should flash until it goes out completely, making all the device's main functions immediately available. Next, carry out a test with changing channels, volume, and sources to understand if the basic controls have been programmed correctly.
Universal remote control and decoder
If you need to program the remote control to work with a decoder, the button to press will no longer be TV, but SAT and the code to be entered will naturally be different.
The procedure is no different. You will have to start by combing through the instruction booklet and find the code for your decoder. Then, after ensuring that the decoder is on and in operation, press and hold the SAT button until the LED flashes.
Enter the univocal code found previously and release the button, carrying out a quick functional test. With these simple steps, you will have programmed your universal remote control.
---
Frequent questions
How much does a universal remote control cost?
These devices' prices can vary, even if they usually always remain within the tolerance threshold of a few tens of euros. Consumers are rarely willing to spend more for a replacement remote control, especially not original.
By looking at our ranking, found in the previous section, you can immediately find out the cost of the most popular devices, which will allow you to choose the one that fits your budget.
Which TV is compatible?
Although they define themselves as "universal" remote controls, this is a sometimes misleading statement because while it is true that the compatibility list is long, they are not always usable with all products on the market.
Some remote controls, for example, can only be used with models from a specific brand. At the same time, others also allow use with additional devices but significantly reducing the list of televisions with which.
Before making any choice, it is advisable to always look at the list of compatible devices indicated in the individual products' technical data sheet, thus evaluating case by case.
How to tune a universal remote control?
When buying a universal remote control, you often have to deal with more or less complicated procedures depending on the device you have bought. Some devices can work immediately without any additional procedure and inserting the batteries in the appropriate compartment. The most common are remote controls that require some basic steps before they can use them successfully.
There is no single answer to this question. Each manufacturer adopts different key combinations, so it is always important to have the instruction manual available to clarify any specific doubts.
Often, when tuning with your TV, you rely on unique codes to relate to a different TV. To find out what your device is, just read the same identification code, often placed on a sticker on the back of the TV, making sure to copy it on a sheet of paper.
With the code in hand, you will have to carry out a double search: the first on the TV manufacturer's website, to find out if they provide the unique code for programming with universal remote controls, the second, if the first fails, must be done directly on the portal online from the remote control manufacturer.
After finding the code, you can write it on paper and carry out the procedure, usually by pointing the remote control at the TV and holding down the TV button. Then, when the remote control LED starts flashing, you can enter the code using the buttons, and at the end of the procedure, the product should be tuned and ready for use.
#
Preview
Product
Rating
Price
1
Philips Universal Remote Control Replacement for Samsung, Vizio, LG, Sony, Sharp, Roku, Apple TV,...

27,494 Reviews

$9.77

BUY NOW! ON AMAZON
2
GE Backlit Universal Remote Control for Samsung, Vizio, LG, Sony, Sharp, Roku, Apple TV, TCL,...

41,216 Reviews

$12.70

BUY NOW! ON AMAZON
3
Universal Tv Remote for LG,Samsung, TCL, Philips, Vizio, Sharp, Sony, Panasonic, Sanyo, Insignia,...

348 Reviews

$9.46

BUY NOW! ON AMAZON
4
GE Backlit Universal Remote Control for Samsung, Vizio, LG, Sony, Sharp, Roku, Apple TV, RCA,...

13,273 Reviews

$10.99

$8.58

BUY NOW! ON AMAZON
5
Universal Remote Control for Samsung-TV-Remote, Compatible with All Samsung LCD LED HDTV 3D Smart...

506 Reviews

$6.97

BUY NOW! ON AMAZON
6
Goukano Universal Remote Control for All LG Smart TV Remote Control Compatible All Models LCD LED 3D...

13 Reviews

$5.96

BUY NOW! ON AMAZON
7
Universal Remote Control, XRT136 for VIZIO All LED LCD HD 4K UHD HDR Smart TVs

18,557 Reviews

$14.99

$12.99

BUY NOW! ON AMAZON
8
GE Big Button Universal Remote Control for Samsung, Vizio, Lg, Sony, Sharp, Roku, Apple TV, TCL,...

4,018 Reviews

$9.34

BUY NOW! ON AMAZON
9
(Pack of 2) Replaced Remote Control Only for Roku TV, Compatible for TCL Roku/Hisense Roku/Onn...

4,222 Reviews

BUY NOW! ON AMAZON
10
Universal Remote Control for Samsung TV Replacement for LCD LED HDTV 3D Smart Samsung TVs Remote

17,029 Reviews

$10.99

$9.99

BUY NOW! ON AMAZON
Product prices and availability are subject to change. Any price and availablility information displayed on Amazon at the time of purchase will apply to the purchase of any products.