Guide
WiFi Routers: Which to Buy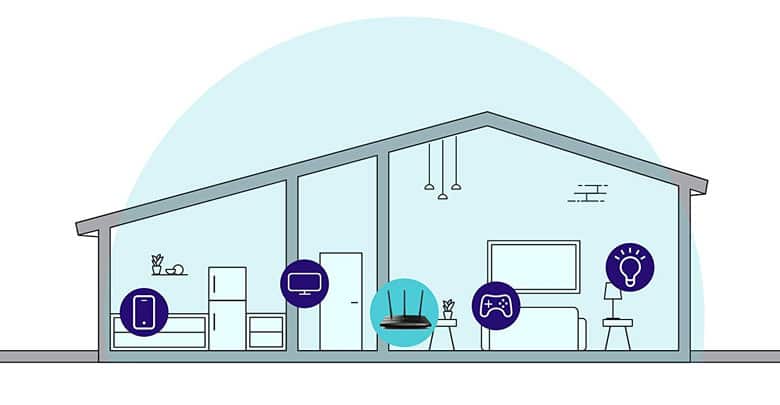 Good Internet browsing depends not only on the network coverage of your area but also on the WiFi router you choose to combine. Usually, some operators offer free WiFi ADSL or Fiber modem routers, but you can replace them with more up-to-date models with much more advanced technology. But if you don't know how to choose the WiFi router, you're in the right place!
After showing you tips on how to upgrade the WiFi signal, in this guide, we want to focus on what aspects you need to consider if you want to buy a WiFi router. So first, we will show you a list of the best devices of the moment and the parameters to consider.
Most modern homes have at least two or more personal Wi-Fi devices (e.g., smartphones, laptops, tablets), as well as smart TVs or multimedia TV boxes. Generally, no less than 4 or 5 devices are connected to the modem (wireless, then via WiFi, or with the Ethernet cable).
If your WiFi router is unable to route the connection intelligently or to offer adequate coverage, then you will have to opt for the purchase of a modem router with better performance.
Generally, no less than 4 or 5 devices are connected to the modem (wireless, then via WiFi, or with the Ethernet cable). If your WiFi router is unable to route the connection intelligently or to offer adequate coverage, then you will have to opt for the purchase of a modem router with better performance.
Types of routers
There are many types of routers, but essentially we talk about ADSL modem routers or Fiber routers. Depending on the type of connectivity and contract you have with your operator (i.e., how fast your connection is), you will have to choose the router for you. In this guide, we will only talk about WiFi ADSL routers.
A router has the task of " routing " (from English to route) correctly the data packets or Internet traffic. We can define it as the heart of the whole connection and usually has a WAN (Wide Area Network) port to connect to the Internet, while the other ports are dedicated to Ethernet cables (LAN) for those who want to connect without WiFi – perhaps with a PC – by connecting cable devices directly to the router:
By now, all modern routers are equipped with radio connectivity and offer WiFi connection support. Routers, as mentioned, can be divided into ADSL routers and Fiber routers (also called VDSL routers). An ADSL connection has a maximum speed of 24 Mbps. For speeds greater than this, a VDSL (Fiber Optic) router is required.
So in this guide, we will advise you on the best WiFi ADSL modem routers, which will work only if your contract has an Internet connection less than or equal to 24 Mbps. It is important to remember that there are " routers " and " modem routers, "which present an important difference:
Modem router: this is the device you need and which we list in this article. It connects to the Internet via a twisted pair (WAN port). It can then connect to our devices (via WiFi or via Ethernet cable in the LAN ports) to " route " them over the Internet, thus giving them access to the network.
Routers: they do not have an internal modem and can only route Internet traffic to devices. They do not connect directly to the Internet but need to be connected to a modem router to access the network. They are usually used to extend the WiFi signal because by connecting them to the modem, you will have two devices (in different points of your house) to emit the same WiFi signal.
What to look for in a router?
If you are going to buy a modem router, you must direct the purchase to a device suitable for your needs, and that – obviously – makes you spend the right amount. It would be useless to spend hundreds of euros to get features you don't need.
Below we have listed some of the main features that could be integrated into routers. Later, when we list the best WiFi routers, for each of them, we will show you the main features, and based on those, you will be able to understand if it does immediately or not to your case:
Type of WiFi: all routers have a WiFi connection, but it is good to know that there are two types of WiFi connections. The first is called 802.11 b/g/n and corresponds to the 2.4 GHz WiFi that all routers have. This frequency allows you to reach more remote areas of your home and " pierce " larger objects but carries less power. Some routers have an 802.11 b/g/n/ac connection that corresponds to the 5 GHz WiFi. This frequency is more powerful (faster than the Internet) but is confined to a few meters from the router.
USB ports: WiFi routers generally have one or more USB ports that you can use for various purposes. Often, the USB cable of the printer is connected to the modem to " share it on the network " and print from any part of your home while you are connected to WiFi. Another way to use them is to connect an external Hard Disk to your modem with your data inside to have them always at hand while you are connected to the modem with any device.
Beamforming+: This improves performance (especially in the 5 GHz networks), which allows the router to " orient " the WiFi signal towards the areas where the devices are located. It becomes useful for those devices that are in more remote corners than the range of the router.
MU-MIMO technology: with this technology, the router can send/receive data with multiple WiFi devices simultaneously and intelligently to manage the Internet connection better. These are possible thanks to several antennas, but to use it, both the modem and the device must be compatible with WiFi 5 GHz.
SIM support: they are also called 4G Routers because they can host a SIM to connect to the Internet, just like smartphones. It becomes beneficial for those who do not want to pay a heavy telephone contract. If you want more information, take a look at our in-depth information since, in this guide, we will not cover them.
The 10 best WiFi routers
After a good feast of notions (which perhaps have also bored you but trust me, they are fundamental), let's go and discover together the best models of the moment. We have collected for you only those worthy WiFi routers but do not hesitate to leave us a comment to tell us about your experience with some devices, feeling free to report them.
Product prices and availability are subject to change. Any price and availablility information displayed on Amazon at the time of purchase will apply to the purchase of any products.