Guide
Chinese Drone: The Best to Buy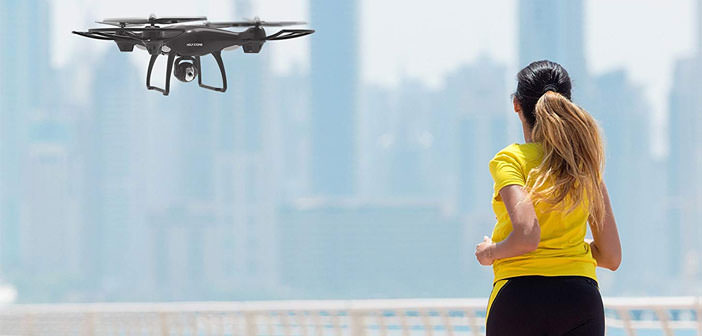 The spread of drones in recent years has been really exponential. From simple toys, they evolved to become professional machines. Many models have been created, from those that are in the palm of the hand to those who are real beasts. If you want to approach the world of drones and at the same time do not want to spend a lot to take home one, the best solution is to rely on cheap drones that often translate into Chinese Drone.
If your intent is to do some acrobatics or have fun it does not make sense to spend a lot of money, so we decided to make this guide to help you choose the best economic chinese drone.
As you will see below, not always a Chinese drone is synonymous with savings: there are top models that cost a lot and have performances to be screamed (and of course we will show you in our selection).
Best-selling cheap Chinese drone of the moment
Before continuing, here is the list of the best-selling drones currently on Amazon. This is the top 10 ranking that is updated continuously below and automatically, every day.
---
The Best Chinese Drone
Here is our content index to help you navigate.
Drones Max $30
For $20 we can take home a small drone that will entertain us. We cannot expect any kind of functionality in this price range. This price range is dedicated to those who just want to have fun without spending a lot.
We will not elaborate on describing the characteristics of drones in this price range. In fact, their characteristics are reduced to the essential and do not have particular functionalities.
So we offer you the best chinese drone for this price range.
JJR/C JJ-1000 Drone
It features with 3D roll function.
Hand throw function allows you to fly it on your hand.
New structure makes assembly and maintenance easier.
6-Axis gyro quad-rotorcraft flight, strong stability.
With colorful flashing LED light, can fly at night.
JJRC H36 Mini Drone
Headless mode : Headless mode, a function through which the aircraft will consider the direction opposite to that of the remote control as the correct one by default when it flies to a height where the operator is not able to judge the direction of the aircraft head with bare eyes, so that you can go on with the remaining positions.
3D Roll : Just press the button on transmitter, and you get 360-degrees Flip, continuous roll for perfect action and wonderful performance.
6-Axis gyroscope : 6-Axis gyroscope adopted for strong stability, allowing for various flight movements implementation with stronger wind resistance and ease of control.
LED Lights : The creatively designed LED lights are fitted for night flight possibilities, leaving a beautiful landscape in the night sky.
Function : a key return/ Up / down / left turn / right turn / forward / back / left side fly / right side fly / speed file/ 360 ° flip / headless mode / memory function.
JJRC H20
4 Channel which can do ascend, descend, forward, backward, left sideward fly, right sideward fly and rolling 360°.
It has 6-axis gyro which can have more stable flying and be easy to control.
It can realize 3D tumbling in four directions with 4 LED lights.
---
Drones Max $50
At this figure, we are already approaching Chinese drones with some extra features, such as a small camera. Of course, it will never have an optimal quality and yield. But these drones are also distinguished by a greater build quality. So let's see some of the best models.
JJRC H37 Elfie
This drone also has a small 2 MP camera capable of recording video at 720p. Unfortunately, the camera does not seem to take pictures of excellent quality, but it is still a drone from $50.
SY X25 2.4G 8CH 6-Axis Speed Switch With 3D Flips RC Quadcopter Land
It is a drone a bit special as it is also designed to move on the ground. In addition to the 4 propellers, also has 4 wheels that allow it to move even on the ground. A flaw is the only 0.92 MP camera that does not give us, unfortunately, quality photos.
---
Drones Max $100
In this price range, we find Chinese drones with a construction and materials better than the previous ones and with better features and functionality. So let's see what are the best drones for this price range.
MJX Bugs 3 Brushless Drone
This is a 4-prop drone with a battery that allows us to fly for 20 min. It is also equipped with an LED flashlight and a support for attaching our action cam. It also has a Nylon fiber body that allows it to withstand even the bumps very well.
Tenergy Syma X8SW
This new FPV quadcopter from Syma with a special Tenergy exclusive black and yellow color is the perfect drone for you to enjoy. Featuring the FPV viewing feature so you can view live video feed right from the screen of your smart phone as you are flying.
Also designed with a new hard case modular battery to remove exposed wires and making it more durable for frequent battery removal and installation. Find out more about the quadcopter packed with other easy-to-use features below.
---
Drones Max $200 – $500
Here we are at the last price range of Chinese drones. We find drones with greater construction and functionality than previous ones. Moreover, these products are reserved for users who do not pay the costs, but who at the same time want a product with an excellent quality/price ratio. So in this section there will be professional drones, also designed for competitions.
So let's see the best products for this price range.
HUBSAN H501S X4 Drone 4
This is a 4-helm drone with a camera capable of making photos and videos at 1080p. It also has some interesting features, such as the return function and the fail-safe mode, which will return the drone to the starting point after losing the connection. In addition, the battery allows it to fly for about 18 to 20 minutes.
DJI Phantom 3
29%
DJI Phantom 3 Standard Quadcopter Drone with 2.7K HD Video Camera
Refer the user manual and videos on this page for troubleshooting.Enjoy the...
View a live image streamed from the drone up to a half mile away on the DJI Go...
GPS assisted flight features let you concentrate on getting great images while...
Fly up to 25 minutes with the included intelligent battery. A range of...
Update the remote control first before use.
One could not fail to include a DJI drone, which has become a leader in the drone market by now. It is equipped with intelligent flight attendant and we have the possibility to set an area within which the drone will remain. It has a 12 MP camera, and an 8GB microSD for storage is also included.
Holy Stone GPS FPV RC Drone
Holy Stone HS100 Navigator is an intelligent RC quadcopter, equipped with an advanced GPS system, engineered to locate the drone. Now you never worry about the drone flying away. The built-in high definition camera allows you to take quality aerial footage.
Equipped with the new "follow me" feature, this drone will stay above you automatically, keeping the camera centered on you at all times and capturing your every move. With a newly created intelligent battery, you will get flight times up to 15 minutes, giving you a more extensive flight experience!
Product prices and availability are subject to change. Any price and availablility information displayed on Amazon at the time of purchase will apply to the purchase of any products.