Guide
Gaming mouse and keyboard: The best bundles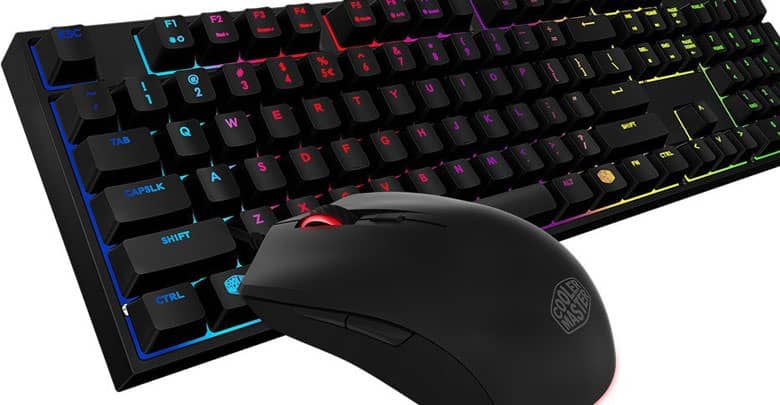 There's nothing better than focusing on bundles for novice gamers who want to build their first location. This is a solution that allows you to save time and money on choosing your peripherals. A good keyboard and a good mouse are essential in creating a PC gaming station that respects itself. In this guide, we have collected for you the best bundles with gaming mouse and keyboards currently available on the market.
Gaming mouse and keyboard bundle: Which to buy
In our guides on the best gaming keyboards and gaming mouse, we have explained to you in detail the aspects to consider when deciding to buy both devices.
In this guide, in addition to offering you the best bundles on the market, we will also explain how to evaluate the keyboards and mouse in the bundles.
How to recognize a gaming bundle
There are a lot of bundles on the market that include mouse and keyboards. Obviously, not everyone can be considered a gaming-oriented item. For this reason, it is essential to recognize a gaming bundle from one mainly dedicated to everyday use. Let's start with the assumption that if a keyboard and mouse are characterized by a tamarro design with RGB LED, they are not necessarily gaming-related articles.
The bundles dedicated to gaming cost more than $30. This does not mean that you cannot play with cheaper products. However, you will suffer a lot while using it in your gaming sessions. Therefore, we advise you to opt for quality products, as they will be more durable than cheap products. In addition, superior quality bundles allow you to get excellent in-game performance.
In the market, there are few bundles dedicated to gaming really valid. For this reason, we decided to create " personal " made in CR bundles, with which we recommend a combo with a valid keyboard and mouse to buy.
How to evaluate keyboard and mouse
The main aspects to consider when buying a gaming keyboard are mainly two: the type of keys and the build quality. Membrane keyboards are inaccurate, economical, and quieter. On the other hand, a mechanical gaming keyboard is equipped with more precise and responsive keys but has a higher cost than a membrane keyboard.
Both types of keyboards are suitable for gaming, but it is preferable to use mechanical switches to guarantee a short response time, with a consequent in-game advantage.
As for gaming mouse, two of the most important aspects are the optical sensor and the ergonomics offered. Furthermore, you must not forget that a respectable gaming mouse must have at least two customizable keys to program them as you wish and adapt them to your style of play.
The best pre-configured bundles
Cooler Master Devastator 3 Gaming Keyboard & Mouse Combo
It is one of the most famous kits for those approaching the world of gaming peripherals for the first time. The strong point of this keyboard is the excellent quality/price ratio. A mouse is also bundled.
A long stroke characterizes a membrane keyboard, but the keys are quite reactive. It is also equipped with backlighting with 7-color LED. Unfortunately, there are no programmable keys and inputs for other devices.
The presence of multimedia keys at the top of the keyboard is very welcome. The mouse in the bundle is of good quality. It is certainly not a medium-high end mouse, but it does its job very well, thanks to two programmable buttons on the side of the mouse.
Cooler Master SGB-3040-KKMF1-US MasterKeys Lite L Gaming Keyboard & Mouse Combo
It is one of the best gaming bundles for value for money. The keyboard is a Cooler Master SGB-3040-KKMF1-US MasterKeys Lite L and has hybrid mem-chanical keys, which are Cooler Master owners.
These particular keys offer tactile feedback that is very close to mechanical keys, with the advantage of maintaining a low cost. In addition, the keys have a good response and behave very well even during gaming sessions that require greater responsiveness.
The build quality is definitely above average, and the supports placed below the keyboard allow it to be fixed to the desk. Moreover, it has RGB lighting with effects that can be modified using certain key combinations. The mouse included in the package is well made. It features two customizable side buttons that allow you to perform in-game actions more easily.
The best bundles are chosen by us
Drevo Tyrfing V2 + Logitech G203
As the first " personal bundle, "we have chosen to offer you two cheap products with an excellent quality/price ratio. The chosen keyboard is the Drevo Tyrfing V2, a great product that has established itself in the market thanks to its attractive price. We are talking about a mechanical keyboard with Outemu switches, available in the Blue, Red, Brown, and Black variants.
It is a tenkeyless model, which means that the numeric keypad on the left side is absent. All this translates into greater comfort and more free space on your desk. In addition, there is dedicated software that allows you to manage RGB lighting and customize the programmable keys.
As for the mouse instead, we propose the Logitech G203, a great low-end mouse that behaves very well in the game. It is equipped with an optical sensor that can reach a maximum of 8,000 DPI. On the side, two programmable buttons allow you to customize them to your liking. Furthermore, the dedicated software, in addition to managing RGB lighting, allows you to save predefined settings in the mouse memory and use them on any PC.
Logitech G213 + Logitech 403
It is a bundle entirely branded Logitech. As a keyboard, we propose the Logitech G213. This is one of the best keyboards with mem-chanical keys currently available on the market. It is suitable for both gaming and everyday use, mainly written. Included with the keyboard is a comfortable non-removable integrated wrist rest, which reduces fatigue during use.
In addition to the multimedia keys, the F1-F12 keys can be customized as macro keys thanks to the software downloaded from the company website. Moreover, it enjoys the resistance to falling liquids.
The mouse is the Logitech 403, a product with an excellent quality/price ratio. It is equipped with 6 programmable keys and a removable weight of 10 grams, which allows you to better adapt it to your needs. Its optical sensor allows you to reach a maximum of 12,000 DPI. You can save customized settings within the mouse memory and use them on any PC.
CORSAIR Strafe RGB MK.2 Mechanical Gaming Keyboard + Logitech G502
The Corsair Strafe RGB is one of the best mechanical keyboards made by Corsair. It features the renowned Cherry MX switches in Brown, Red, or Silent versions. The Cherry MX switches guarantee maximum performance and durability. The keyboard offers 100% anti-ghosting, ensuring maximum precision even in the most intense gaming sessions.
The FPS and MOBA kits of textured keys guarantee excellent grip and a pleasant feel to the touch. Corsair's CUE software allows you to customize the RGB lighting of each key and manage the programmable keys. In addition to the comfortable, removable wrist rest, we also find a useful USB pass-through that allows you to connect external peripherals directly to Strafe RGB.
As for the mouse, we recommend the Logitech G502. It is a model of excellent quality, equipped with 11 programmable buttons thanks to the appropriate software. The optical sensor can reach a maximum of 12,000 DPI. Moreover, some weights allow you to customize the mouse's weight to adapt it perfectly to your preferences.
Product prices and availability are subject to change. Any price and availablility information displayed on Amazon at the time of purchase will apply to the purchase of any products.