Printers
Epson Expression Premium XP-520: Review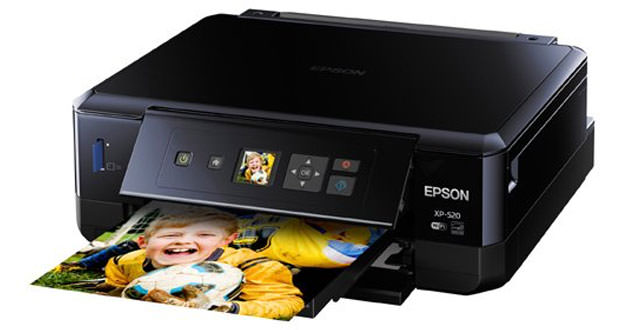 The Epson Expression Premium XP-520 is a printer ink jet to domestic use particularly refined and elegant, and able to ensure in general good performance. Like all models in Epson, this multifunction is very appreciated for the good image rendering.
Today we speak of the Epson Expression Premium XP-520, a multifunction printer midrange inkjet excellent value for money. Aesthetically, the Epson Expression Premium XP-520 is a very nice product, with simple lines and modern, and the whole is also quite compact. As for the features, they are overall average, still considerably able to guarantee excellent results from every point of view, both as regards the press, that as regards the functions of scanning and copying.
Epson Expression Premium XP-520: A Good Multifunction Versatile and Economical
The multifunction Epson Expression Premium XP-520 is definitely an innovative product, so before moving on to analyze the characteristics of printing and scanning, worth investigating some aspects of connectivity and additional features of this product. First let's start from the connections: in addition to the classic interface USB high-speed inkjet printer is equipped with a wireless interface.
So far, so normal. Via the wireless interface, you can access a number of functions, such as printing from tablets and smartphones but also through email, all thanks to Epson Connect. Through this technology we can also print directly from the social world's most famous, or Facebook, and customize output thanks to Epson Creative Print function, even if the latter technology has substantially a function rather playful (for example, example we can convert photos into drawings black and white to color).
Despite much dedicated software, this multifunction is still compatible with applications such as Apple AirPrint and Google Cloud Print. Moreover, despite being a model quite cheap, this All-in-One is also equipped with a small display, useful to display the various settings.
There is also a convenient memory card slot, which is essential for those who store their files on these media. Finally, it is definitely worth noting that this printer has a function to remove red-eye, which makes us aware once again of how much attention devoted to the Epson printing photographs, and also why this company is confirmed at the top with regard to photo printers.
Epson Expression Premium XP-520: Performance of printer
The Epson Expression Premium XP-520 maximum resolution of this Epson printer is 5,760 x 1,440 DPI, enough to get high-quality printouts. The good quality of the printed pages is also due to printing technology adopted by Epson, or the so-called " Variable-Sized Droplet Technology ", which raises this Multifunction (and also in many other Epson printers) to vary the size of a single drop of ink, from a minimum of 1.5 picoliter. Printing speed is about 9.5 pages per minute in black and white, not much, but let's at least enough to ensure normal use.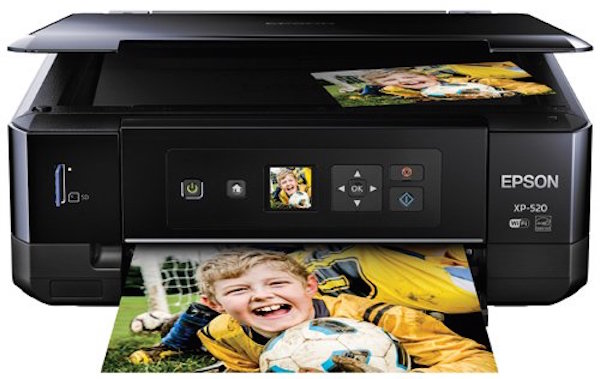 As for color pages (which are usually the slowest to print) this model is around 9 pages per minute, then the competition. This model proved to be particularly fast. The drawer for the insertion of the card is positioned frontally and allows loading of about a hundred A4 sheets at a time. Finally it is definitely worth mentioning that this model is equipped with duplex printing / sided printing and the ability to print borderless (useful when you need to print photographs).
Cartridges and Convenience
The Epson Expression Premium XP-520 can count on five inks, 1 for the texts, ie the classic black, and then 4 colors dedicated exclusively to color copies, including photo black. All colors are contained in separate cartridges, which in this case are then 5. The downside is of course that you have to keep track of multiple cartridges. The positive side is that it can change from time to time only the most-used ink, avoiding unnecessary waste. Epson has also embraced the idea of ​​the cartridges increased, therefore the market you can also find the size XL, convenient especially if printed regularly.
Performance of Scanner and Copier
As we have seen, in terms of print quality, this multifunction is slightly above the average of the competition, but what about the scanner, it fits perfectly into the standard: the maximum scanning resolution is 1,200 x 2,400 DPI. All scans are then very good, not to mention copies, which will be always clear and legible (as indeed it should be). Obviously, as we have said we are in the media, so as far as scans and photocopies do not expect anything other than the products of the same category.
Where to Buy Epson Expression Premium XP-520
---
---
PROS : Great Value Price, Good Yield Print, Versatile, Print Front / Back, Wifi interface.
CONS :
n/a
Product prices and availability are subject to change. Any price and availablility information displayed on Amazon at the time of purchase will apply to the purchase of any products.