Laptops
HP ENVY TouchSmart 15: Review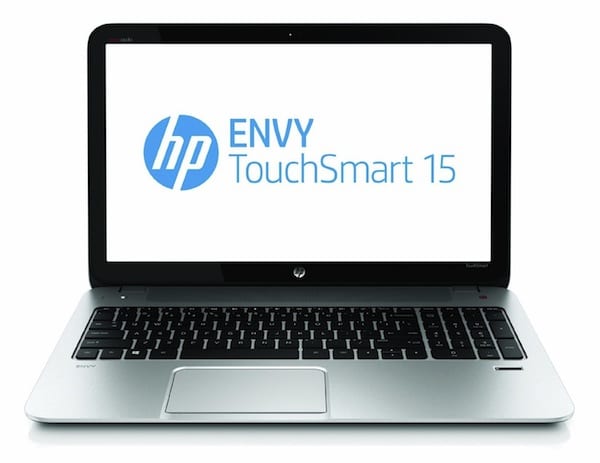 HP ENVY TouchSmart 15 is a compact but powerful laptop with Core i7 2.4 GHz, GeForce GT 740M, 16 GB RAM, 1 TB HD and touch screen. 
With the new HP ENVY TouchSmart 15 offers a laptop that aims to enhance the features of design and portability, but without sacrificing the technical equipment and the raw power, providing a true desktop replacement in the form of a small 15″ laptop diagonal. The sheet consists of a CPU Hashwell Intel Core i7 4700QM (quad-core 2.4 GHz with turbo boost up to 3.4), and Nvidia GeForce GT 740M, 16 GB RAM, 1 TB of traditional hard drives, and finally, a touch screen Full HD.
Everything is controlled by Windows 8 – 64-bit. The department connectivity HP ENVY TouchSmart 15 is guaranteed by the inevitable HDMI output, 4 USB 3.0 ports, Wi-Fi 802. 11 B/G/N, Bluetooth, Ethernet port and SD card reader while the media can rely on the now traditional collaboration with Beats Audio. Note the absence of an optical drive, as well as the presence, in the right side of the keyboard, a fingerprint reader.
The keyboard itself is a full-size backlit, complete with function keys, with only the arrow keys sacrificed in the tuck position classic of smaller devices.
The battery is 6-cell and allows a range that, when mixed use, can reach about 4 hours, a value that is not stellar in terms of portability, but on the other hand, with a sheet so demanding, saving energy becomes an issue necessarily complicated.
HP ENVY TouchSmart 15: Construction Quality
Overall, the HP ENVY TouchSmart 15 is certainly a compact, lightweight device for its category. The weight of around 2.5 kg makes it less of a portable ultrabook, but still easy to carry in a bag of medium size. Even the external power supply boasts size and weight rather low, feature always appreciated.
The materials used and the overall build quality is quite good: the body of the keyboard is made of brushed metal, pleasant to the touch and durable enough. The keyboard is made up of keys from the island feeling fairly good, though not exceptional in terms of robustness and the track pad (not centered, but slightly to the left) is large, quite responsive and gives a nice click.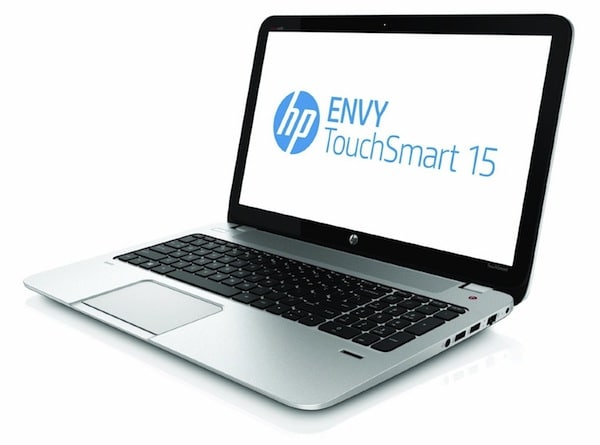 The same quality cannot be attributed, unfortunately, the touch panel. Although the panel is Full HD 1080p and offers therefore, a good density compared to 15 " diagonal, the appearance of images is annoyingly grainy and poorly defined in fine detail (very small text and icons), perhaps due to the capacitive layer. In addition, the viewing angle is not great and as a result the colors are washed out and lacking contrast at angles less than optimal. Much better is the front audio HP ENVY TouchSmart 15: the integrated speakers, although they cannot obviously compete with an external set offer a good-quality reproduction, especially when watching movies, which are quite nice even in low tones and sufficiently high crystalline ones.
HP ENVY TouchSmart 15: Performance
In terms of overall performance, the HP ENVY TouchSmart 15 is notable for a very interesting performance. The processor, which belongs to the latest generation of Intel Hashwell, provides an output of true desktop replacement, allowing you to perform operations also quite intense in its simplicity and speed. The optimal allocation of RAM makes multitasking a walk through this system and the inclusion of a dedicated video card and moderately powerful as the GeForce GT 740M 2 GB (in addition to the integrated GPU HD 4600 processor) makes the laptop suitable also to operations of gaming, though not exaggerated.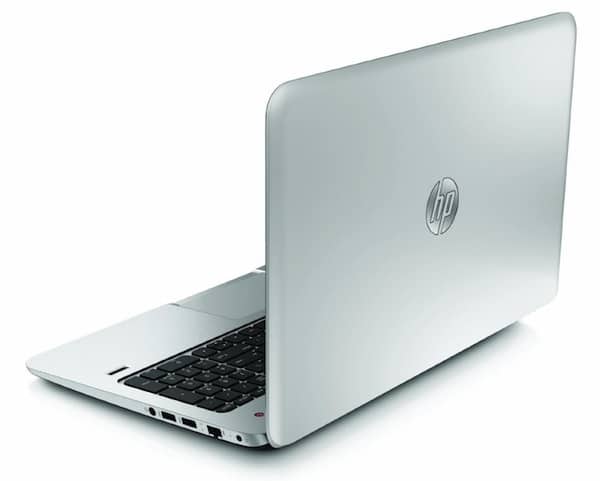 In our test of the HP ENVY TouchSmart 15, with two titles fairly challenging as Bulletstorm and Castlevania: Lords of Shadows, we obtained values ​​widely playable with 1,280 × 720 resolution and medium settings (40 fps) and slightly lower resolution 1,920 × 1,080 in settings low (28-30 fps). Overall, it is a more than decent performance for a laptop of this category, which is therefore, also suitable for those who want to play some video games. Even when it is under stress, the HP ENVY TouchSmart 15 is never either too noisy (despite the fan will still make you feel) or too hot, both appreciable characteristics.
Conclusion
The HP ENVY TouchSmart 15 is a laptop with high performance, capable of replacing a desktop in most uses except in those extremely stressful (audio / video editing, gaming hardcore), obviously provided that you do not need a optical drive, here a priori excluded from the design.
This notebook is definitely a good choice for anyone looking for a compact, portable, powerful and elegant at the same time. Too bad only for the inclusion of a screen from the quality far below expectations and a battery life not brilliant and the absence of a solution with SSDs, that would make it-even faster device capabilities certainly interesting.
Where to Buy HP ENVY TouchSmart 15
---

---

---
PROS : Compact and stylish, CPU and GPU performance, Sound quality above average.
CONS :
Autonomy is not brilliant, Lack of optical drive.
Product prices and availability are subject to change. Any price and availablility information displayed on Amazon at the time of purchase will apply to the purchase of any products.