Guide
Best SoundBars to Buy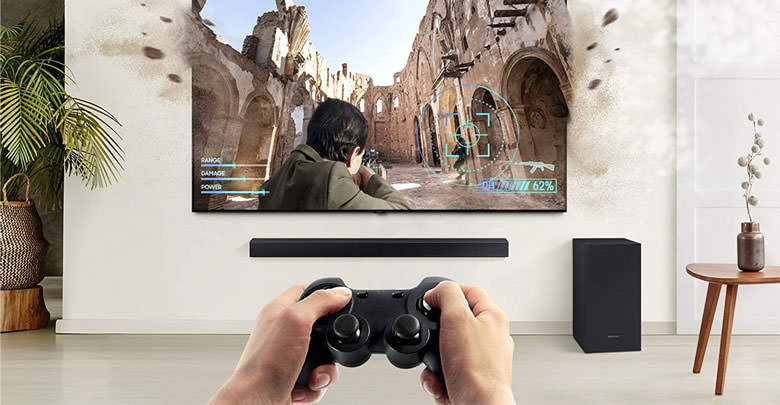 In this guide, we will offer you the best soundbars on the market to buy currently. Soundbars are a great buy for those who want to boost their television's sound, especially if the television does not have sufficient audio quality.
In general, soundbars can offer an average quality that is always higher than that of televisions and is an excellent compromise between price, audio quality, and size.
How to choose a soundbar
There are soundbars for all tastes. From models with external subwoofers to minimal ones with everything you need integrating into a single solution, you are spoiled for choice. The parameter that matters most is certainly the quality of the sound, and in this case, we advise you, if you can, to always buy soundbars with a separate bass module to give a good boost to the audio in general.
There are also many 5.1 soundbar models, i.e., those soundbars that simulate Hi-Fi systems' spatiality, giving back in some cases even a good result in effect, but which in the end is never like being surrounded by dedicated speakers.
Companies have gone so far as to also bring soundbars with Dolby Atmos, a technology that raises the concept of surround sound even more, also providing audio sources even above the listener. In soundbars, Dolby Atmos is simulated by giving the internal drivers a certain tilt.
On the soundbars, we can have many different types of connection, which can be wired (optical fiber, HDMI ARC, RCA) or wireless (Bluetooth, Wi-Fi). Still, we can also analyze these products from the point of view of only design or, to be more concrete, of dimensions: it is right that the soundbar integrates itself without disproportion into the home environment not to be too wide or too narrow.
The last aspect of analyzing, but not least, is the price: soundbars exist for practically all price ranges, and you don't have to worry because surely in this guide you will find at least one proposal that suits your needs.
How to connect a soundbar to the TV
As mentioned above, soundbars have many ways of being connected to source devices. To connect a soundbar to a TV, we certainly recommend a wire connection. In this case, you can choose several ways: 
HDMI ARC: ARC abbreviation in HDMI ARC stands for "Audio Return Channel, "representing an HDMI port that can also pass audio. If you want to connect the soundbar to your TV via HDMI ARC, we advise you to check if your television has this type of port (which usually coincides with the main port) because not all of them have it.
Optical cable: very simple but effective, the optical output on televisions is practically always present, making the connection safe and practically compatible with 99% of TV in circulation. It would help if you got the right cable.
RCA: the oldest of all the ports mentioned. We are talking about the usual connection " broken " in two. The ports will be two, not one for the right channel and one for the left channel. The most recent soundbars do not integrate this standard as it is antiquated and decidedly less practical than the ways indicated above.
---
Our Selection
So let's see which are the best soundbars to buy now. There is a little bit of everything from the cheapest low cost to the highest end, so we hope you will find what you are looking for here.
Bose Solo 5
10%
Bose Solo 5 TV Soundbar Sound System with Universal Remote Control, Black
Single sound bar provides better sound quality compared to your TV.The Solo 5 TV...
Dialogue mode to make every word and detail stand out
Bluetooth connectivity to wirelessly stream music from any of your devices
One connection to your TV. Optical audio input (digital); Coaxial audio input...
Universal remote controls TV, bass, Bluetooth connections and more
The Bose Solo 5 is simply an extraordinary product. Although it is not particularly smart, it is its concreteness that speaks: connect it to the TV via optical, coaxial, or analog cable, and you will be ready to enjoy all your content with an audio quality superior to any TV. Obviously, there is no lack of Bluetooth to connect your mobile devices from which to send audio wirelessly.
I also appreciated the presence of universal remote control. Really well done. And for a Bose product, the Solo 5 is also relatively cheap, which is perhaps the most surprising thing of all and which makes us strongly recommend this product, making it arguably the best soundbar under $200.
Yamaha Audio YAS-209BL
Yamaha Audio YAS-209BL Sound Bar with Wireless Subwoofer, Bluetooth, and Alexa Voice Control Built-In
Easy setup with HDMI or Optical cable and automatic subwoofer connection
Wireless subwoofer for deep bass and flexible placement. Center unit-36-5/8 ×...
Clear voice for enhanced dialogue clarity
Alexa built-in for voice control of your sound bar, playing music, listening to...
With Alexa, playing music is as simple as asking for a song, artist, or genre...
Definitely noteworthy is this Yamaha YAS-209 as well. It is not the top of the company's range, but at an honest price, you will have a compact and elegant product, with excellent sound quality and powerful bass thanks to the wireless subwoofer's presence. There is no shortage of the Alexa voice assistant and a companion app to manage your entire audio system in the best possible way.
Bose Smart Soundbar 700
Bose Smart Soundbar 700: Premium Bluetooth Soundbar with Alexa Voice Control Built-in, White
Best Bose soundbar: The best-performing soundbar from Bose, featuring immersive...
Built-in Alexa: Amazon Alexa and Google Assistant are built into this smart...
TV voice control: Exclusive Bose Voice4Video technology expands your Alexa...
Make or take calls: With Alexa only, make or take calls from this smart soundbar...
Connectivity: Stream your favorite music and more via a Bluetooth connection,...
We conclude with a bang. High price, as well as performance. These Bose soundbars are the best you can find and have everything the enthusiast user could wish for. Also, the now basic functions such as Bluetooth, these Bose Soundbar 700 have full support for Alexa, and they can be controlled by the dedicated app, very well done as usual from the US house.
---
SoundBar for PC
After looking at some of the best TV soundbars together, here's a shortlist of the best soundbars to connect to your PC. They are slightly different products because they are more compact than their counterpart for TV and not in all cases they have a remote control, as they can be managed directly from the controls on the main body, easily accessible since the distance between it and the user must not be that wide.
Best-Selling Soundbars
And after our selection, here are the top 10 of the best-selling soundbars of the moment. The ranking is constantly updated every day automatically.
Product prices and availability are subject to change. Any price and availablility information displayed on Amazon at the time of purchase will apply to the purchase of any products.