Guide
Which Game Console to Buy?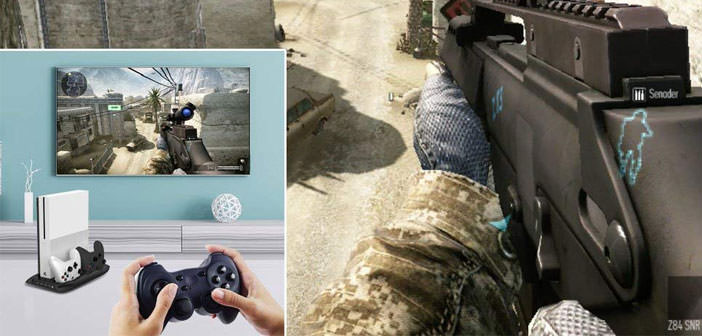 2017 was a year full of news for the video game world, especially regarding the game console with the release of Nintendo Switch and Xbox One X. If the time has come for you to become part of this world, here is the guide to buying the best game console according to your needs. In this guide, there will be specific prices as they are subject to variations, but you will find the various links of Amazon.
The Game Consoles
To choose a game console, first of all, you need to know what the market offers us. At the moment, we are offered :
Xbox One S
Xbox One S 1Tb Console - Starter Bundle (Discontinued)
Bundle includes: Xbox One S 1TB Console, wireless Controller, 3 months of Xbox...
Get instant access to over 100 great games carefully curated for high quality...
Watch 4K Blu ray movies and stream 4K video on Netflix, Amazon, hulu and...
Xbox One has over 1,300 great games including today's...
Xbox One is the only Console where you can play new EA games for a limited time...
The Xbox One S is the low-end game console of Microsoft. Slightly less powerful than the PS4 Slim, it supports HDR, transmits the signal to a maximum of 1080p native, and supports 4K upscaled for games and the native 4K for Blu Ray.
PlayStation 4 Slim
27%
PlayStation 4 Slim 1TB Console - Star Wars Battlefront II Bundle [Discontinued]
Bundle includes PlayStation 4 Slim 1 TB console and Star Wars Battlefront II...
Includes a new slim 1TB PlayStation4 system, a matching DualShock 4 Wireless...
This Star Wars Battlefront ll PS4 bundle will immerse you in epic Star Wars...
Become the hero and play as a fearless trooper, pilot a legendary starfighter
The PlayStation4 system has a 1TB hard drive for all of the greatest games, TV,...
It is the low-end console of Sony house. It slightly overcomes an Xbox One S in power but does not support 4K in any way. From specific supports the VR, the low power could be unplayable without nausea or ill-feeling due to poor fluidity and quality of the various games.
Nintendo Switch
The Nintendo home console is the only one to bring some diversity in this scenario. The hardware is the least performing among all consoles with a resolution of 720p from portable and 900p from fixed, but the game modes are much more varied thanks to Joycon.
Xbox One X (Xbox Scorpio)
The most powerful console ever. It supports native HDR and 4K, even maintaining 60fps on some games with special patches. Regardless of the power, online is often (if not always) limited to 30fps to make the gaming experience uniform on all platforms.
PlayStation 4 Pro
Sony's high-end game console. It supports 4K upscaled and HDR as the younger sister but offers greater fluidity and/or quality of detail.
Now that we have listed the game consoles, we can list the various reasons for choosing one console or the other.
Budget
Often, if a person chooses to play on a console, he has a limited budget. If this is your case, I recommend you buy Xbox One S at the time of purchase because both the console itself and the various games are the cheapest on the market.
Subscriptions
The game consoles, unlike PCs, need a subscription to allow us to take advantage of the online multiplayer of the various games. This is not the case, for now, of Switch, for which the inclusion of subscriptions is expected by the end of 2018. On Xbox, we have Live Gold that allows us to take advantage of exclusive discounts, games as gifts, and games available for a limited time.
Xbox LIVE 12 Month Gold Membership Card
Compatible with both the Xbox One and the Xbox 360.
Experience unrivaled multiplayer gaming, with smarter matchmaking that?s ready...
Watch HD movies, TV shows, live events, music and sports; enjoy premier...
Extend access to Xbox Live Gold benefits on your Xbox One to anyone in your home
While cloud storage is free for Xbox, Sony includes Playstation Plus and the possibility to receive special offers and games as a gift.
Multiplayer
If you are a multiplayer enthusiast and buy a game console to play with friends, the most useful advice you can give yourself by informing yourself on the consoles used by your friends to play happily in the company.
Accessories
The game console that offers more variety of accessories is certainly Nintendo Switch. It makes its full-strength interactivity with many of the games in its library and the recent release of Nintendo Labo.
The accessory that could be worth the most is the Sony VR that can totally revolutionize your video game idea. Should you opt for this second option, I strongly recommend pointing the PS4 Pro. The VR, used with the basic version, could cause fluidity and nausea due to the power of calculation is not sufficient to manage it optimally.
Power
If you are a lover of high performance and do not want to buy a PC, I highly recommend buying an Xbox One X. This game console is the most powerful in terms of hardware and is also the only one to support the 4K and, in some cases, even reaching 60fps at this resolution.
For insiders, it is enough to know that the video card of this console equals the RX 580 but, with the addition of console optimization and specific patches for 4K, it is more powerful. The only flaw is the 30fps limit that applies to be online, not to give excessive advantages than the Xbox One S.
Exclusive
This point does not have an absolute winner but is based on your personal tastes. Apart from Switch, which lives almost exclusively, such as the various Mario, Zelda, Pokemon, Dragon Quest, and Fire Emblem, the game consoles share much of the library.
If Sony can boast great classics in all categories such as Gran Turismo, Uncharted, Crash, Until Dawn, God of War, and The Last of Us, even Microsoft defends well (also complicit the PC gaming) with games like ReCore, Forza, Ori – The Blind Forest, Dead Rising, Gears of War, PUBG (probably temporary exclusive), Cuphead and many others. The winner of this point is given only by your personal tastes since in any direction you look at nowadays, there is really a lot of choices.
Conclusions
A real winner between this comparison does not exist since everything depends on your personal situation. If I still have not been able to clarify your ideas, the last piece of advice I can give you is to draw up a personal list with the pros and cons of each game console to get clearer ideas.
Product prices and availability are subject to change. Any price and availablility information displayed on Amazon at the time of purchase will apply to the purchase of any products.