Guide
Portable Projector: The Best to Buy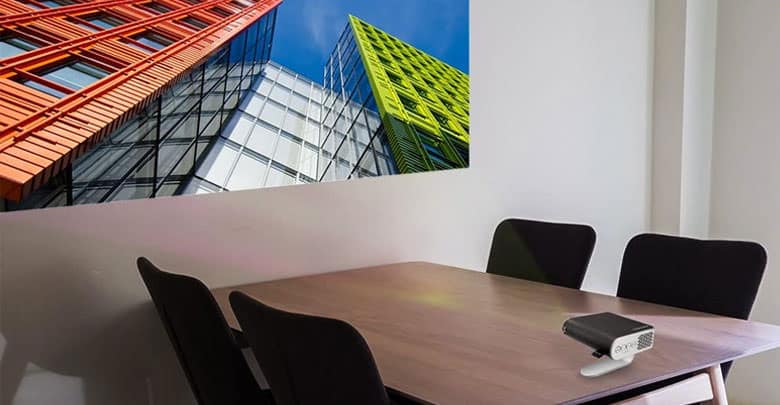 There is nothing better than living the cinema experience directly in your own home thanks to a nice portable projector. In reality, these devices can be beneficial even at work, especially for projecting business graphics or material for lectures at university.
There are many models available on the market, so if you don't know which one to choose, you will find this guide very useful, including opinions on the best models and information on how to choose the one that best suits your needs.
Buying Guide – How To Choose The Best Portable Projectors?
The portable projector is an excellent solution to bring the emotions of cinema into your home without spending too much. If you have read our opinions and made a comparison between the offers, you have probably already understood which model is right for you.
If not, this short guide will help you distinguish some main features to help you find your way around and buy the portable projector that best suits your needs.
Image quality
Portable projectors are often associated with the world of entertainment; many users buy one to complete their home theater system and recreate the cinema experience directly at home. If you love watching movies and playing video games, but your TV screen isn't enough for you, then we recommend buying a projector that supports a good native resolution.
Hardly a mini projector will arrive at native 1080p; a good model must reach at least 720p. This is a good starting resolution that can scale to view Full HD and 4K content.
The less-expensive products support 480p, with slightly lower image quality. The quality of the projected image is also defined by the lumens and the LED lamp of the device, which contributes to the brightness and color fidelity. A good portable projector can go up to 200 lumens, ideal for viewing any multimedia content in great detail.
Those looking for a projector to show graphics at work or slides to university students must choose a model with good focus since written documents must be legible.
Functions
With the arrival of Wi-Fi and Bluetooth connections, portable projectors have also evolved by integrating functions for connectivity and more. On the market, it will be possible to find models with Wi-Fi connection and Android operating system version 7.1 or higher, thanks to which you can access a series of fun features. For example, you can use apps to access social networks, and above all, see streaming content via Netflix or Youtube.
With Bluetooth instead, it will be possible to connect to smartphones, laptops, and tablets to project videos and photos.
The models equipped with these functions do not have the excellent image quality in those of the best brands, more expensive, and timeless versatile. In general, almost all portable projectors have a USB port for reading multimedia files such as videos and photos.
Regulation and Battery
Not all portable projectors have the same dimensions. Some models come in more compact sizes than others, particularly suitable for those who frequently travel for work and want to clutter the minimum space in their suitcase. The advantage of portable projectors also lies in their positioning, which does not require a tripod.
The important factor in evaluating is the focus adjustment, which must have a trapezoidal correction to tilt the image correctly from any point. This feature present in many models allows you to place the projector on a shelf or a table, making portable projectors particularly suitable for camping.
As for the battery, we advise you to look for a product with a rechargeable lithium battery of at least 5,000 mAh to cover a couple of hours of autonomy before having to attach the device to the mains.
---
Frequent questions
Can I see 4K and HD content on the projector?
Yes, many models support scalable resolution up to 4K. However, to see content at this resolution, you will need a projector with 4K or Full HD as its native resolution and be ready to spend rather high amounts.
If compatible with the signal in Full HD (or Ultra HD), most of the cheap projectors will perform an image compression that will be of lower quality (in the best models, the most recommended for watching movies and playing, with a native resolution at 720p).
What does native resolution mean?
This is the original resolution of a screen or, in our case of a projector. So, for example, if the projector has a 1,280 x 720 pixels resolution, this will be the optimal one for viewing content.
According to the projected contents, this can be 'scaled' or modified to reach higher or lower resolutions. However, scaling down the resolution inevitably leads to a blurry image compared to the original one.
Do mini projectors have speakers?
It depends on the model. Those extremely compact for technical hardware reasons do not have speakers, so you will need to get speakers or configure the audio to be reproduced by the TV. As for standard portable projectors, some have built-in speakers that can also have good sound quality.
In general, for optimal results, it is always advisable to obtain a pair of external speakers, even if they are not too expensive. As for home theater, you can connect the projector to the system by having the receiver manage the device's audio output.
How long does a portable projector battery last?
The battery of a portable projector can last up to two hours of continuous playback without recharging. Usually, these are very reliable 5,000 mAh lithium batteries that allow you to connect the projector to the mains, which is recommended when you use it in the office, to avoid nasty surprises during an important presentation. In principle, it is always good to have the battery fully charged to avoid doubts about its operation.
How much does a portable projector cost?
It depends on the brand and model. For example, let's say that the projectors of giants such as Sony and Philips are not exactly the cheapest; they cost around $500 to $1,000.
The models produced by lesser-known brands, on the other hand, can cost from $100 to $300 and have exciting functions, but in terms of image quality are much lower than the more expensive ones.
---
How to use a portable projector
How does the portable projector work?
The portable projector or mini-projector can be considered the 'little brother' of the classic projector with which it shares many features. Its use is quite intuitive, although there are some models on the market with different functions that can increase use possibilities.
The operation of a portable projector is straightforward. First of all, you must make sure that the device's battery is one hundred percent charged or connect it directly to the socket with the transformer. Next, place the projector on a stable shelf and connect it to the TV or game console using the HDMI cable and select it as the playback source with the remote control.
Keep in mind that the environment must be dimly lit or completely dark to obtain an optimal result. Now turn on the projector by placing it in front of the sheet or wall and adjusting it by starting the console or decoder. Next, you will have to focus on the image and adjust it in height and width. Once you have found the right configuration, you can consider the 'setup' of the product finished and enjoy the show.
How to connect the laptop to the projector
We talked about connecting with the TV and the game consoles, but in reality, can also connect the portable projector to your laptop. This is especially useful for PowerPoint presentations at work or university lectures. If your laptop has an HDMI port, you can use the appropriate cable to connect it to the projector.
You will then need to select the screen from the Windows control panel. The operating system will detect the projector as a screen, so select it to project the image.
It is advisable to select the function for viewing on two screens, so you can use the laptop to more easily find the files to be launched and manage the projection. If your laptop is dated, you will need to use a VGA cable for the connection. But first, make sure the projector has the proper input.
Remember that the most recent models may only have an HDMI connection, so before buying a product, read the specifications and characteristics sheet carefully. One last thing: turn off the laptop screen saver and turn off the screen automatically, to avoid bad figures in the workplace.
How to connect the portable projector to a smartphone or tablet
There are two high-speed systems: connecting the devices to the projector via a micro USB cable, while the second involves using the Bluetooth connection. In this case, you will have to activate it on your smartphone or tablet and search for the projector among the available devices and select it.
Later, as you did with the TV or game console, you will have to choose the source on the projector using the remote control or the buttons.
How to watch movies or photos from USB on the projector
Some models have a USB input to which can connect external hard drives and pen drives. Once connected, select the source and access the various folders and subfolders of the memory through the projector software. Select the file to play, and will do the game.
#
Preview
Product
Rating
Price
1
Mini Projector for iPhone, ELEPHAS 2023 Upgraded 1080P HD Projector, 8000L Portable Projector with...

$199.99

$99.99

BUY NOW! ON AMAZON
2
AuKing Projector, 2023 Upgraded Mini Projector, 7500 lumens Multimedia Home Theater Video Projector,...

23,889 Reviews

$99.99

$89.99

BUY NOW! ON AMAZON
3
Mini Projector, CLOKOWE 2023 Upgraded Portable Projector with 7000 Lux and Full HD 1080P, Movie...

1,928 Reviews

$59.99

BUY NOW! ON AMAZON
4
HAPPRUN Projector, 5G WiFi Bluetooth Projector, Native 1080P Portable Projector with Screen and Bag,...

78 Reviews

$249.99

$139.99

BUY NOW! ON AMAZON
5
Mini Projector, PVO Portable Projector for Cartoon, Kids Gift, Outdoor Movie Projector, LED Pico...

$99.00

$69.99

BUY NOW! ON AMAZON
6
KODAK Luma 150 Ultra Mini Pocket Pico Projector - Built in Rechargeable Battery & Speaker, 1080P...

2,331 Reviews

$269.99

$219.99

BUY NOW! ON AMAZON
7
Anker NEBULA Capsule, Smart Wi-Fi Mini Projector, 100 ANSI Lumen Portable Projector, 360° Speaker,...

5,672 Reviews

$299.99

BUY NOW! ON AMAZON
8
SAMSUNG 30" - 100" The Freestyle FHD HDR Smart Portable Projector for Indoor and Outdoor Home...

422 Reviews

$797.99

$697.99

BUY NOW! ON AMAZON
9
TMY Projector 7500 Lumens with 100" Projector Screen, 1080P Full HD Supported Portable Projector,...

12,273 Reviews

$99.99

$79.99

BUY NOW! ON AMAZON
10
Projector 9500 Lumens, Mini Movie Portable Projectors, COMAOGO 220 inch Display, 1080P Support TV...

555 Reviews

$52.99

BUY NOW! ON AMAZON
Product prices and availability are subject to change. Any price and availablility information displayed on Amazon at the time of purchase will apply to the purchase of any products.