Guide
Best Bluetooth Headphones for TV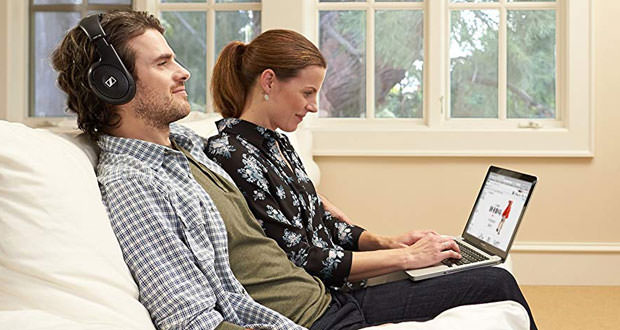 Watching your favorite TV series or a particularly exciting film is a pleasure few people shy away from, especially after a long day at work. If you do not live alone, it can sometimes be difficult to fully enjoy this experience, even with the best TV in circulation.
Precisely for this reason we can help the bluetooth headphones for TV, an excellent alternative to overcome the above-mentioned problem with quality sound and no wires around. There are many models on the Internet, some accessible to everyone, others with top-of-the-range technical features.
What we will do today is recommend the best Bluetooth headphones for TV, so you can choose the product that best suits your use. Are you ready for this new adventure?
Why use wireless TV headsets?
In a world where TV sound systems have reached excellent levels of quality, it is natural to wonder why having to use Bluetooth headphones.
The first answer, which is also the most logical, is that in this way, it is possible to enjoy a totally immersive sound without running into annoying external disturbances. In addition, even other people who live with you, if they are engaged in other activities, will not be disturbed by the volume too high.
The connection mode of this type of earphones can vary from type to type. There are usually three predominant technologies that allow these wireless products to be used.
Infrared : they are the cheapest and consequently, more usable technology among those available on the market. Although this may be the right solution if there are many other electronic devices in your living room. In fact, infrared rays do not create interference with Bluetooth and WiFi.
Bluetooth : represent the middle category in this market. They cover substantially all the price ranges available and offer high-quality audio quality. Their only flaw is the range of action, but you will hardly go to another room if you intend to watch a movie or TV series.
Radio-frequency : it is the most expensive but also the most technologically advanced solution. They offer a perfect connection and a much wider range of action than the other two types. In this case, the price goes hand in hand with the quality offered.
---
Bluetooth Headphones for TV – Cheap
Philips SHC5100
Among the low-end Bluetooth headphones for TV, we also find this great product from Philips. With a really interesting design, they can guarantee a good comfort even during prolonged listening.
The transmission base, thanks to its small size, can find space anywhere and to ensure a good reception. A good-quality audio quality that allows you to fully enjoy your favorite programs.
TaoTronics Bluetooth 4.1 Transmitter
If you already have traditional bluetooth headphones, you can choose an alternative method to connect them to your TV. Since the smart TV do not offer a Bluetooth connection, the right solution is an adapter.
This of TaoTronics offers good qualities associated with a decidedly advantageous price. Just connect it with the 3.5 mm jack and then pair it with the earphones, to enjoy a good-quality sound. One of the main advantages is the ability to connect two devices at a time.
---
Bluetooth Headphones for TV – Mid-Range
Sony MDR-RF855RK
MDR RF885RK - Headphones (Under-Chin) - Wireless
manufacturer: Sony
Item Trademark: SONY
material: Metal, Casque sans fil de type fermé avec batteries rechargeables,...
Kabellose Kopfhörer in geschlossener Ausführung mit wiederaufladbaren...
40-mm-Neodym-Diaphragmen
Sony has always stood out for its audio department, able to bring excellent products all over the world, keeping costs relatively low. This model of Bluetooth headphones for TV is no exception and is located in the mid-market.
With a decidedly more refined design than the previous models, it integrates neodymium magnets and guarantees a sound frequency between 10 and 22,000 Hz. Very comfortable while listening, they can operate without having to finish the integrated battery for more than 10 hours in a row.
Sennheiser RS110 II
Sennheiser has always been a security in terms of audio quality. So we could not avoid placing this model among the best Bluetooth headphones for TV. The quality / price ratio is really advantageous and allows anyone to take home a quality product.
The design is quite basic, even if the materials used are of good quality and the assemblages are well taken care of. The base has a somewhat atypical shape and allows coverage up to 100 meters.
Sennheiser RS120
Unlike the previous model, these Bluetooth TV headsets have small improvements and a slightly higher price. Stylistically they are really similar, and it would be easy to confuse them.
This time, the transmitter can operate on three frequencies, to avoid interference with other electronic devices. It is also offered the possibility to use more headphones of this type with the same base.
---
Bluetooth Headphones for TV – High-end
Sennheiser RS 175
39%
Not even on purpose we always find Sennheiser to open the category of high-end Bluetooth headphones for TV. Compared to other models, they improve materials and change design. Comfort is definitely earned, thanks to the increased ergonomic padding.
Even the base is presented in a different way and serves to recharge the headphones simply by placing them on top. Excellent coverage range of the signal that is 100 meters.
Sony MDR-DS6500
Sony MDR-DS6500 Digital Wireless 3D Surround Headphones
Get a cinematic sound experience at home with wireless headphones that provide...
Battery life: Listen wireless for up to 20 hours (built-in battery life). Get...
Digital wireless: Enjoy noiseless high-quality sound from non-compressed 2.4...
Automatic tuning: Real-time tuning gives you the best digital signal, up to 328...
7.1ch digital surround sound Headphones simulate a cinematic experience with...
Have you not found the right product for your style yet or are you looking for even more quality? Sony has pulled out an ace from his sleeve with these wonderful Bluetooth headphones to connect to the TV.
Really beautiful to look at and pleasant to wear, they have high-level technical features. One of them is certainly the possibility to enjoy a 7.1 virtualized audio. This translates into a sound quality without equal, pure pleasure for the ears.
Turtle Beach Elite 800
24%
Could we forget the hardcore gamers who spend hours and hours in front of the PlayStation or Xbox? Of course not! For all of you, who love to play in front of the TV we found these high-end Bluetooth headphones.
Made with high-quality materials, they have a series of really interesting features. Among them we find a 7.1 DTS audio and an active noise reduction.
---
Conclusions
We have come to the end of this guide regarding the best Bluetooth headphones for TV. The models that we have reported to cover all possible uses and the likely price ranges. You just have to choose the one that best suits your needs and click on the link to proceed with the purchase.
Product prices and availability are subject to change. Any price and availablility information displayed on Amazon at the time of purchase will apply to the purchase of any products.