Tablets
ASUS TF300TL Tablet: Review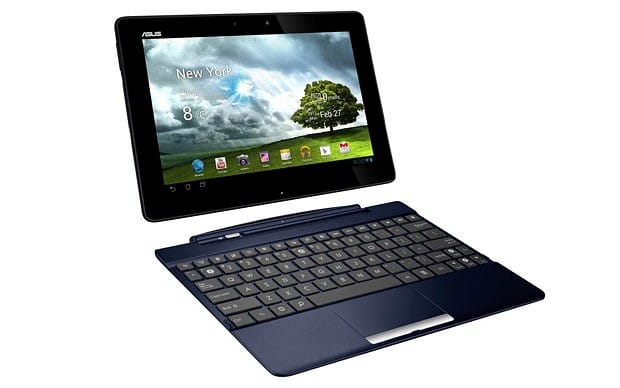 ASUS TF300TL Tablet is a tablet characterized by a modern design and the latest technology. First of all, the LTE standard, which allows to achieve a connection speed greater than the 3G. The tablet is based on a quad-core Nvidia Tegra 3 4-Plus-1 with GeForce GPUs and operating system Android 4.0, also has a touch screen display IPS 10.1-inch, Wi-Fi connectivity and Bluetooth, rear camera 8 megapixel camera with full HD, front camera 1.2 megapixel internal capacity up to 32 GB, plus 8 GB available online, and a whole host of useful applications like SuperNote, to take notes, the suite Polaris Office and various cloud services.
ASUS TF300TL: Design
The ASUS TF300TL is a tablet elegant, ultra-thin, refined design, with a cover that has a concentric geometry very attractive and elegant color Iceberg White. As for size, the tablet measuring 263 mm in width and 180.8 mm in depth and thickness of just 9.9. The weight is 640 grams. It also has an LED IPS type display of 10.1 inches and a resolution of 1280×800 pixels.
ASUS TF300TL: Features and Functionality
The ASUS TF300TL Tablet is the latest offering in the field of ASUS tablet. Presented in September and available for purchase, it is a model much advanced in so many points of view. It is nothing more than an improved version of an already existing tablet, namely the model ASUS TF300 tablet, with respect to which presents in more support to 4G connectivity. Starting from the technical data.
It can be said with certainty that this is the first tablet to offer users the ability to exploit new 4G/LTE networks, of course, when in our country will implement these frequencies. Overall, then, the Pad TF300TL should be able to take advantage of 4G networks, 3G and UMTS, with an excellent connection speed and data transfer rate of 100 Mbps in download.
As for the rest of the technical specifications, the ASUS TF300TL Tablet is based on a quad-core Nvidia Tegra 3-Plus-1 4 1.2 Ghz, with GeForce GPU, operating system, Android 4.0 IceCream and a Memory 1 GB RAM. It also has a solid state disk 32GB, and users also have access to 8GB of online storage through ASUS WebStorage.
One of the strengths of this tablet is definitely eye-catching design, with a cover that has a 3D plot of concentric circles that recalls the style of the family Zenbook. The particular color for the cover, also gives the device a unique elegance. But the most interesting feature is the ability to turn it into a real laptop docking dedicated to connecting with qwerty keyboard and multi-touchpad.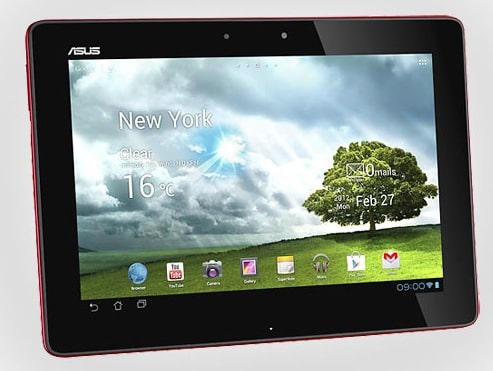 Another strength of the ASUS TF300TL Tablet is also the photographic industry, which includes a rear camera with 8 megapixels and equipped with backlit CMOS sensor, LED flash, autofocus and the ability to create video clips in Full HD quality, so with resolution 1,920×1,080 pixels. The front camera, 1.2 megapixel allows for self-portraits and video calls.
The SonicMaster technology, developed in collaboration with Bang & Olufsen, then ensures high-quality sound reproduction, the application SuperNote is a notepad that lets you write notes and even freehand Polar Office, finally, is a suite professional office that allows you to create documents compatible with those of Office.
Thanks to Android, in addition, users of the ASUS TF300TL Tablet be able to download many applications, use Facebook and Twitter and the application MyCloud access to multimedia contents online. The output miniHDMI then allows you to connect your tablet to a new-generation TV and play back audio and video files and play it directly on the big screen. Speaking of connectivity, there are Wi-Fi 802.11b/g/n standards, to be able to surf the Internet without wires connecting to the special hotspot, and Bluetooth version 3.0, to connect to other wireless devices.
The tablet also has a microSD card slot and an audio jack. These interfaces must be added that keyboard docking, which also had 1 USB port and SD card slot. Do not miss the GPS, accelerometer, light sensor, compass and gyroscope. Definitely noticeable even the battery, which provides a maximum of 10 hours. If we add also the built-in battery in the docking station, you arrive at a maximum of 15 hours of use.
Conclusion
The ASUS TF300TL Tablet is a remarkable tablet with a sheet of high-level and very complete as well as the ability to transform into a laptop with a keyboard dock. The good bits of this tablet are endless, first of all the 4G connectivity, to which you add the GPS, a photo department excellent, although it lacks the flash, and high autonomy. Really a great tablet from all points of view.
PROS : SIM card slot; Connectivity LTE/4G; microHDMI port; 8 MP camera, quad-processor coreTegra 3; GeForce GPU, front camera, Android 4.0, optional docking keyboard, Design, Misc cloud applications; Multitouch display.
CONS :
No flash, no high internal capacitance.