Tablets
ASUS Eee Slate B121: Review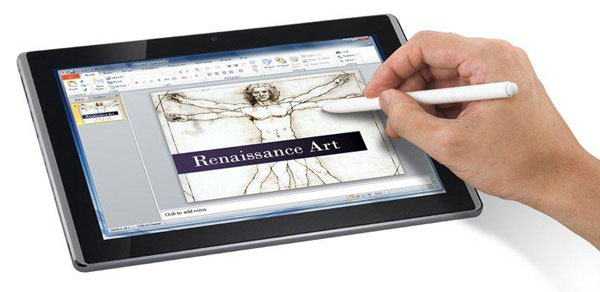 The ASUS Eee Slate B121 tablet is an elegant design and refined designed specifically for the busy professional. It has an advanced solution for protecting sensitive data and various input modes to increase productivity.
As for the specifications, features 12.1-inch touch screen display with LED backlight, Intel Core i5, 4 GB RAM, solid state disk 64GB, Wi-Fi connectivity, Bluetooth, 2 megapixel webcam, reader memory card, door miniHDMI, digital pen and included lithium-ion battery that provides up to 4.5 hours of battery life. There is also a dedicated Bluetooth keyboard.
ASUS Eee Slate B121: Design
The ASUS Eee Slate B121 tablet is a beautifully designed, intended especially for the professionals. It has a 12.1-inch touch screen display with LED backlight and a resolution of 1,280 x 800 pixels. As for size, measuring 312 mm wide, 207.2 mm and depth of 16.95 mm, the weight is 1.16 Kg.
ASUS Eee Slate B121: Features and Functionality
The ASUS Eee Slate B121 is a tablet presented by the manufacturer in October of this year and made display for all business users who need to work while on the move and rely on a powerful device but immediate and simple to use. But starting with those that are the specs, this tablet is based on Intel Core i5-470UM low consumption of memory up to 4 GB DDR3 RAM, a solid state disk of 64 GB and Windows 7 Professional operating system.
The connectivity of the Asus Eee Slate B121 provides Bluetooth version 3.0, and Wi-Fi connectivity with 802.11b/g/n standards to surf the Internet for free. With the integrated webcam, from less than 2 mega pixels, you can then make sharper, smoother video conferencing, high quality.
The strength of this tablet for professionals is its ease of use and the different possibilities of input. The device has a touch screen display of great quality, with Gorilla Glass technology, resistant to impact and scratches as well as contact with liquids. Among other things, it is extremely easy to clean, thanks to the anti-static cleaning cloth included in the package.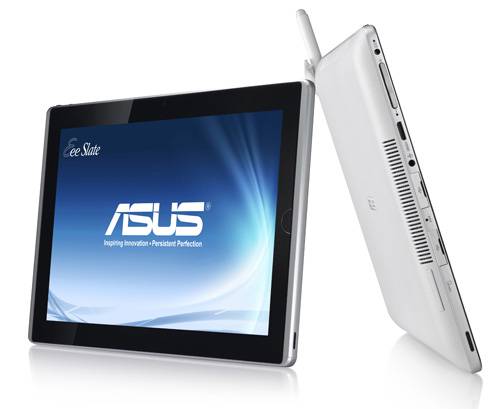 The ASUS Eee Slate B121 features, then the ability to use both the screen with your fingers, like all tablets, or via a stylus, not included, to give the user maximum freedom. Included in the sales package, instead, a comfortable QWERTY Bluetooth keyboard, ideal for those who want a more precise writing.
This tablet device adapted for professionals is its system of data protection that allows then to preserve the privacy of its documents through a process of hardware encryption of files. Another feature to highlight is the opportunity to take advantage of the ASUS Web Storage, which is a storage space on the Web, through the cloud service, for all those that need more space.
Finally, it should be noted how the presence of a solid state disk, instead of hard disk, on Eee Slate B121 allows to reduce the energy consumption, and thus increase the life of the internal battery, as well as to speed up the start of the system and the use of various applications.
This type of internal memory is less subject to failure compared to normal mechanical hard drives. Finally, some mention of the allocation of ports. Slate B121 is equipped with miniHDMI 1 port, 2 USB 2.0 inputs, a slot for SD and MMC memory cards, 1 DC input and 1 mic. The autonomy is able to reach the 4.5 hours.
Conclusion
The Eee Slate B121 is a tablet that is distinguished from others in circulation for the type of target to which it is intended, that business, where most of the tablet is directed especially to a user consumer. Presents technologies of data protection very useful in this particular type of user. Also of interest are the ability to use the screen with a digitizer pen and the presence of a qwerty keyboard Bluetooth in the sales package.
Where to Buy ASUS Eee Slate B121
---

---
PROS : Memory Card Reader, High data protection; Bluetooth Keyboard, Webcam.
CONS :
No 3G module.
Product prices and availability are subject to change. Any price and availablility information displayed on Amazon at the time of purchase will apply to the purchase of any products.