Tablets
Acer Iconia W3-810 Tablet: Review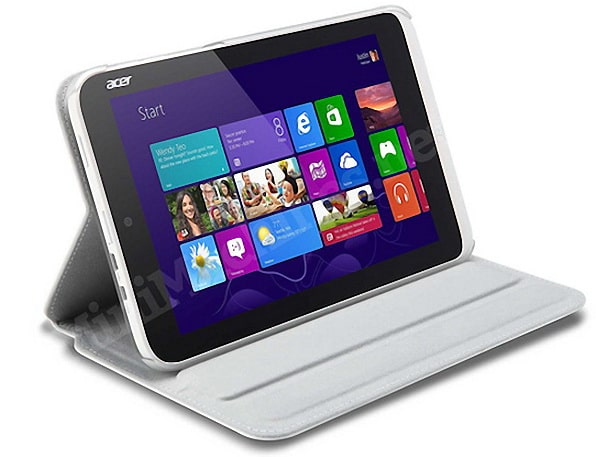 The Acer Iconia W3 Tablet is a compact and portable, with dimensions compact enough to be able to use it with one hand. Based on the Windows 8 operating systems, is the perfect tool for those who want to use the Office suite while traveling, either for leisure or for work.
As for specifications, features 8.1-inch touch screen display with a resolution of 1,280 x 800 pixels, Intel Atom 1.8 GHz, RAM 2 GB, internal memory of 32 or 64 GB, expandable with microSD up to 64 GB, camera both rear and front 2 mega pixel camera, Bluetooth and Wi-Fi, USB ports and microHDMI. There is also a keyboard docking combined.
Acer Iconia W3-810: Design
The Acer Iconia W3-810 is a tablet with compact dimensions and easy to transport, ideal to take with him. Thanks to the additional keyboard docking also can be transformed into a laptop so you can use it in the most profitable manner. Speaking of design, features an 8.1-inch touch screen display, multi-touch technology with a resolution of 1,280×800 pixels. As for size, measuring 219 mm in depth, 11.4 mm in height and 134.9 mm in width. The weight is 500 grams.
Acer Iconia W3-810: Features and Functionality
The Acer Iconia W3-810 is one of the newest tablets in circulation, as it was presented by the manufacturer this year, in late May / early June. It is, to all intents and purposes, the first tablet with 8.1-inch display to be based on Windows 8. Compact size, so it can be held easily with one hand have all the features needed for work and play.
Speaking, for the moment, the technical specifications of this tablet, the processor on which it is based is an Intel Atom Z2760 dual-core low-power 1.5 GHz, also has a 2 GB RAM memory, a flash memory available user 64 GB, expandable via microSD cards, an Intel Graphics Media Accelerator 3650 and the new operating system Windows 8.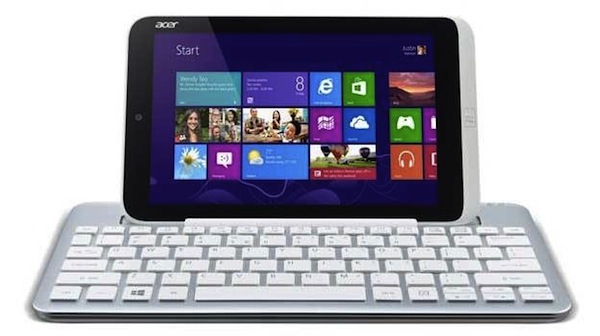 As regards the most interesting features of the Acer Iconia W3-810, the first is undoubtedly the ability to transform this tablet into a notebook by simply connecting it to the keyboard dock, sold separately. Unlike what we have seen so far, though, the keyboard is full-size and exceeds in size, the tablet, offering a design a little special and unusual.
Surely, one of this generously sized keyboard, with keys to the island, makes it much easier to write, and it is as perfect as you need to create or edit documents or to write e-mail messages. Just in relation to documents, it is a Windows tablet. The device is equipped with the Office suite, so you can easily edit Word, Excel and PowerPoint and then be operating on the go.
Speaking of connectivity, the Acer Iconia W3-810 is equipped with Wi-Fi to surf the Internet for free, Bluetooth's technology and USB port to exchange data with other devices, and even the HDMI interface, which allows you to connect the tablet to the next-generation devices.
As for the multimedia sector, there is a rear camera and a 2 mega pixel front both, allowing you to take pictures and video clips. Very high autonomy of the tablet, which reaches up to 8 hours on a single charge, but it is also higher if you connect the keyboard, with a turn of a lithium battery.
Conclusion
The Acer Iconia W3-810 is a very portable tablet, considering the size in the body and the 8-inch screen, but takes up much more space when connected to the docking full-size keyboard, which certainly is very useful, but it also increases the size reducing their practicality. To underline the connectivity, internal memory and the office suite. But it is still a mid-range tablet that does not offer anything else, so no GPS and no SIM card slot. Also the park photo is not exactly the best.
PROS : Memoria interna; RAM; Porta HDMI; Office Suite.
CONS :
Quality rear camera, No SIM card slots; Docking sold separately, No GPS.