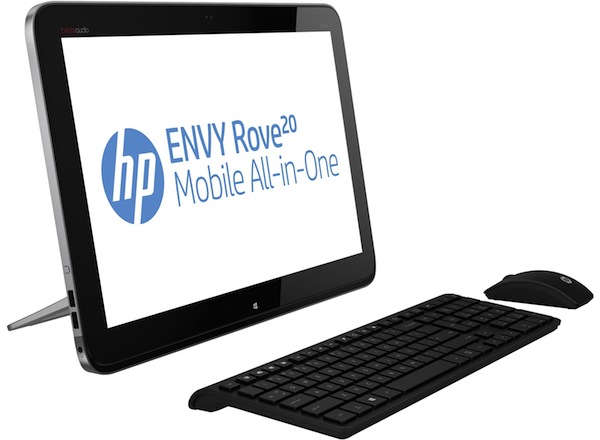 HP Rove 20 is an all-in-one touch 20″, with the latest generation of Intel i3, integrated graphics, battery, 4 hours and 1 TB of storage.
With the advent of tablets and smartphones, the world of personal computing and multimedia has become more and more agile and voted to mobility, and it is normal that in the field of products once considered traditional is undergoing a revolution to embrace this new form of progress. HP Rove Envy 20 is a demonstration of this new hybrid philosophy: we are faced with a product that will break down as much as possible the barriers between desktop PCs, laptop and tablet.
The solution chosen by HP is an all-in-one clean and simple design, which integrates obviously a touch screen, and support for keyboard and wireless mouse, but most houses inside a battery, which makes it independent of the power current, and integrates a stand of support which, if any, may fall completely into the chassis, making the HP Envy Rove 20 in kind of a big tablet and allowing a certain degree of portability and flexibility. A road, this, similar to that already covered by other giants of industry (eg, Sony with its Vaio Tap 20).
In this HP Envy Rove 20 technological equipment corresponds to a 20″ screen with 1,600 × 900 resolution and IPS technology, an Intel Core i3 generation (Hashwell) from 1.7 GHz, 4GB of RAM (with configurations up to 16 GB), integrated Intel HD 4400 GPU, 1TB HD for storage with traditional flanked with an 8GB SSD cache feature and, finally, a 6-cell battery to last approximately 4 hours. The chosen operating system is Windows 8 64-bit.
The connectivity options include 3 USB 3.0 ports, integrated Wi-Fi (compatibility with Intel Wireless Display), Bluetooth 4.0 and SD card slot (the latter located in the rather awkward position: under the frame of the screen). The media profile is characterized by a 720p HD webcam and the usual headphone and microphone inputs, as well as the brand Beats Audio (underlined by the presence of a small sub-woofer, which increases the quality of sound output).
It is absent the optical media: a DVD drive is available as an add-on exterior. Even the Ethernet port is available exclusively through the use of a USB dongle, is provided. Keyboard and mouse, Wi-Fi, basic but pleasant design, are also included and do not require a dongle to communicate with the central unit, thus avoiding to occupy a valuable USB port HP Envy Eove 20.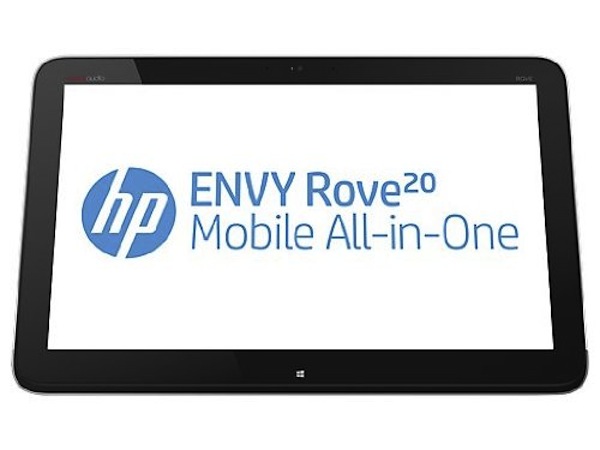 HP ENVY Rove 20: Features
In terms of overall design, the HP Envy Rove 20 is a product certainly interesting. The only feature of the integrated battery, for example, turns it into a kind of desktop with UPS inside, a detail that might be useful for different situations.
Also the build quality is very good, with a solid body and stylish design. That easily fit on any desk or table, without cluttering or in terms of space or aesthetically. The rear stand Allows you to easily adjust the angle of the panel preferred and quality IPS screen gives you an angle of vision good (but not excellent), to facilitate the use in several situations.
The ability to be placed in completely horizontal position, with the disappearance of the rear stand is of limited utility at the time, HP promotes the feature through the inclusion in the software package of a digital version of the video game Monopoly, Which in substance transforms the HP Rove 20 in a sort of digital display board, as to rest at the center of the table. Carina as an idea, but maybe it's a little just to proposed function of gender as a central, and we look at other uses of Particular significance.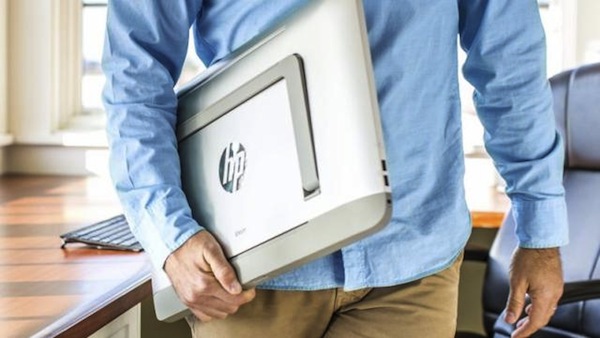 In terms of mobility itself, with its 20-inch diagonal and above its 5.5 Kg of weight, this device is portable in the sense that it can be moved easily from one room to another, or perhaps conveniently located in space car for transport to a friend's house or on vacation, but its use in tablet style remains for the most part out of the question.
This is despite the inclusion of a multi-touch panel by 10 points certainly responsive, and the use of a touch-friendly OS as the well-known Windows 8. Regarding the screen must also be said that 1,600 × 900 pixel resolution on a 20-inch panel are very stretched, especially with the display from a short-distance characteristic of touch devices; meet at least the standard 1080p would be definitely recommended. In addition, the rotation of the orientation of the image is carried out by pressing a physical button on the back of the machine, even though the data sheet indicates the presence of a built-in gyroscope, which we were not able to be used with this purpose.
HP ENVY Rove 20: Performance
Examined by a point of view more properly desktops, the HP Envy Rove 20 offers typical performance for an all-in-one, also indicated by the data sheet. The processor (Dual Core i3 1.7 GHz, with 4 logical processors) is good for basic use and multimedia, but not particularly agile, even if combined with the included 4GB of RAM (unit under test).
The GPU, as expected for an integrated device, it shows only suitable for management of video games less stressful to come with severe limitations in terms of resolution and detail: In our test, Bulletstorm (a title of 2011) reached values ​​of playable only 25-30fps in 720p resolution with all the settings to the minimum. The hardcore gaming is clearly not a goal of this all-in-one.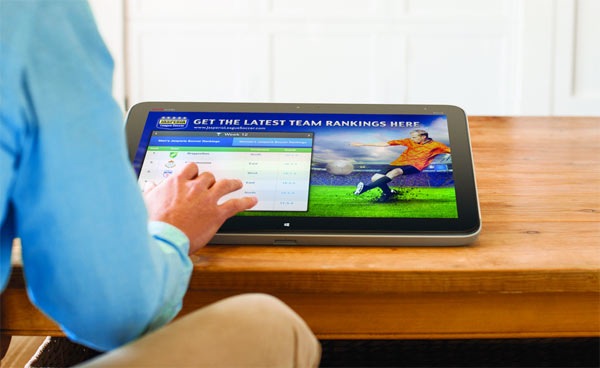 Interesting, in terms of speed, the boot time and shutdown: without adding anything to the pre-installed applications, you can begin to launch software and app after about 20 seconds after pressing the start button. A good result, this, probably even on the small SSD integrated. Very noticeable is the noise, which remains even in situations of total effort for the CPU and GPU, and certainly gives the HP Envy Rove 20 an additional factor of elegance and modernity.
Overall, though, this is certainly not a machine devoted to the performance of the field of computing or gaming: benchmarks like 3D Mark 11 shows a level comparable to that of the laptop to be medium/low, a result corroborated and confirmed by our experience direct.
Conclusions
How many products that try an innovative approach, the HP Envy Rove 20 is a very interesting device in terms of design, but suffers from some defects due to the compromise that seeks to achieve. As a desktop, is characterized by great portability, but entry-level performance. As a laptop (or even tablet) is heavy and cumbersome, therefore impractical to use.
All this comes with a price expected (the official one has not yet been announced) of about $1,000, depending on configuration, a figure for which is, of course, you can buy both a traditional desktop or a tablet. If the uniqueness HP Envy Rove 20 is or is not a factor sufficient to defer on these small inconsistencies and limitations, it is a decision that can only depend on your needs and personal taste.
Where to Buy HP ENVY Rove 20
---

---
PROS : Innovative design, Internal battery, Decent sound quality, IPS screen.
CONS :
Bulky and heavy for true portability, 1080p screen, CPU and GPU performance entry-level.
Product prices and availability are subject to change. Any price and availablility information displayed on Amazon at the time of purchase will apply to the purchase of any products.