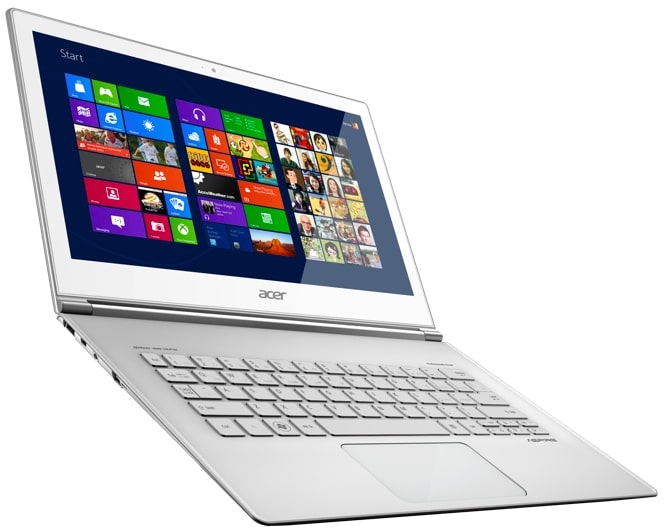 Acer Aspire S7-391 ultrabook is a thin, powerful and elegant, characterized by an attractive design, polished aluminum and available in white or silver, and a full HD 13.3-inch touch screen with glass Gorilla Glass 2, which makes it resistant to scratches.
As for the rest of the specifications, the ultrabook is based on an Intel Core i7 up to model 3537U, on a 4 GB RAM and operating system Windows 8. It also has a solid-state drive 128 or 256 GB, Intel HD graphics 4000, maximum range of 6 hours, memory card reader, Wi-Fi, Bluetooth, webcam and HDMI port.
Acer Aspire S7-391: Design
The Acer Aspire S7-391 is an ultrabook from refined and elegant design, with aluminum body and white thickness remarkably compact. The keyboard is backlit while the display is touch screen and has a diagonal of 13.3 inches and a resolution of 1,920 x 1,080 pixels well, then Full HD. As to the other dimensions, measuring 323.3 mm in width and 223.5 mm in depth. The weight is 1.30 kg.
Acer Aspire S7-391: Features and Functionality
The Acer Aspire S7-391 is an ultrabook is particularly interesting for several points of view, starting from the purely aesthetic, thanks for the attention to detail and quality of the display to switch to usability, guaranteed by the use of Windows 8. An operating system created specifically to take advantage of touch screens.
As regards the technical specifications, this ultrabook is based on the Intel Core i7 up to model 3537U, 2 GHz, on a RAM up to 4 GB, on a solid-state disk, up to 256 GB and the operating system already appointed Windows 8 or Windows 8 Pro.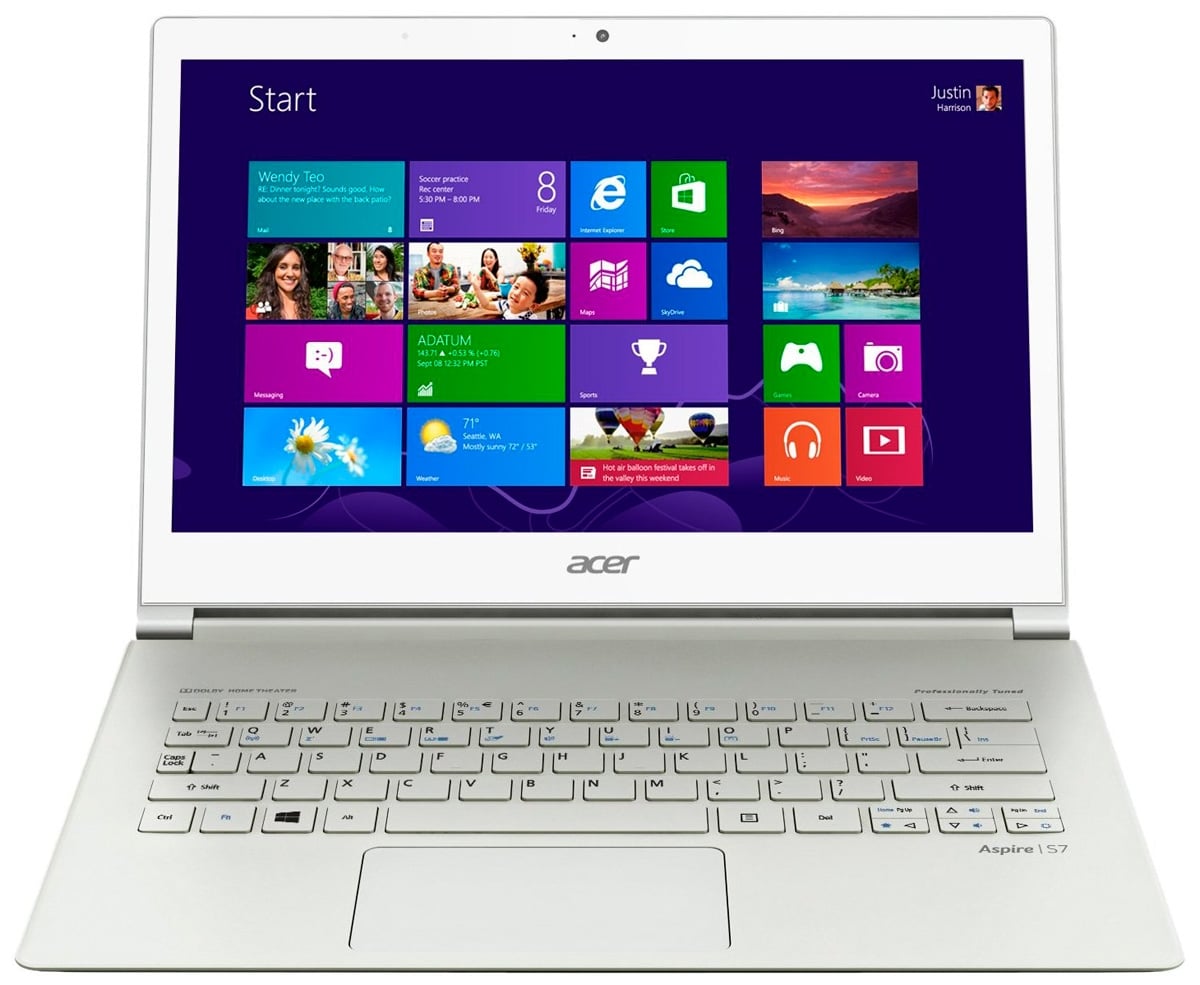 As for the video industry, the Acer Aspire S7-391 is equipped with a graphics card Intel HD 4500 also has an integrated webcam, perfect for video conferencing, and the reader memory card, can support cards such as Secure Digital or MultliMediaCard. As for connectivity, it is quite complete because there is Wi-Fi and Bluetooth's technology, in version 4.0 HS but not the Ethernet port. The interfaces include an HDMI port, 2 USB 2.0 ports and 2 USB 3.0 ports, allowing you to connect your laptop to all types of devices.
It is a data-sheet media, not very high, and the real strength of the Acer Aspire S7-391 is the design. The body is made of polished aluminum, with elegant white color, and is extremely thin. The display is a touch screen Full HD covered in glass Corilla Glass 2 and hence highly resistant.
Also interesting are the backlit keyboard that automatically adjusts its brightness in low-light conditions, and the innovative Acer TwinAir cooling system allows you to maintain top performance, regardless of the intensity of computer use. Finally, the power is supplied by a rechargeable lithium ion 4-cell, from 4680 mAh battery, which provides a maximum of 6 hours.
Conclusion
The Acer Aspire S7-391 is a sleek and stylish ultrabook from whose most interesting feature is the touch screen display, which leaves you the choice of using the display or the keyboard, depending upon the need. The sheet is not exceptional but on this kind of devices, ultra-thin and compact, you can rest well. Overall a good laptop.
Where to Buy Acer Aspire S7-391
---

---
PROS : Glass display with Gorilla Glass 2, Memory Card Reader, Design, resolution and quality display, processor, HDMI port.
CONS :
Price.
Product prices and availability are subject to change. Any price and availablility information displayed on Amazon at the time of purchase will apply to the purchase of any products.