Guide
True Wireless Earbuds: The Best to Buy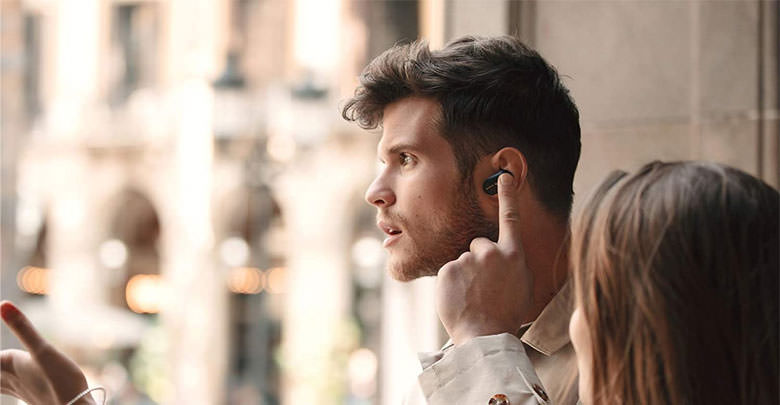 In recent years, thanks to Apple and its AirPods, we have witnessed the advent of a new type of Bluetooth earbuds, much appreciated by technology enthusiasts and not: True Wireless Earbuds.
In this guide, we will show you which ones we think are the best to buy currently.
For those unfamiliar with the subject, true wireless earphones are nothing more than wireless earbuds, which means wireless, with the particularity of not being connected with a cable. That's why they are truly (true) without wires. Among the peculiarities of these products, we also find the case, which is used to store the small earphones and at the same time to recharge them, via cable or even via wireless charging, where present.
The convenience of this type of wireless earbuds is indisputable, but finding the right model for your needs is not very easy. So with this guide, we will help you understand what can be best for you, both from the point of view of functionality and price.
True wireless earbuds recommendation: Our selection
Below we offer you our selection of The Best True Wireless Earbuds available on the market, based on various price ranges. We would like to constantly update the guide to offer you products that are always valid and in step with the times.
Best budget true wireless earbuds (under $50)
Xiaomi Redmi Airdots S
xiaomi Mi Redmi Airdots S True Wireless Bluetooth Headset Sports High Sound Quality Stereo Auto Connect Global Black
The new generation of Redmi AirDots S is equipped with the latest Bluetooth 5.0...
Brand new true wireless experience: Redmi Airdots S is a true wireless headset,...
connection, just put on the headphones and start playing immediately Long...
Lightweight and lightweight: Redmi Airdots S earbuds are equipped with a 7.2 mm...
Multi-function physical button: Redmi Airdots S is equipped with a...
Let's start from the lowest-cost model among the economic wireless earbuds or Xiaomi's Redmi AirDots S. Successor to the standard AirDots S. This variant brings improvements connectivity, now more stable and reliable than the previous model.
For the rest, it remains a product with an excellent value for money, able to offer more than enough audio quality and autonomy at an affordable price. Also, they are waterproof to splashes thanks to the IPX5 certification, a very appreciable feature given the very modest selling price.
AUKEY True Wireless Earbuds
At a truly ridiculous price, Aukey brings excellent true wireless earbuds to the market. Despite the very small size, both of the cases and the earphones themselves, these earbuds' autonomy reaches up to 25 hours. The construction is solid, so solid as to guarantee water resistance thanks to the IPX5 certification.
The audio quality is good, with more pronounced low frequencies than the others, but still enjoyable, especially when listening to electronic and hip-hop music. The microphones' quality is also good, not the best, but during our tests, we did not have particular difficulties in making ourselves understood by our interlocutor.
TaoTronics SoundLiberty 53 Pro
11%
Wireless Earbuds, TaoTronics SoundLiberty 53 Pro Dual Mic Noise Cancelling Bluetooth Earbuds Hi-Fi Stereo Earphones Open Pair IPX8 USB-C Charging Case Touch Control Bluetooth 5.0 with 30H Playtime
Purified Voice Calls: Equipped with Dual Mic noise reduction technology, this...
Impressive Hi-Fi Stereo Sound: TaoTronics SoundLiberty 53 Pro gives you...
Easy Pairing: Simply open the charging case and the bluetooth earphones will...
Durable & IPX8 Water Resistant: IPX8 earbuds keep up with you during strenuous...
Extended 30H Playtime & USB-C Quick Charging: The wireless earphones last 7...
Here is another cheap model, but of great value. These Taoronics SoundLiberty 53 are the right choice for those on a tight budget but at the same time minimally demanding. With a maximum of $35, you can buy these earbuds with a rich sound of the bass and complete touch controls. Through the small touch-sensitive panel of each earphone, you can even raise and lower the music volume.
Anker Soundcore Life P2
Anker Soundcore Life P2 True Wireless Earbuds with 4 Microphones, CVC 8.0 Noise Reduction, aptX Audio, Graphene Driver, USB C, 40H Playtime, IPX7 Waterproof, Wireless Earphones for Work, Home Office
Perfect for Home Offices: Each earbud has two microphones with beamforming noise...
Incredible Sound Powered By Graphene Drivers: Delivers music with a wider...
40-Hour Playtime* with Fast Charge: A single charge gives you a full 7 hours of...
IPX7 Waterproof: Life P2 wireless earbuds boast IPX7-rated protection that...
One-Step Pairing: Our proprietary PUSH AND GO technology streamlines the setup...
When a product is branded Anker, we always know what we are getting into exceptional quality at not too high prices. These Anker Soundcore Life P2 do not want to be outdone and stand out from the whole new range of new True Wireless earbuds presented by the same company at IFA for sound quality, autonomy, construction, and also promises for excellent audio on call, all at the best price for such a pair of earbuds. With about $50, you will be able to win a jewel, which will certainly not disappoint you and will last you over time.
---
Best mid-range true wireless earbuds (under $100)
HUAWEI FreeBuds 3i
28%
HUAWEI FreeBuds 3i - Wireless Earbuds with Ultimate Active Noise Cancellation (3-mic System Earphones, Fast Bluetooth Connection, 10mm Speaker, Pop to Pair), Carbon Black
3-mic System: HUAWEI FreeBuds 3i comes with two outward-facing mics to...
Petit Size, Mighty Sound: With HUAWEI FreeBuds 3i's highly-sensitive diaphragm...
Fill Your Day with Music: One single charge offers up to 3.5 hours of listening...
Ultimate Active Noise Cancellation: While the outward-facing mic is detecting...
Pop to Pair, Ready to Start: Pair HUAWEI FreeBuds 3i automatically with the...
Here is the first model of the guide with active noise cancellation. Wearing these Freebuds 3i, you will be able to take advantage of the passive sound insulation given by the rubber pads of the earbuds and a real digital noise cancellation mechanism.
All this is possible thanks to the two additional microphones, which in real-time perceive environmental noises, which are then suppressed thanks to complex algorithms. The rest are excellent earphones, also valid on calls and that do not miss anything, not even charging via USB-C port.
---
Best high-end true wireless earbuds (under $200)
Apple AirPods Pro
24%
Apple AirPods Pro
Active noise cancellation for immersive sound
Transparency mode for hearing and connecting with the world around you
Three sizes of soft, tapered silicone tips for a customizable fit
Sweat and water resistant
Adaptive EQ automatically tunes music to the shape of your ear
In the guide to the best True Wireless earbuds, it is impossible not to mention the forerunners of the genre, which need no introduction: the Apple AirPods.
Without beating around the bush, these are the True Wireless earbuds you should definitely buy if you own an iPhone. The secret ingredient is the H1 chip that makes connectivity with Apple devices perfect, making them an integral part of the ecosystem.
Moreover, thanks to the available offers, prices have now become more affordable than at launch. Also, Apple has differentiated the range by presenting the AirPods Pro, which, thanks to the in-ear pads and noise cancellation, should be the definitive iPhone earphones. If, on the other hand, you appreciate the non-in-ear headphones more, the standard version will certainly be more for you.
Samsung Galaxy Buds+ Plus
34%
SAMSUNG Galaxy Buds+ Plus, True Wireless Earbuds (Wireless Charging Case Included), Black – US Version
Exactly what you want to hear. Galaxy Buds+ are the perfect fitting earbuds to...
22 hours of serious sound. Get up to 11 hours of nonstop music on a single...
Your voice, loud and clear. Ensure you're heard clearly. A dedicated internal...
Android & iOS compatible. Pair with smart devices via Bluetooth. Use the Galaxy...
Included Components: 3 Size Eargel
With the new Galaxy S20, Samsung presented its new True Wireless earbuds model. Compared to the previous model, the Galaxy Buds add an extra headset microphone, even better audio, and crazy autonomy, which reaches 11 hours on a single charge.
The Buds of last year did not change only for the name compared to the previous models (Gear Icon X), but they would improve in many sectors, which now with the version + have improved even more.
Also, the earbuds' sound is taken care of by AKG, while the smart part is ensured by a complete app that also allows sound equalization. In short, these Galaxy Buds+ have already been defined by many as the best alternatives to AirPods, and how to blame them!
HUAWEI FreeBuds 3
HUAWEI FreeBuds 3 - Wireless Bluetooth Earphone with Intelligent Noise Cancellation (Kirin A1 Chipset, Ultra-Low Latency, Fast Bluetooth Connection, 14mm Speaker, Quick Wireless Charging) (White)
A TRUE WIRELESS STEREO EARPHONE - When paired with a phone over Bluetooth, free...
LOW POWER COMSUMPTION, LONG BATTERY LIFE – free buds 3 uses a low-power...
NOISE REDUCTION - each earbud has two MEMS silicon microphones featuring call...
WIND NOISE REDUCTION - Supports wind noise reduction at a maximum wind speed of...
WIRELESS CHARGING (CHARGING CASE) - The earbuds are automatically charged when...
Huawei Freebuds 3 are the best Airpods-style true wireless earbuds to use on Android. They are equipped with a chip that even supports Bluetooth 5.1, and obviously, it is as if they were AirPods for Huawei smartphones to interface even better with the same house devices.
The Freebuds 3 excel when it comes to quality on-call. They include 4 microphones, two of which are entirely devoted to noise cancellation, super-effective even in very noisy environments such as old means of transport in crowds. The other two microphones record voice clearly, so you have an excellent call experience.
Jabra Elite 75t Earbuds
Jabra Elite 75t Earbuds – True Wireless Earbuds with Charging Case, Titanium Black – Active Noise Cancelling Bluetooth Earbuds with a Comfortable, Secure Fit, Long Battery Life, Great Sound
WIRELESS EARBUDS – Jabra Elite 75t is engineered to fit; Making and taking...
Compact comfort – Designed and tested for a secure fit, the Jabra Elite 75t...
NO AUDIO DROPOUTS – With Jabra 4th generation true wireless connection, your...
ACTIVE NOISE CANCELLATION: With these noise cancelling earbuds, you can filter...
LONG BATTERY LIFE – With Jabra Elite 75t wireless Bluetooth earbuds, you get...
If the Jabra Elite 65T were among the best True Wireless earbuds in their day, the 75Ts take the baton from the previous model and run even faster. With a relatively fair price compared to the features offered, they offer extraordinary quality and truly above-average comfort.
The dedicated application that will allow you to choose which voice assistant to use and optimize the equalizer with dozens of different settings is very useful. The integrated battery allows you to reach 7 and a half hours of autonomy with continuous use and 28 overall with the help of the case, values that should not be underestimated.
Among the other features to consider, we even find 4 microphones for calls, 2 to eliminate noise and two to capture the voice, to make calls crystal clear.
Powerbeats Pro
10%
Powerbeats Pro Totally Wireless & High-Performance Bluetooth Earphones - Navy (Renewed)
Totally wireless high performance earphones in navy
Up to 9 hours of listening time (more than 24 hours with charging case)
Adjustable, secure fit ear hooks for lightweight comfort and stability
Reinforced design for sweat and water resistance during tough workouts or...
Volume and track controls on each earbud, voice capability and auto play/pause
A very valid alternative to Apple Airpods Pro… at Apple. Apple has owned beats for years, and these Powerbeats Pro are practically the most suitable Airpods for sports. The headband they are equipped with to improve the grip on the ear helps a lot.
It does not end there because we find all the functions of the Airpods and even some more functions, but there is no noise reduction, which at the price level places these Powerbeats PRO in the middle ground between AirPods and AirPods Pro.
Present the H1 chip for fast pairing with iPhone, the proximity sensor that pauses the music when the earphones are removed from the ear, complete commands that include volume adjustment, in short, a nice complete package. The autonomy is crazy, about 9 hours of duration on a single charge, and the case, perhaps a little too large, guarantees another 24 hours of playback: not bad.
Sony WF-1000XM3
36%
Sony WF-1000XM3 Industry Leading Noise Canceling Truly Wireless Earbuds Headset/Headphones with AlexaVoice Control And Mic For Phone Call, Black
Digital noise canceling: Industry leading anc lends a personalized, virtually...
24bit Audio signal processing delivers dramatically improved sound quality
Battery life up to 24 hours with carrying case (with 10min quick charge for...
Easy and clear hands free calling; Leave your phone where it is, just speak with...
Truly wireless design with uninterrupted L/R simultaneous Bluetooth transmission
Sony has recently presented the True Wireless earbuds version of its Sony WH-1000XM3, named, with great imagination and clarity, Sony WF-1000XM3. Names aside, these earbuds are truly exceptional because they have the same noise reduction chip that their older sisters have, and of course, there is also support for Sony's fantastic application dedicated to managing earbuds and a hardware package that includes the proximity sensor to stop the music when the earbuds are removed from the ears.
With Quick Attention, then, place a finger on the earbuds to lower the music volume to a minimum to listen to ambient noises in case of need. The price is not low, but neither is the quality offered. For this reason, they are certainly worth all the money they cost.
We can say that at the moment, the Sony WF-1000XM3 is the model that comes closest to the AirPods Pro, having everything that the Apple earphones have, and even a little more, but at a lower price!
Product prices and availability are subject to change. Any price and availablility information displayed on Amazon at the time of purchase will apply to the purchase of any products.