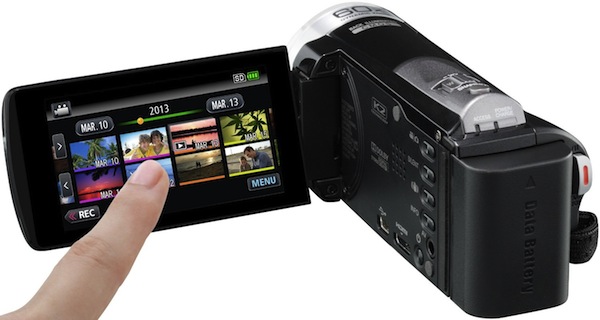 The JVC GZ-E305 is a compact camcorder with 2.5-megapixel backlit CMOS sensor capable of recording Full HD video clips and take pictures of 8.3 megapixels. It also has a 3-inch touchscreen display with a resolution of 230,000 pixels, 40x optical zoom, 200x digital zoom, Advanced Image Stabilizer, selection of the best scenes, automatically remove wind noise, intelligent automatic control, Konica Minolta lens, function face detection, USB high speed HDMI interface and slots for memory cards such as SD, SDHC and SDXC memory cards.
JVC GZ-E305: Design
The JVC GZ-E305 is a digital camcorder in a compact, easy to hold with one hand. The display is a 3 inch touchscreen and a resolution of 230,000 pixels. As regards, instead, the size, measuring 57 mm in height, 50 mm width and 116 mm in depth, while the weight is 225 grams.
JVC GZ-E305: Features and Functionals
The JVC GZ-E305 is a digital video camera belonging to the new range made by the manufacturer this year, just in the month of February. It is a midrange model but capable of providing video and photo quality, in addition to being equipped with some interesting features.
With regard to the strictly technical data, the camera is equipped with an image sensor type back-illuminated CMOS 1/5, and 8 inches with a resolution of 2.5 megapixels, a Konica Minolta lens that has a focal of 2.9 to 116 mm in 35 mm format equivalent to 40.5 to 1620 mm, a 40x optical zoom, 60x dynamic zoom and 200x digital zoom.
As for the video quality, the JVC GZ-E305 allows you to record movies in Full HD, so with a maximum resolution of 1920×1080 pixels, in the AVCHD format, and simultaneously take pictures with a maximum resolution of 2 megapixels. Photos can reach a maximum resolution of 8.3 megapixels. Turning to the various features available, the first to point out is certainly advanced image stabilizer, very useful because it compensates for the movement of the machine and allows for consistently sharp results. The camera is also equipped with intelligent automatic control and face recognition.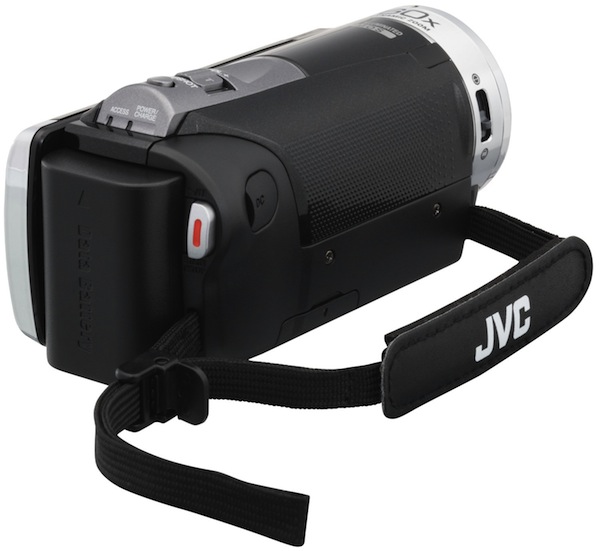 Among the innovative features offered by the JVC GZ-E305 and all the latest JVC camcorders is the Best Play, which offers the possibility to realize an automatic selection of the best scenes of their movies. Also interesting is the automatic removal of wind noise, ensuring a cleaner sound.
The touchscreen display is of very practical because it allows you to access menus and settings with a few simple clicks, the camera also offers the ability to easily upload videos and photos on Facebook and Twitter. Speaking, the storage, the camcorder has internal memory and a slot for SD memory cards, SDHC and SDXC memory cards.
Speaking of interfaces, the JVC GZ-E305 is equipped with a USB 2.0 port, AV output and miniHDMI connector, you can connect the camcorder to other devices. The rechargeable lithium-ion battery also allows you to record up to 11 hours of footage. The purchase package includes an AC adapter, battery, USB cable, AV cable and software.
Conclusions
The JVC GZ-E305 is a good digital video camera whose most notable features are the quality objective and a large, high optical zoom, the stabilizer, the high autonomy, HDMI, some nice features such as the suppression of wind noise and Best Play. The rest is more or less in average.
PROS : Intelligent automatic control, Konica Minolta Lens, High optical zoom, advanced stabilizer, USB and HDMI, Touchscreen display, High-resolution photos, Automatic removal of wind noise.
CONS :
Size and display resolution, No flash.