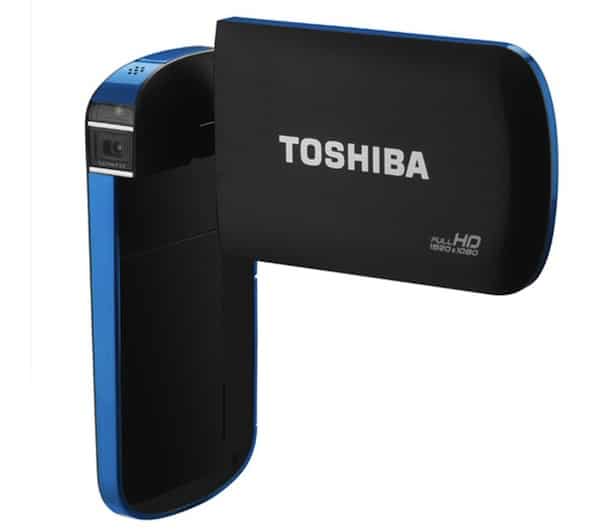 The Toshiba Camileo S40 is a compact camcorder with pistol grip very practical to use and perfect to take with you anywhere thanks to its particularly compact dimensions. Available in various fashionable colors, allows you to make movies Full HD video and take photos with 16 megapixels.
It also has a 10x digital zoom, image stabilizer electronic, microUSB port, HDMI interface, internal memory of 128 MB, slot for memory card's SD, SDHC and SDXC memory cards, LCD 3-inch touch screen with a resolution of 960×240 pixels and maximum range of 100 minutes recording in Full HD.
Toshiba Camileo S40: Design
The Toshiba Camileo S40 camcorder is a compact and handy, ideal to take with him, thanks to the very compact dimensions and practice pistol grip. It has a modern and colorful design and is available in the colors black / purple, black / turquoise, black / orange and black / gray. As for size, measuring 56 mm wide, 112.5 mm in height and 17.5 mm in depth, while the weight is 141 grams. It has, then, a 3-inch touch screen LCD display with a resolution of 960×240 pixels.
Toshiba Camileo S40: Features and Functionality
The Toshiba Camileo S40 is a digital camera with pistol grip, so very convenient to hold and use. Presented at the end of last year, along with other models like the Toshiba Camileo BW20, shows a design and very colorful and lets you take pictures and video in a simple way.
As for the technical specifications, this camera features a CMOS sensor 1/3, 2 inches in size and with an effective resolution of 5 mega pixels, and a fixed focus lens, F2.2 to and with a focal length equivalent to 28 mm in 35 mm format. Do not miss 5x digital zoom for 10x Full HD movies and those for HD and VGA.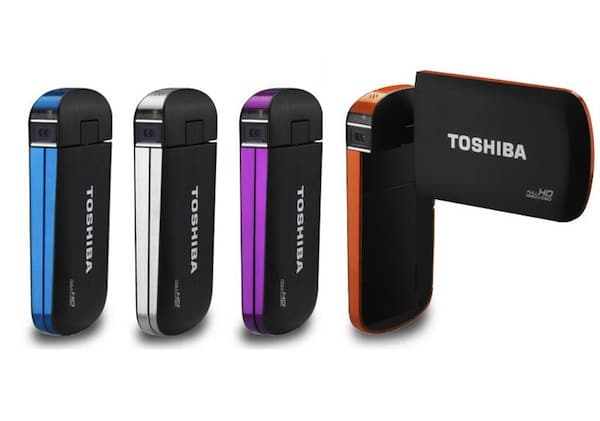 Going back to the features, the Toshiba Camileo S40 is the perfect camera for those who want to have a chance to catch the most important moments of everyday life or during the holidays. It's very compact size and the type of handle, allow to carry around, and also to keep it in a handbag. Speaking of video and photographic quality, this camcorder allows you to record video clips in H.264 format and Full HD, so with a maximum resolution of 1,920×1,080 pixels and shoot 16 mega pixel, so with a maximum resolution of 4,608×3,456 pixels.
Do not miss the electronic stabilizer, which, thanks to which you can get sharp photos even in case of accidental movement of the camera, although it must be said that the quality of the electronic stabilizer is not equal to that of a mechanic.
The movies and photos made with the Toshiba Camileo S40 are saved on the internal memory, to tell the truth is not so wide as it stops at 128 MB, or they may be photos can be stored directly on a memory card such as Secure Digital, SDHC or SDXC card to be inserted into the slot. The camera then presents several features, such as a maximum sensitivity of ISO 800, white balance, scene modes, LED flash, face detection and smile and self-timer. The display is touch screen and allows you to access the various menus and functions with just a few touches.
To share photos and videos with other devices, the Toshiba Camileo S40 has USB and HDMI connectors for connecting with all kinds of devices, including those of the new generation. With regard, then, the battery life, with that supplied you can record up to 100 minutes of Full HD movies, then at full resolution. Finally, there remains to be mentioned the contents of the sales package, which sees the presence of an AC adapter, rechargeable battery, USB cable, HDMI cable, wrist strap, cleaning cloth and CD with software.
Conclusion
The Toshiba Camileo S40 camcorder is a very compact, with practical pistol grip that allows ease of use, along with the touch screen display. The technical specifications are not great but enough to get Full HD video and 16 mega pixel photos. Do not miss the HDMI and USB ports. The internal memory is not high, but can be expanded with memory cards. The stabilizer is electronic only.
PROS : Design, HDMI and USB ports, Resolution.
CONS :
Quality sensor, stabilizer digital zoom only digital.