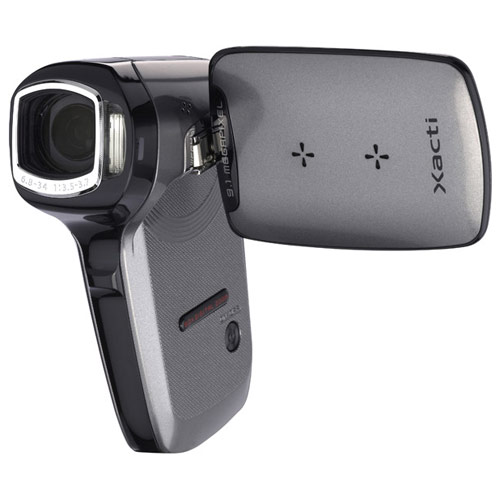 After the Sanyo Xacti HD700, Sanyo has the Sanyo Xacti VPC-CG9, a camcorder that can record video and take photographs. And equipped with VGA video function, CMOS sensor with a resolution of 9.1 megapixels for photos, and 2.5 inch screen.
The optical zoom is 5x. Sanyo Xacti VPC-CG9 stores data on SD cards and is compatible with different compression formats MPEG-4 AVC/H.264 and soi has a weight of 180 grams. The battery is lithium-ion battery and support is the SD card.
Sanyo Xacti VPC-CG9: Design
The camcorder Sanyo Xacti VPC-CG9 is distinguished, in particular, for its extremely small size and its exceptional portability. , Measuring 101 mm in height, 73.8 mm in width and 38.6 mm in depth, while the weight is about 180 grams, net of battery. It also a large LCD display, 2.5-inch with a resolution of approximately 230,000 pixels and a coverage of 100%. Ergonomic grip and easy handling.
Sanyo Xacti VPC-CG9: Features and Functionality
Again, the producer Sanyo proves able to realize for amateur cameras able to stand even in the back pocket of a jean. The new Sanyo Xacti VPC-CG9 a new camcorder, compact style, high quality and suitable for those who shoot just does not understand. Its ease of use is one of its hallmarks, along with the quality and features that it has.
As for its technical specifications, the CG9 features a CMOS image sensor 1/2, 33 size and about 9.1 megapixels effective resolution, thanks to which you can achieve great video as well as photographs of the highest quality.
The Sanyo Xacti VPC-CG9 allows both to create video clips in compressed MPEG-4 AVC and H.264, up to a maximum resolution of 640×480 pixels and up to 30 frames per second, and photographs in JPEG format with a maximum resolution of 4000×3000 pixels. In both cases, you can choose the maximum resolution or other lower resolutions.
The camera has an internal memory of 40 MB on which to store the photos and videos, but you can also save them on external media, but cassettes or CDs, because it only supports memory cards of the type Secure Digital and SDHC.
Other features include a beautiful lens that offers a maximum aperture of f3.5-f23.7, a focal length of 6.8-34 mm, equivalent to 38-190 mm on a traditional 35 mm, a 5x optical zoom and a zoom digital able to get up to 12x, so you can resume also subject to a great distance. Furthermore, of note is the super macro mode that allows you to get close up to 1 cm from the subject.
As for the features offered by Sanyo Xacti VPC-CG9 should be mentioned, first, the image stabilizer that compensates for even the smallest movements of the machine, due to an unsteady hand or a moving subject, and can be used both for the photos for the video recording. Another interesting feature is the ability to shoot still images while shooting video.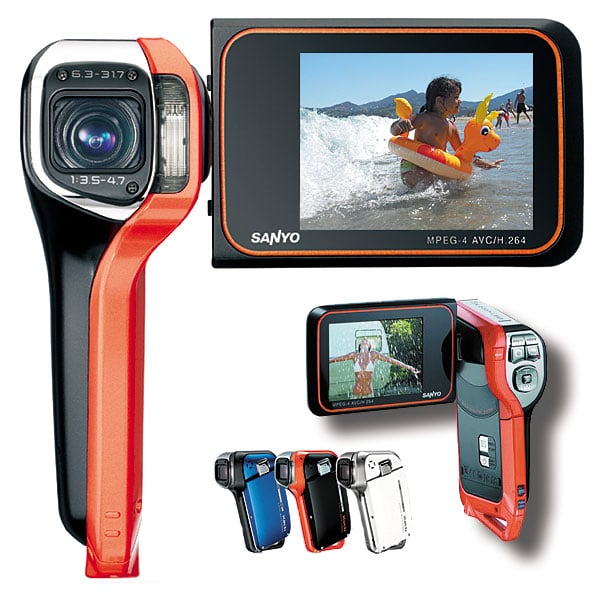 Staying at the picture, the camcorder has a cool feature called "Face Chaser", able to ensure perfect portraits in following people's faces framed, automatically setting exposure and focus. Not to mention the high levels of sensitivity, in manual mode, ranging from 50 to 1600 ISO, and thus can make excellent movies and photos even in low light.
The Sanyo Xacti VPC-CG9 also has various scene modes to choose from, such as landscape, portrait, sports, night portrait, fireworks and more, to guarantee the best footage and photos. Added to these are various filter functions, such as the sepia mode, cosmetic and monochrome. Easy is also the view of photos you have taken, including through sequence to easily find the photo you want, you can also merge several clips into one movie, or cut a part of the movie that does not care.
Last but not least, the mode Simply, with the basic information from the display to guide the user through a very intuitive interface. Finally, we must remember the functions of red-eye correction, specific for the photos, though not very efficient, and the voice recorder.
As for connectivity, the Sanyo Xacti VPC-CG9 is equipped with AV output and USB port for connecting to the TV and the computer and the output PictBridge for direct photo printing without going through the computer. The included lithium battery provides up to 195 photos and 160 minutes of recording time on a single charge. The package purchase, finally, includes battery, USB and AV cables and charger.
Conclusion
The Sanyo Xacti VPC-CG9 is an excellent camera with a very small, lightweight body and a practicality without limits. These dimensions allowed by the absence of the cassette compartment as the camera uses memory cards only. Among the features, the stabilizer is for images from the video, a large sensor, support for memory cards, in addition to discrete internal memory, voice recorder, high sensitivity, zoom discreet.
Where to Buy Sanyo Xacti VPC-CG9
---

---
PROS : Price; Facilitates; Dimensions and weight.
CONS :
Duration picture-taking; Slow processing photos, Red-eye Reduction present but ineffective.
Product prices and availability are subject to change. Any price and availablility information displayed on Amazon at the time of purchase will apply to the purchase of any products.