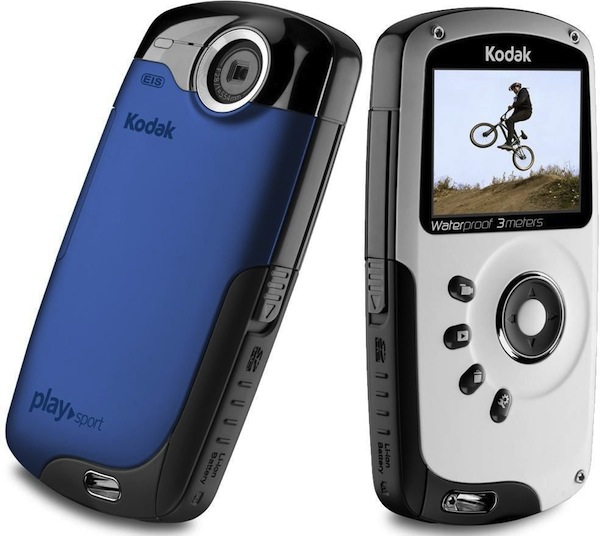 The Kodak Playsport ZX3 is a compact digital camera and dedicated to the sport. And 'Waterproof up to three meters and shock-resistant. The sensor is 5 mega pixels and allows you to shoot movies in full HD 1080P at 30 fps.
Absent the optical zoom but present a 4X digital zoom. It can also take pictures at 16:9 format. E 'dated for digital image stabilizer, and the 2-inch display has a special function to enhance visibility in bright sunlight. The internal memory of 128 MB is expandable with SDHC cards.
Kodak Playsport ZX3: Design
The Kodak Playsport ZX3 is a small and compact digital camcorder, which also comes in a pocket, with a modern and young design, thanks to the various colors available. Its dimensions are 112.5 mm in height, 58 mm in width and 19.5 mm in depth, while the weight is about 120 grams without accessories. It has, finally, a 2-inch LCD display with good visibility even in bright sunlight.
Kodak Playsport ZX3: Features and Functionality
The Kodak Playsport ZX3 is a compact digital camera the size very small and practical to take with him. Ideal for all fans of extreme adventures, it is a waterproof model as it allows you to dive under the water up to 3 meters deep and resume, as well, the exceptional undersea panorama.
But leaving aside, for the moment, the functions of the Playsport, and analyzing those that are technical data, this camera features a CMOS video sensor type 1/2, 5 inches and with an effective resolution of 5 mega pixels for the photos, the equivalent of 2,592×1,944 pixels, and with regard to video footage, this model is able to record in Full HD, so with a maximum resolution of 1,920×1,080.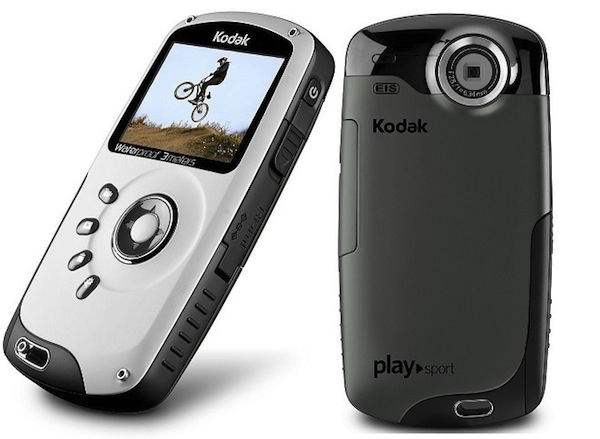 The Kodak Playsport ZX3 presents, then, a goal at fixed focal length equal to 5.54mm and equivalent basis, in the traditional format 35 mm, to 35 mm, and a digital zoom 4x, to shoot subjects that in the distance, while missing the zoom optical. Always digital also the image stabilizer, which allows still to limit to the maximum change the blur effect and to get movies consistently sharp.
Other functions offered by this camcorder are the sensing technology of the faces, that allows you to shoot subjects that are in the best moment, the possibility of edit and crop photos and videos directly on the machine, that of add a narrating voice to movies but him, you can do only via computer, and the ability to acquire individual images by the video frames.
The Kodak Playsport ZX3 is connected easily to your computer via the USB port to which it is provided, so you can easily upload your videos to YouTube and Facebook, thanks to the software included within the package. The supplied HDMI cable allows you to connect your camcorder to a compatible TV. Finally, the Playsport has an internal memory of 128 MB expandable via memory cards Secure Digital or SDHC card. The package purchase, finally, includes rechargeable lithium battery, AV cable, USB cable, HDMI cable, wrist strap, user manual and the CD-ROM.
Conclusion
The Kodak Playsport ZX3 is a compact digital camera is ideal for extreme sports such as shock resistant and waterproof. To underline the ability to record Full HD movies, HDMI input, with special cable included within the package and discrete memory and expandable.
Where to Buy Kodak Playsport ZX3
---

---

---
PROS : Waterproof, Full HD Movies, HDMI cable included; HDMI Input.
CONS :
Electronic stabilizer, No optical zoom.
Product prices and availability are subject to change. Any price and availablility information displayed on Amazon at the time of purchase will apply to the purchase of any products.