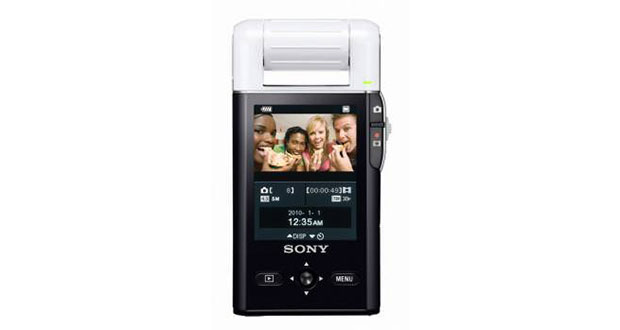 The Sony Bloggie MHS-PM5 is a compact camcorder capable of recording video in full HD 1080i. Featuring a compact design and a lens that can rotate 270 °, the Sony MHS-PM5 Bloggie has no optical zoom lens with a 5 megapixel sensor. The display is 2.4-inch TFT screen and has a resolution of 230,400 pixels. The supplied battery 980 mAh provides a maximum of 95 minutes recording The camcorder records directly to memory cards Memory Stick or SDHC.
Sony Bloggie MHS-PM5: Design
The Sony Bloggie MHS-PM5 is a digital video camera small and compact and colorful, suitable for younger users and for those who look at life with joy. Its dimensions are 108 mm in height, 54 mm width and 19 mm in depth, while the weight is just 110 grams without accessories. It also has a 2.4-inch TFT display with a resolution of 230,400 pixels.
Sony Bloggie MHS-PM5: Features and Capabilities
The Sony Bloggie MHS-PM5 a mini digital camcorder, the size very compact, presented this year by the manufacturer and intended primarily for those who want a product to take with him, to be inserted into a pocket and pull out when needed. Perfect for holidays, for a party or for a special occasion.
But going in order and starting from the specifications, this camera features a CMOS video sensor type 1/2, 5 inches and with an effective resolution of 5 megapixels for photos, the equivalent of 2,592 x 1,944 pixels, and a maximum resolution of 1,920 x 1,080 pixels for video, so it is a full HD resolution.
How optics mounted on the Sony Bloggie MHS-PM5 is a fixed focal length lens of 7 mm and equivalent, in the traditional format 35 mm to 47 mm for 16:9 and 42 mm for size 4: 3 photos and 47 mm in 16:9 format and 57 mm in 4:3 format for videos. For shooting subjects in the distance, the camera also has a 4x digital zoom, so not particularly high, while it is completely absent optical zoom.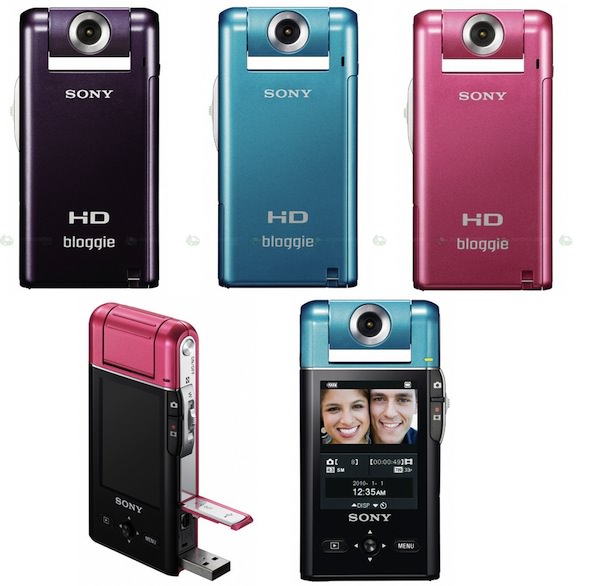 As you can see from the technical data, therefore, it is not a video camera from a very high specification, even if it allows you to record Full HD video. The main value of this camera mainly consists in its design, in its handling and its unity, which allow you to insert easily into a shirt pocket and take it everywhere. Not to mention the comfortable lens that rotates 270 degrees, allowing you to shoot otherwise be impossible.
Very simple and then connect the Sony Bloggie MHS-PM5 to your computer without the use of cables, as the camcorder is equipped with a plug-out USB arm to pull out when needed. After connecting the camera to a PC is easy, then, to upload videos directly to YouTube and Facebook, thanks to the software included in the package. It also has TV output for connection to your TV.
As for the other functions available, the Bloggie is also equipped with electronic image stabilization, which compensates for vibrations of the machine and allows for perfect portraits and photos and crisp in all circumstances, and technology of face detection is very useful for portraits of quality because it detects faces in the frame.
Finally, do not have internal memory but saves photos and videos directly on memory cards with Memory Stick and Secure Digital. The purchase package includes a rechargeable lithium ion battery, which provides up to 95 minutes of recording, AV cable, USB cable, wrist strap and CD-ROM.
Conclusion
The Sony Bloggie MHS-PM5 is a compact digital camera with reduced size, very colorful and ideal to take with you anywhere. As for features, stands the ability to record movies in Full HD while for the rest there is nothing else to put particular emphasis, if not the USB plug built right into the body for a quick connection to the computer and the target rotating.
Where to Buy Sony Bloggie MHS-PM5
---

---
PROS : Integrated USB plug; Compact size; Head with rotating lens; Face Detection; excellent display and layout.
CONS :
No optical zoom, macro mode No, No low light mode; few functions.
Product prices and availability are subject to change. Any price and availablility information displayed on Amazon at the time of purchase will apply to the purchase of any products.