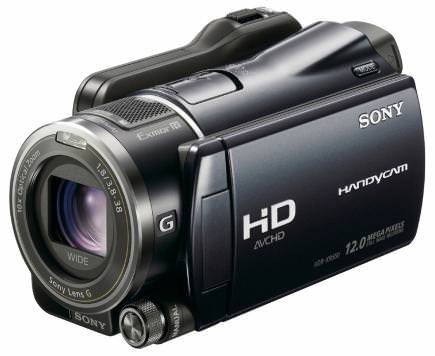 The Sony HDR-CX550V is a digital camcorder compact size but equipped with the most advanced technologist. It has, first of all, an internal hard drive's 240 GB and a slot for external memory cards with Memory Stick. As for other specifications, has an Exmor R CMOS sensor that can record Full HD movies, so with maximum resolution of 1,920 x 1,080 pixels, and to take pictures up to 12 megapixels. It also has a 3.5-inch touchscreen LCD display with electronic viewfinder, wide angle G Lens with 10x optical zoom, SteadyShot optical image stabilizer, integrated GPS, Bionz processor, surround sound, face detection and smile shutter and HDMI output.
Sony HDR-CX550V: Design
The Sony HDR-CX550V is a stylish compact digital camera but with reduced size. Measuring 74 mm in height, 70 mm width and 143 mm in depth, while the weight is 510 grams without battery and card. It has, then, an Xtra Fine LCD screen 3.5-inch touchscreen with a resolution of 921,600 pixels, as well as a viewfinder and 0.2-inch with a resolution of 201,600 pixels.
Sony HDR-CX550V: Features and Capabilities
The Sony HDR-CX550V is one of the latest digital cameras made by the manufacturer and, to tell the truth, one of the best performing, with his sister Sony HDR-XR500V, launched at the same time. The two models are very similar, both in terms of design specifications and functionality, and the major differences between the two cameras are the internal capacity and a display of different sizes.
But from the beginning, and from the specifications, the Sony HDR-CX550V has an internal hard drive less than 240 GB, in which you can store up to 101 hours of video at the highest resolution, i.e. 1,920 x 1,080 pixels Full HD . Thanks to an internal memory so wide, therefore, there is no need to buy external media. If you wish, you can save video and photos on memory cards with Memory Stick and SD, of various types, to be inserted into the slot.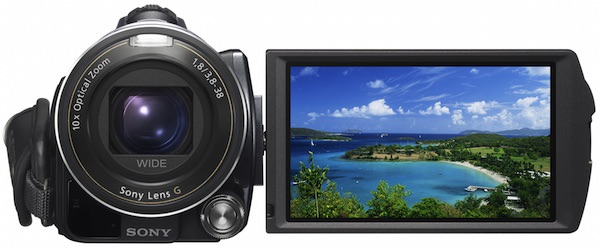 Continuing with the specifications, the Sony HDR-CX550V is equipped with a CMOS sensor Exmor R 1/2, 9 inches in size which allows you to record video as well as Full HD video, even taking pictures with a maximum resolution of 12 megapixels. It is a very large sensor and high sensitivity capable of ensuring photo and video rich in details and with low noise, even in low light conditions.
How, then optics mounted, it is a wide-angle Sony G lens has a maximum aperture of F1.8-F3.4 and a focal length of 3.8 to 38 mm and 35 mm format equivalent to 29.8 to 298 36.5 to 365 mm in 16:9 and 4:3 mode for the room and from 28.7 to 287 mm in 16:9 and 26.3 to 263 mm in 4:3 mode Memory. Finally, there are a 10x optical zoom and 120x digital zoom, which allows you to capture people in the far distance.
Turning now to the features offered by the Sony HDR-CX550V, it should be mentioned, first of all, the SteadyShot optical image stabilization, which compensates for camera shake and ensures consistently sharp photos, with all zoom settings. Other cool features include Face Detection, which automatically detects faces in a shot and adjusts settings accordingly, and Smile Shutter, which records and would only be triggered when the subject laughs.
The Intelligent Auto mode recognizes 11 types of scenes and adjusts settings in the optimal way, the Quick AF for auto focus, while the D-Range Optimiser adjusts exposure in high-contrast scenes when shooting against the light. It should be emphasized, then, the function of automatic detection of the geographical location for movies and photos via the built-in GPS.
The Sony HDR-CX550V is provided, again, recording digital surround sound, connections for external microphone and headphones, BIONZ processor, the Golf Shot function, which captures a sequence of images at high speed to choose the best shot, the indexing of faces and movies, HDMI input, an LCD touchscreen and delmirino.
As for autonomy, finally, autonomy, built-in lithium rechargeable battery can provide up to a maximum of 105 minutes, which can be expanded up to 440 minutes if you buy a battery more efficient. Finally, with regard to the purchase package, it includes the AV cable, AC adapter, USB cable, remote control infrared and Picture Motion Browser software.
Conclusion
The Sony HDR-CX550V is a compact digital camera from compact yet feature-rich. To underline the large internal hard drive, slot for memory cards, the touchscreen display large, high-resolution, Full HD movies, HDMI input, the resolution of the sensor, the remote control, the stabilizer high quality and many built-in functions. The only drawback, of course, the price.
Where to Buy Sony HDR-CX550V
---

---
PROS : Electronic Viewfinder; Hard drive 240GB, up to 12 MP photos, HDMI output, LCD touchscreen.
CONS :
Price.
Product prices and availability are subject to change. Any price and availablility information displayed on Amazon at the time of purchase will apply to the purchase of any products.