Tablets
Samsung Galaxy Tab 7.0 Plus: Review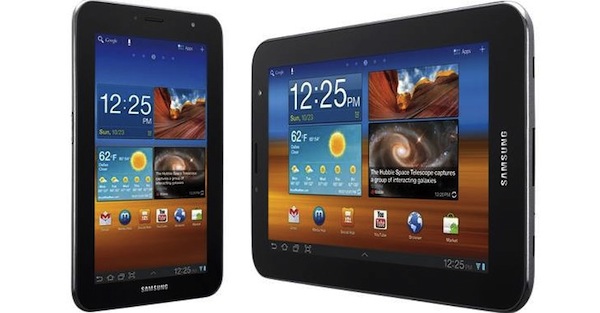 The Samsung Galaxy Tab 7.0 Plus is an innovative tablet that combines an excellent multimedia experience with an ultra-portable design. It is based on a dual core 1.2 Ghz and the Android operating system in version 3.2.
It also features 7-inch touch screen display with 1024×600 pixels resolution, 3-mega pixel main camera with LED flash and video recording video, front-facing camera for video calls, HSDPA network support, media player, access to social networks with the application of Social Hub. Google services, Bluetooth, Wi-Fi and 16 GB or 32 GB of internal memory, expandable with microSD cards up to 32 GB.
Samsung Galaxy Tab 7.0 Plus: Design
The Samsung Galaxy Tab 7.0 Plus is a tablet which is characterized by a sleek and stylish as well as a thickness really small, just 9.6 mm. Also notable is the quality of the materials used, not plastic but aluminum, which gives it a stylish look but also a long life. The tablet mounts, also a touch screen LCD capacitive 7-inch with a resolution of 1024×600 pixels. The weight is just 348 grams while the dimensions are 193.5 mm in height, 122.5 mm wide and 10 deep.
Samsung Galaxy Tab 7.0 Plus: Features and Functionality
The Samsung Galaxy Tab 7.0 Plus is a tablet elegant and refined presented by the manufacturer in October of last year and available from a few days in the market. It is, quite clearly, the heir of Samsung Galaxy Tab 7.0, with respect to which it has improved both as regards the technical specifications for the equipment and software capabilities.
Starting right from the technical data, this device is based on a dual-core 1.2 Ghz, on a RAM of 1 GB on a 16 GB or 32 GB internal memory, expandable via the microSD memory cards, and operating system Android version 3.2 Honeycomb, the first version of the OS designed specifically this kind of devices.
The Samsung Galaxy Tab 7.0 Plus also has a touch screen display, in this case a capacitive 7-inch, high-resolution LED-backlit display and excellent color rendering. It has the accelerator, which allows you to switch from horizontal to vertical simply by turning the tablet 90 degrees, and vice versa.
One of the main strengths of this tablet is definitely connectivity, complete in all respects since it includes a USB port, HDMI and TV output, to connect the tablet to any type of device, Bluetooth's technology to connect to other devices having to use any thread, Wi-Fi and 3G with HSPA technology, to surf the Internet using a hotspot or via phone card at high speed.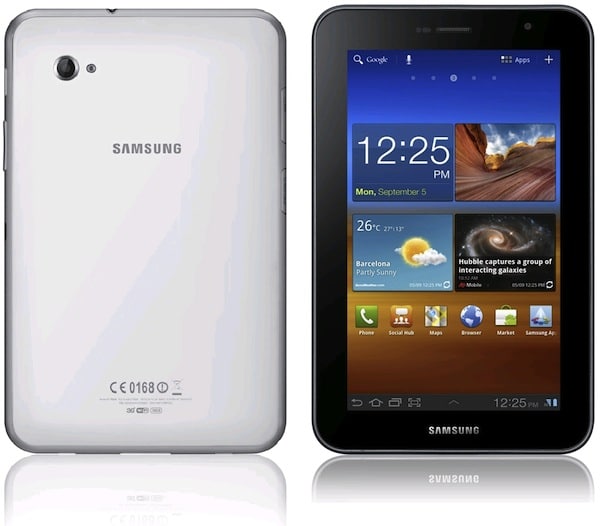 The Samsung Galaxy Tab 7.0 Plus is a tablet that offers many functions, from listening to music, playing video games, surfing the Internet already mentioned, the display of HD movies. Allows then to access e-mail and has the full suite of Google applications such as Maps, Gmail, Talk, Calendar, Latitude, and much more. There is even a built-in GPS to always find your destination.
Apart from those already preloaded, furthermore, you can download numerous applications from the Android Market, some paid but many free of charge. As for the communication industry, do not miss the Social Hub, which brings together in a single interface contacts, calendar, e-mail instant messaging and social networks utilized.
As regards, next, the photography, the Samsung Galaxy Tab 7.0 Plus equipped with a 3-mega pixel main camera, which allows you to take pictures to 2,048 x 1,536 pixels resolution and create video clips. It also has flash, auto focus and various shooting modes. The front-facing camera is useful for making video calls. The tablet is powered, ultimately, by a rechargeable lithium-ion battery 4,000 mAh.
Conclusion
The Samsung Galaxy Tab 7.0 Plus tablet is a compact, elegant and refined, with reduced size and weight, and specific interest. It has almost everything, GPS, 3G, Wi-Fi, Bluetooth, HDMI output, TV output, front and rear camera, media player and Android operating system, with all the Google applications pre-loaded.
Where to Buy Samsung Galaxy Tab 7.0 Plus
---

---
PROS : Internal memory, Accelerometer Support GSM / UMTS network; Front Camera; Ambient light sensor and proximity; Social Hub, Dual-core 1.2 Ghz, Operating System.
CONS :
Camera improvable.
Product prices and availability are subject to change. Any price and availablility information displayed on Amazon at the time of purchase will apply to the purchase of any products.