Tablets
ASUS Transformer Prime: Review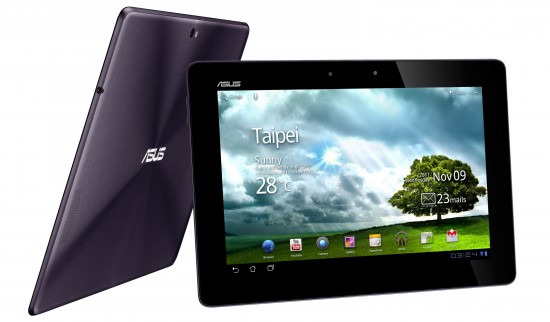 The ASUS Transformer Prime is a powerful tablet that is based on the innovative quad-core processor NVIDIA Tegra 3 1.4 GHz processor, which ensures maximum responsiveness in multitasking activities. It also has Android OS 3.2, upgradable to version 4.0, a 1 GHz RAM and an internal memory of 32 or 64 GB.
Other specifications of the tablet include a 10.1-inch WXGA display with LED backlight, 8 MP rear camera with LED flash that records Full HD video, 1.2 MP front camera, Bluetooth, GPS, gyroscope, HDMI, Wi LAN, card reader memory and autonomy of 12 hours. There is also an optional keyboard dock, which increases the functionality of this fabulous tablet.
ASUS Transformer Prime: Design
The ASUS Transformer Prime tablet is a sleek, ultra-thin, since it has a thickness of just 8.3 mm. The other dimensions are 263 mm in width and 180.8 mm in depth. The weight is just 537 grams. The body is made entirely of aluminum with the concentric patterns on the back. It has a 10.1-inch LED display with a resolution of 1,280 x 800 pixels and protected by Gorilla Glass technology.
ASUS Transformer Prime: Features and Functionality
The ASUS Transformer Prime was presented by ASUS after waiting a few months, is finally available for sale. Heir of the much-appreciated Asus EeePad Transformer TF101, it takes the most interesting by adding more power and speed of calculation unparalleled. Starting from the technical data, we cannot start from the processor, because the name was chosen to represent the fact that.
It is the first tablet to mount an NVIDIA Tegra 3 quad-core processor. It is also one of the first devices to mount the Android operating system in version 4.0, also known by the code name Ice Cream Sandwich. Other specifications of this tablet include a 1 GB RAM and 32 GB of internal flash memory.
As regards the strengths of the ASUS Transformer Prime, apart from the power of the processor to which we have already mentioned, we should mention the design, quite impressive in terms of quality of materials used and elegance. Like its predecessor, also includes a QWERTY keyboard docking that, once engaged, allows you to turn it into a real notebook, complete with a built-in touchpad.
Very interesting is the touch screen display, capacitive, multitouch technology and equipped with IPS technology, which enhances the viewing angle and reproduces sharper and vibrant colors. This screen is also protected by Gorilla Glass technology, which makes it resistant to scratches and thus makes it possible to carry it anywhere without fear that it might break.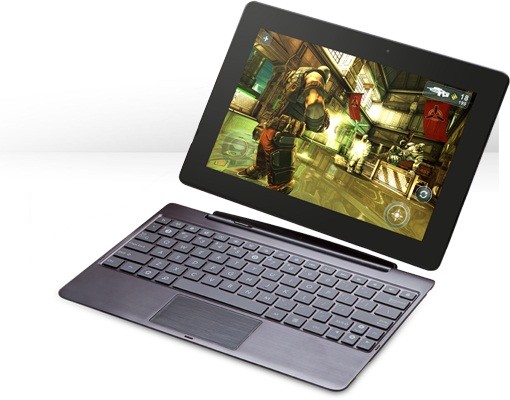 Another strength of the ASUS Transformer Prime is also the photographic industry, which includes an 8-megapixel rear camera and equipped with LED flash, auto focus and the ability to create video clips as Full D, then with resolution 1280×720 pixels. Both photos and videos are really in high quality. The front camera 1.2 mega pixel allows for self-portraits. Also of note is the audio sector of this model, thanks to the presence of SonicMaster technology, developed in collaboration with Bang.
The ASUS Transformer Prime is also a good tablet to play as, taking advantage of the NVIDIA architecture, provides a remarkable graphic power and motion video in high definition. By the way, thanks to the release miniHDMI available to it, you can connect the tablet to a new-generation TV and play back audio and video files and play it directly on the big screen.
Thanks to the presence of Android is to download an unlimited number from special market, as well as applications for Facebook and Twitter. The application SuperNote is, instead, a notepad that allows you to write notes also freehand. Polar Office, finally, is a professional office suite that allows you to create documents compatible with those of Office. Do not miss the application MyCloud for accessing multimedia content online.
As for connectivity, the ASUS Transformer Prime is equipped with standard 802.11b/g/n Wi-Fi, you can surf the Internet without wires connecting to the appropriate hotspot and Bluetooth technology to connect to other wireless devices. It has, then, a slot for Secure Digital cards and microphone. These interfaces must be added that keyboard docking, which also had 1 USB port and SD card slot.
Do not miss the built-in GPS. Among other things, the keyboard also presents an autonomous rechargeable battery which, added to that of the tablet, provides a total duration of less than 12 hours of use. That only the tablet is already very good to her, coming to 12 hours. The package finally includes the tablet, keyboard dock, a cleaning cloth and a power cord that by separating the power supply itself, is transformed into a data cable.
Conclusion
The ASUS Transformer Prime tablet can be safely considered to be the top of the moment, especially part because it is the first ever to mount a quad-core processor and one of the first to have Android 4.0. Remarkable even the rest of the specifications, such as the 8 MP camera with flash and Full HD movies, GPS, keyboard, docking in-box, the HDMI output, the quality of the display. Too bad for the absence of the SIM card slot, otherwise it would have been really a full tablet.
PROS : Quad-core processor, front camera, Full HD Movies, memory card reader; Gyroscope.
CONS :
No SIM card slot; RAM is not very high.