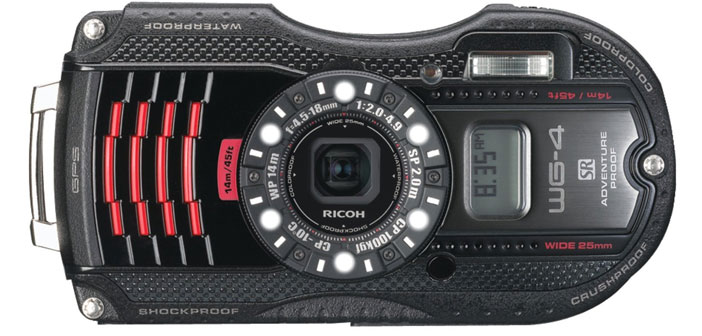 Ricoh WG-4 GPS is a compact digital camera known as a rugged body with a water-resistant up to 14 meters deep and resistant to shocks and drops from 2 meters to dust, low temperatures and crushing. As for the rest of the specs, features illuminated CMOS sensor with 16 effective megapixels, double anti-vibration system, lens equivalent to 25-100 mm in 35 mm format, 4x optical zoom, 3-inch LCD display with a resolution of 460,000 dots, built-in flash, GPS module, Full HD movies, sensitivity up to ISO 6400, USB and miniHDMI strap with carabiner supplied and internal memory of 70 MB, expandable with SD / SDHC / SDXC.
Ricoh WG-4 GPS Waterproof: Design
The Ricoh WG-4 GPS is a compact camera so-called " rugged " as provided with a camera body is waterproof and resistant to shocks, dust, cold temperatures and crushing. The two available colors are black and blue. On the back features a 3-inch anti-glare LCD display with a resolution of 460,000 dots. The size, finally, are 125 mm in width, 64.5 mm in height and 32 mm in thickness, for a weight of 236 grams, including battery and card, and only 216 of the body.
Ricoh WG-4 GPS Waterproof: Features and Functionality
The Ricoh WG-4 GPS is an interesting compact digital camera presented this year by the manufacturer, together with the model Ricoh WG-4, almost identical if not for the absence of the GPS module, as the name suggests, and from which stands physically of different colors.
Apart from this first feature, the camera is also distinguished, and above all, for his body is waterproof and resistant to everything, which makes it perfect to take with him, in any weather. Pausing at the time, on the technical details, this camera is equipped with a backlit CMOS sensor 1/2, 3 inches in size and with a total resolution of 16.79 megapixels to 16 megapixels and effective.
It also has a 4x optical zoom, a digital zoom of approximately 7.2 x and a lens that has a focal length of 4.5-8 mm, equivalent to 25-00 mm in the traditional format 35 mm, and a maximum aperture of f2.0-F4.9.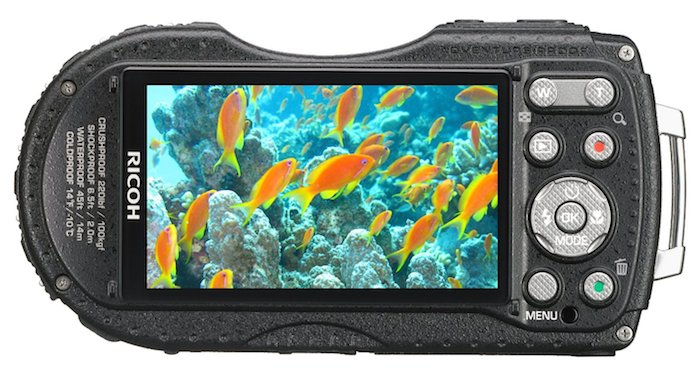 Turning now to the features offered by Ricoh WG-4 GPS it must necessarily from what is its main feature. This camera has a machine body is resistant to virtually all as waterproof up to 14 meters, resistant to shocks and falls from heights up to 2 meters, resistant to dust, cold temperatures down to -10 degrees and crush with weights up to 100 kg.
Although some of these features probably will never need is perfect to take to the sea, the mountains, the snow, basically anywhere you want. There are also innovative features for trekking and nature watching, electronic compass and barometer.
As regards, the functions most closely related to photography, the Ricoh WG-4 GPS features 29 scene modes, enclosed in Shutter Priority modes, with which the camera automatically sets the aperture and ISO sensitivity for taking the time to speed selected by the user, and USER, which allows you to instantly restore settings previously established for a more personalized camera.
Finally, the Auto Picture mode automatically selects one of 16 different scene modes for a given subject or scene. Not missing, then the image stabilizer, to get sharp results even in the case of movement of the machine.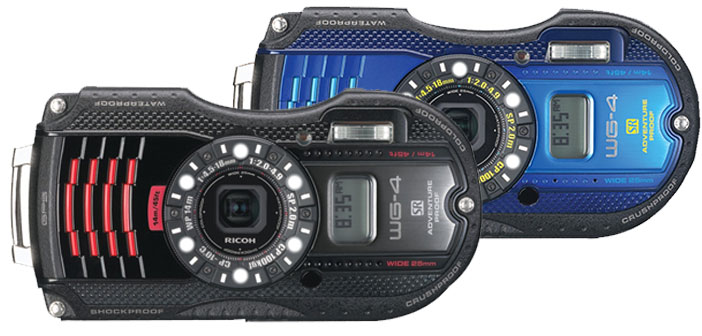 Speaking now of quality photos and video, Ricoh WG-4 GPS lets you take pictures in JPEG format with a maximum resolution of 4608×3456, and video clips can reach a maximum resolution of 1920×1080, then Full HD. As for the rest of the specs, the camera has a sensitivity to values ​​between 125 and 6400 ISO, autofocus, integrated flash, face detection function, red-eye reduction and various functions for optimizing the picture.
As for saving your photos and videos, the CX2 is equipped with an internal memory of 70 MB, fortunately expandable via memory cards Secure Digital, SDHC or SDXC. There are, finally, the USB port for connecting to other devices, video output AV and HDMI.
The rechargeable battery lets you take up to 240 pictures per charge and record up to 200 minutes of footage. The package includes, finally, the battery, the AC / DC adapter, strap, USB cable and CD-ROM with the software.
Conclusion
The Ricoh WG-4 GPS is the perfect compact camera to take with him, in any weather resistant because practically everything, and perfect for the holidays and for reproof, for example, extreme sports. To this also adds GPS module, in order to geolocalize photos and videos. For the rest, it is a camera with features in the media, we have to mention only Full HD movies and HDMI port.
Where to Buy Ricoh WG-4 GPS ?
---

---

---
Ricoh WG-4 GPS blue 16Digital Camera with 4x Optical Image Stabilized Zoom with 3-Inch LCD (Blue)
A Backlit 16 megapixel CMOS sensor, coupled with the new-generation imaging...
An enhanced waterproof construction allows for a depth of 45 feet, shockproof,...
The optical 4X zoom lens offers a high-performance, large aperture of F2.0, six...
The triple shake reduction system combines an image-sensor-shift-type SR (Shake...
GPS models come equipped with a sophisticated GPS module, which automatically...
PROS : Full HD video footage; Rugged; MicroHDMI port; GPS; Dual anti-vibration system; Strap with carabiner.
CONS :
Optical Zoom; ISO is not very high.
Product prices and availability are subject to change. Any price and availablility information displayed on Amazon at the time of purchase will apply to the purchase of any products.