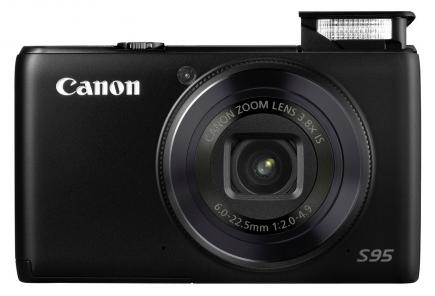 The Canon PowerShot S95 is a compact digital camera photo enthusiasts dedicated to being equipped with a unique ring for manual control and RAW format support, ensuring a quality not possible with an ordinary compact.
Other features include a sensor, 1.7″, 3.8 optical zoom, movie recording video in HD, so with a resolution of 1,280×720 pixels, the optical stabilizer, HDMI port, an LCD display 3-inch PureColor II G and with a resolution of 461,000 pixels, the High Dynamic Range mode, Smart Auto mode, the ability to choose between various photographic formats, a sensitivity up to ISO 3200 and a range of 200 shots.
Canon PowerShot S95: Design
The Canon PowerShot S95 is a compact camera from the simple and elegant design, and pocket with internal flash and lens Control Ring that provides quick access to manual adjustments. On the back of the Canon PowerShot S95 features a Pure Color LCD II G 7.5 cm diagonal equivalent to 3 inches that return crisp, clear images with a resolution of 461,000 dots and thanks to the 5 levels of brightness of the display (adjustable – quick bright).
Canon PowerShot S95: Features and Capabilities
The compact camera Canon PowerShot S95 has, among its most interesting and important, the HS System with 10 MP CCD sensor with high sensitivity that allows you to take shots at higher ISO sensitivity and maintain excellent image quality. HS System combines a high-sensitivity sensor with a DIGIC 4 image processor of the latest generation for picture quality worthy of its larger siblings.
The lens has a maximum aperture and zoom by 3.8x f/2-f/4.9 28 mm with image stabilizer hybrid that allows you to shoot without a tripod and without using the flash in low light conditions. The OIS corrects hand-shake, and then the camera, up to 4-stops, while Hybrid stabilizer provides sharper results in macro shots. One of the most interesting features of the Canon PowerShot S95 is definitely the highly efficient lens Control Ring that provides quick access to manual adjustments.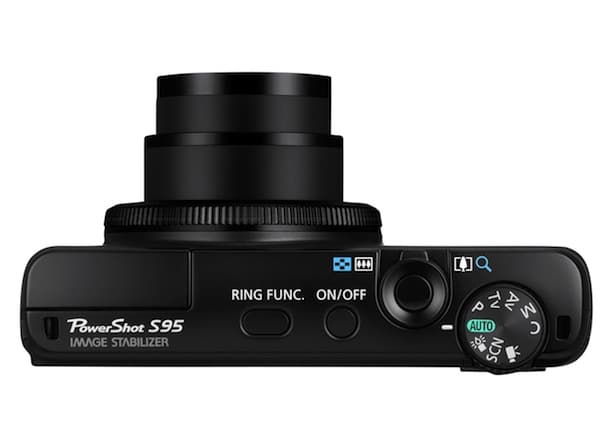 The ring allows control of various functions such as zoom, aperture, exposure, focus, ISO values, or exposure compensation. You can also capture RAW for post-processing with Digital Photo Professional software supplied in the sales package. The Pure Color II G LCD display with 3-inch diagonal, corresponding to 7.5 cm, ensures optimal viewing of photos and video, thanks to a resolution of 461,000 with 5 levels adjustable quick-bright LCD that offers coverage of approximately 100%.
Moreover, being made of tempered glass, the display has a strength and a good robustness and ensures high visibility even when shooting in bright light and direct. In addition to photos, the Canon PowerShot S95 lets you shoot HD movies in 720p with a frame rate of 24 fps playback on an HDTV thanks to the camera's HDMI mini output (HDMI-CEC).
Thanks to the High Dynamic Range mode, mounting the camera on a tripod, in high contrast scenes, this technology allows the acquisition of multiple exposures of the same scene and combines them to obtain a scene rich in detail, high contrast (operation could be compared to that of the interpolation of the pixels).
The Canon PowerShot S95 features 28 different scene types that are chosen, depending on the situation, the so-called Smart Auto. Thanks to the Smart Flash Exposure, the use and power of the flash are controlled to ensure natural results. The Multi-Aspect Shooting allows you to choose between different formats shooting (3:2, 1:1, 16:9 and 4:5) that allow an optimal composition when shooting reducing the need for post-production retouching.
Conclusion
The Canon PowerShot S95 is a compact camera with great performance that will settle even the most discerning palates and the most demanding photographers. The black color combined with the camera's metal body gives it a sober and elegant at the same over a certain robustness. The lens Control Ring is an innovation for a compact camera that makes it compact only in the definition, but not in performance and target destination.
Where to Buy Canon PowerShot S95
---

---

---
PROS : RAW; ring for manual control, High Dynamic Range mode, Smart Auto mode; Movies HD.
CONS :
Optical Zoom.
Product prices and availability are subject to change. Any price and availablility information displayed on Amazon at the time of purchase will apply to the purchase of any products.