Guide
Power Bank with Fast Charging: The Best to Buy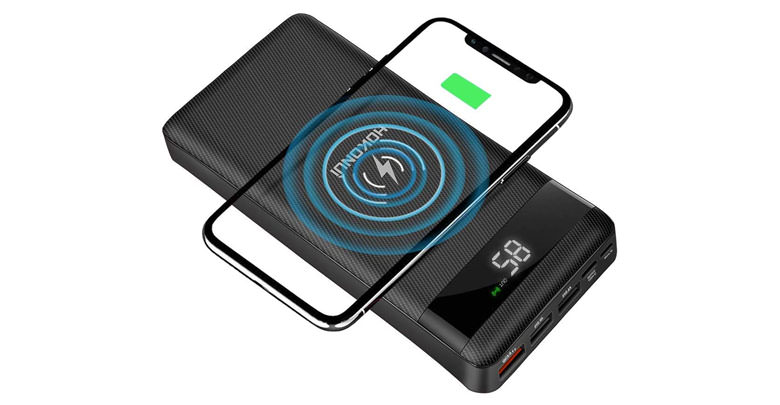 Today, being away from home for a long time and needing to recharge one's devices quickly is increasingly common and common to everyone. Fast-charging power banks offer unrivaled performance, as long as your device is compatible.
This kind of product generally lends itself to a wide range of uses, such as recharging several devices simultaneously or recharging laptops equipped with the latest USB Type-C enabled for charging.
Before making the purchase, it is good to be aware of all the features concerning a power bank. Some factors can be decisive in choosing the product that best suits your needs.
How many charges can a power bank provide?
Many make a mistake that can be decisive and leave one in total amazement or perplexity. When looking for the capacity of a power bank, be aware that it is never 100%.
The actual one is around 65% to 80% in the best cases and for advanced and more expensive products. To know the real value, multiply the declared value by a factor less than 1, which scales the value, thus approximating the real capacity. The formula to use is: mAh x 0.7
For example, if 3,000 mAh is written on a package, the real capacity should be close to (3,000 x 0.7) mAh.
Quick Charge: What is it?
Fast charging is a charging technique that allows you to recharge the device, where compatible, about 50% in less than half the time. Many chargers and power banks can supply current at a variable voltage depending on the device.
This intelligent charging allows reducing the times while maintaining approximately the same wear in terms of battery. In older smartphones, fast charging is used to cause overheating, a real cause of wear and various damage.
Important and not to be underestimated is the importance of USB cables. If you are using original products, you shouldn't take any risks, but it is good to be careful with products of unknown origin or out-of-date materials.
How to choose the right Power Bank for you
If this is one of your first Power Bank, or you don't know what to choose, before seeing the Quick Charge Power Banks we have selected for you, let's see the selection criteria to adopt before buying. Of course, it all depends on the device (or devices) you want to charge, and based on their characteristics, and the choice is certainly easier:
Capacity: The capacity of these fast charging Power Banks is expressed in mAh, just like your devices' battery capacity. If you want to charge more than one, check that the capacity is enough to guarantee at least more than one full charge. For example, if you want to charge a 3,000 mAh smartphone and a 5,000 mAh tablet, having a total of 8,000 mAh, you should make sure you get at least a 10,000 mAh Power Bank.
USB Input: but if, as mentioned, you want to charge multiple devices (even simultaneously), you will need to check that your Power Bank has multiple USB inputs. Usually, you will find at least one USB input with Quick Charge 3.0 standard and a second input (less powerful and therefore less " fast " ). It is not uncommon that you also need other inputs, such as Power Banks Type-C, useful for charging some compatible devices such as the latest iMac, or Lightning Power Banks for other Apple products such as iPhone or iPad.
The Best Quick Charge Power Banks
Before diving into purchasing a product of this kind, it is always good to take a tour online, exploring in all respects the proposal of the most well-stocked stores. Once again, the one with the best proposal is Amazon, where users can freely leave comments and reviews on the products, thus representing an excellent source of feedback and advice of various kinds.
Power Bank with Fast Charging for iPhone
The power banks you find below are specially designed for iPhones: pay attention to only one detail. Not all of them have a Lightning cable included: other times, you should buy it separately, but on Amazon, you can find many.
Power Bank with wireless charging
If your smartphone supports wireless charging,  then below, you might be interested in our selection of the best power banks with wireless charging.
Power Bank with fast charging of 5,000 mAh
Let's now move on to selecting power banks based on their capacity: below, we have listed the best ones with a maximum of 5,000 mAh. 
#
Preview
Product
Rating
Price
1
Miady 2-Pack 5000mAh Mini Portable Charger, Power Pack with 5V 2.4A USB Output, Power Bank Phone...

$17.99

$13.99

BUY NOW! ON AMAZON
2
VANYUST Mini Portable Charger Power Bank 5000mAh Capacity External Battery Pack Dual Output Port and...

5,921 Reviews

$11.39

$9.39

BUY NOW! ON AMAZON
3
Anker PowerCore 5000 Portable Charger, Ultra-Compact 5000mAh External Battery with Fast-Charging...

28,533 Reviews

$17.99

BUY NOW! ON AMAZON
4
YaNovate Magnetic Power Bank 5000mAh, 20W Fast Charging Portable Charger with Stronger Magnet Stick...

22 Reviews

$19.99

BUY NOW! ON AMAZON
5
SIXTHGU Mini Portable Charger, 2-Pack Power Bank (PowerNano 5K) 5000mAh Battery Pack with Flashlight...

180 Reviews

$32.98

$17.99

BUY NOW! ON AMAZON
6
Anker Portable Charger, 511 Power Bank (PowerCore Fusion 5K), 2-in-1 Hybrid Charger, 5,000mAh 20W...

138 Reviews

$39.99

$29.99

BUY NOW! ON AMAZON
7
The Smallest 5000mAh Mini Power Bank, Lipstick-sized 2.4A Output Slim Portable Charger USB-C...

50 Reviews

$15.99

BUY NOW! ON AMAZON
8
Power Bank for Switch Lite,5000mAh Rechargeable Extended Portable Battery Charger, Compact Travel...

77 Reviews

$32.69

BUY NOW! ON AMAZON
9
Cute Portable Charger for Android Phone 5000mAh Mini Power Bank USB C Compatible with Samsung Galaxy...

179 Reviews

$16.98

BUY NOW! ON AMAZON
10
Mini Portable Charger 5000mAh Power Bank, 15w PD USB C Cell Phone Portable Power, LCD Display...

213 Reviews

$23.95

BUY NOW! ON AMAZON
Power Bank with fast charging of 10,000 mAh
Power Bank with fast charging of 20,000 mAh
Product prices and availability are subject to change. Any price and availablility information displayed on Amazon at the time of purchase will apply to the purchase of any products.