Guide
Portable Solar Charger: Buying Guide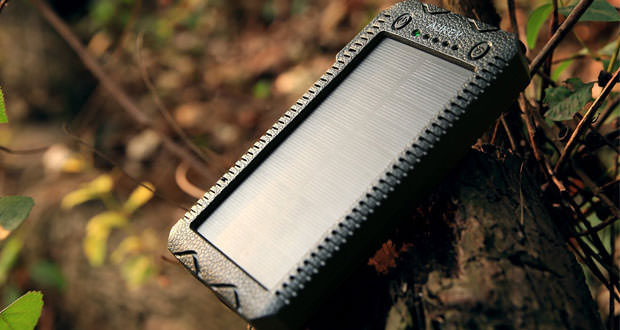 Power banks are useful when our smartphone or tablet remains dry energy, and we are far from any electrical outlet to quickly charge the device. But power banks also have limits: they must also be recharged to an electrical outlet when they are discharged! If we are immersed in nature, in the mountains or on the beach (in general, far from any source of electricity), charging the device can be a challenge.
For the more adventurous and adventurous, there is the possibility to have virtually " infinite " electricity by simply using the portable solar charger. Here is a buying guide to keep on hand for the most adventurous and solitary journeys.
Portable Solar Charger
Solar Charger,Dizaul 5000mAh Portable Solar Power Bank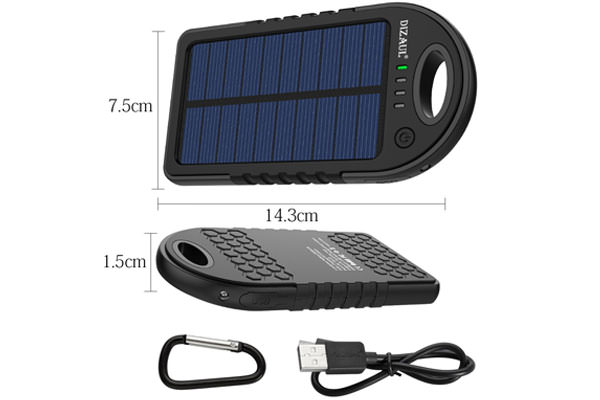 Made of eco-friendly silicone rubber and ABS + PC material, and with rubber paint surface process.
The USB ports are well protected by rubber caps, to further keep them away from water and safe to charge smartphones, tablets, or any other 5V USB-charged devices.
Battery Type: Li-Polymer Battery
Capacity: 5000mAh
Input: 5V/1A
Output: 5V/2X1A
Product Dimension: 142*75*13.6 mm
Product Weight: 146 g
Solar Panel: 5.5V/1.2W
AC charging time: about 6-7 hours
Solar Charger, YOKKAO 5000mAh Power Bank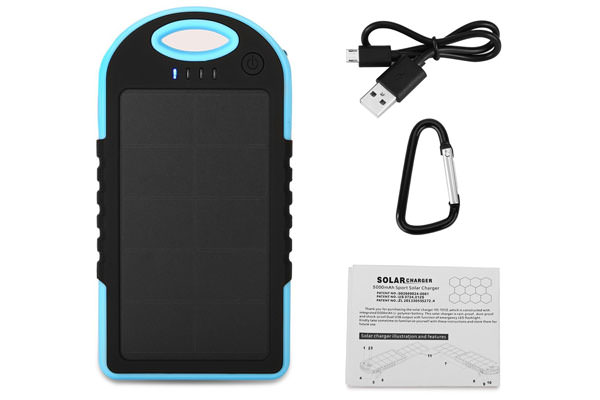 DUAL USB CHARGING PORTS – This power bank hidden dual USB/Micro (5V/1A) charging ports,can support two of 1A or one of 2A mobile devices charging.High efficiency charge make you never miss a call.
Battery Type: Li-Polymer Battery
Capacity: 5000mAh
Input: 5V/1A
Output: 5V/2*1A
Product Dimension: 142*75*16mm/5.59*2.95*0.63inch
N/W:160g/0.35lb
G/W:225g/0.49lb
Solar Panel: 5.5V/2.2W
Suitable Temperature Range: -30°-+100°
AC Charging Time: about 5 hours
ALLPOWERS 15000mAh Solar Charger with SunPower Solar Panels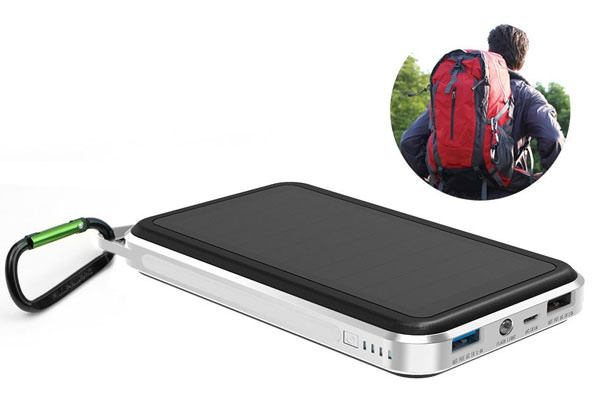 SunPower solar panel: Charges with power conversion efficiency up to 23.5%, which mean it is 30% higher than the transformation of other solar monocrystalline panel in the market.
Exclusive iSolar and Fast Charging Technology: It can automatically adjust the current and voltage to achieve maximum power, delivering its fastest possible juice up to 3.4amps; Two USB output, 5 charges to iphone6, 4 charges to Galaxy s6, 1.5 charges to ipad mini; Large Input 5V/2A, recharges in around 8 hours with a 2 amp charger, some other power bank (generally 1 amp) may take up to 14 hours.
Capacity: 15000mAh
SunPower Panel: Max.5V 250mA (1.25W)
Input: 5V/2A
Output: 5V3.4A(USB1: 5V/2.1A; USB2: 5V/2.4A)
Dimension: 130x80x15mm / 5.1×3.1×0.59inch
Weight: 222g /7.8 Ounce
AUKEY 12000 mAh Solar Charger with Dual USB Ports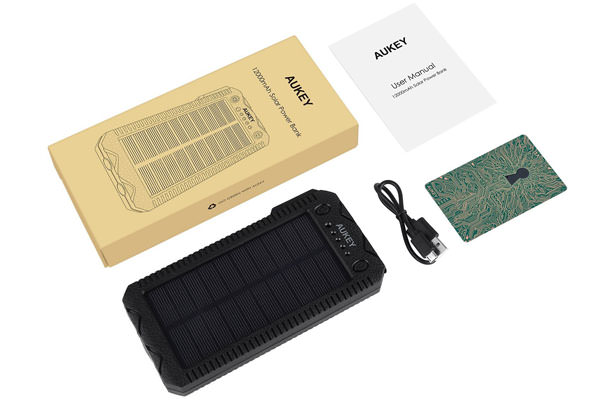 Recharge the solar power bank via the solar panel (with super-efficient 23.5% power conversion) or via micro-USB charging input (at up to 5V 2A). Dual USB output ports charge two devices simultaneously with up to 2.1A shared output.

12000mAh capacity gives your devices plenty of power – Fully charge your iPhone 7 4.5 times or a 9.7-inch iPad Pro once. Designed to work with all popular USB-powered devices.

Package Contents: AUKEY PB-P24 12000mAh Solar Power Bank, Micro-USB Cable, User Manual, 24-Month Warranty Card.

Dimensions : 3.19 x 6.38 x 0.87 inch
Anker 21W Dual USB Solar Charger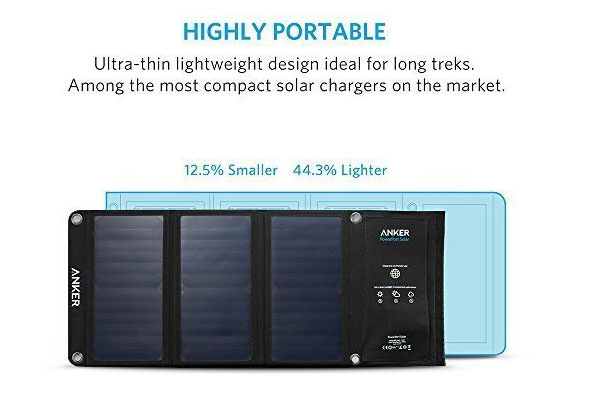 Fast Charging Technology: PowerIQ delivers the fastest possible charging speed up to 2.4 amps per port or 3 amps overall under direct sunlight. 21 watt SunPower solar array is 21.5-23.5% efficient, providing enough power to charge two devices simultaneously.

Highly Portable: Compact size (11.1 × 6.3in folded or 26.4 × 11.1in opened) and stainless-steel eye-holes on each corner allow easy attachment to backpacks, trees, or tents. Lightweight (14.7 oz) and ultra-thin design (1.1in folded or 0.2in opened) make it ideal for long treks.

What You Get: Anker PowerPort Solar (21W 2-Port USB Solar Charger), 3ft Micro USB cable, welcome guide, our fan-favorite 18-month warranty and friendly customer service.
Product prices and availability are subject to change. Any price and availablility information displayed on Amazon at the time of purchase will apply to the purchase of any products.