Guide
Best PC Joypad: Which One to Buy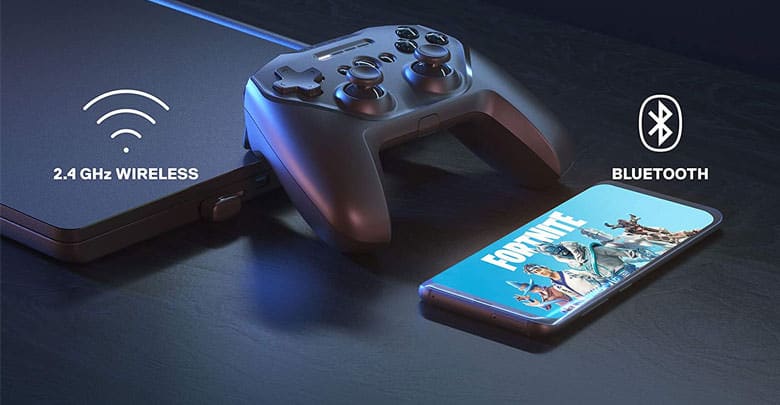 In this constantly updated guide, we'll help you choose the best PC joypad that's perfect for you. Furthermore, we will analyze all the characteristics and aspects to be considered when purchasing a product of this type. We have made a selection of the best models currently available on the market.
The favorite peripherals for those who prefer a gaming PC are the inseparable keyboard and mouse. However, some games are designed specifically to be played with the joypad. Video games such as FIFA, PES, or racing games are optimized for this peripheral.
Most PC joypads on the market are also compatible with the main consoles, such as Xbox and PlayStation. In-game, a good joypad has the same weight as a keyboard and mouse. A precise and well-made joypad helps to improve game performance.
How to choose a PC joypad
As this is the main peripheral you will play with, you need to evaluate some aspects and some features before purchasing carefully. The crucial features are, of course, the ergonomics and the materials used to produce it. These two aspects are flanked by other purely personal secondary characteristics, such as the type of connection (wired or wireless) and additional buttons.
Ergonomics and materials
The most important aspect to consider is the ergonomics of the joypad. This type of product should be comfortable to hold and should not tire your hands while playing. This feature depends solely on your needs. Many joypads are inspired by the shapes of the Microsoft and Sony home controllers.
For this reason, if you prefer one shape over the other, it is important to buy a joypad that guarantees that kind of ergonomics.
Furthermore, the materials used to make the product distinguish a high-end product from a cheaper low-end one. Therefore, purchasing a product built with poor-quality materials will be highly likely to be damaged more easily than another model built with premium materials.
Wired or Wireless Joypad?
This is a question that many users ask themselves. A wireless PC joypad is much more comfortable to use, as it does not have a cable that can get in your way during the game.
On the other hand, Wired products do not have a battery that can easily drain and significantly shorter response time than wireless ones.
Obviously, to have a device equipped with a wireless module that guarantees an excellent response time, it is necessary to turn to the medium-high range of the market.
Additional buttons
The presence of additional buttons is a feature usually reserved for high-end products. Additional buttons can be programmed for each game, adding actions that you can perform more easily, resulting in an in-game advantage.
---
The Best PC joypads chose by Us
Razer Wolverine Ultimate
It is undoubtedly one of the best controllers available on the market today. This controller incorporates the design and shapes of the Xbox One models. In addition, it is equipped with interchangeable levers and D-pads, allowing you to choose between various models different in shape and height.
In addition, it is equipped with 2 back buttons and 4 triggers, for a total of 6 buttons that can be re-mapped to your liking. There is also a quick control panel and the input for the 3.5mm jack. Finally, of course, Razer's RGB Chroma lighting couldn't be missing.
SteelSeries Stratus Duo
It is a wireless PC controller made by the famous company SteelSeries. Made with a different design than the previous models, it guarantees good ergonomics and a good grip that does not tire you during gaming sessions. Moreover, the built-in battery allows you to reach 40 hours of play.
Thanks to the special software created directly by SteelSeries, you can change the controller's sensitivity to your liking. Furthermore, in addition to being compatible with Windows, it is also compatible with Android smartphones and virtual viewers.
NACON Controller Esports Revolution Unlimited Pro V3
This wired PC controller is specially designed for PS4 but also perfectly compatible with PC. In addition, there is also a USB Type-C 3m cable for maximum precision and responsiveness.
The back features 4 shortcut keys that are easily and comfortably reachable at any time. In addition, you can adjust the weight of the controller to best suit your needs. Furthermore, thanks to Nacon's dedicated software, you will obtain maximum customization and compatibility with Windows.
Xbox Core Controller
We now come to another device from Microsoft. This time it is the model dedicated to Xbox One. In addition to improvements mainly related to the design, the triggers and directional pads have improved.
Furthermore, compatibility with Windows PC is ensured. However, it is a fairly large product. So those with small hands may find it uncomfortable to hold. A wireless version is also available, with an adapter to be purchased separately.
EasySMX controller for PC
The EasySMX model is an affordable, wired gaming PC controller. This is an excellent alternative to the more expensive models, designed for those who do not want to be limited by using a possible connection cable.
The shapes are clearly inspired by the Microsoft home controller designed for your console. The guaranteed ergonomics and grip are truly excellent, especially considering the price at which it is offered. In addition, the build quality is perfectly in line with the market segment to which it is aimed.
Product prices and availability are subject to change. Any price and availablility information displayed on Amazon at the time of purchase will apply to the purchase of any products.