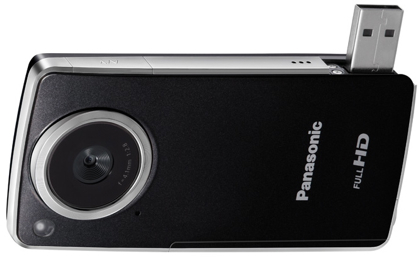 The Panasonic TA-1 is a compact digital camera with full HD-small and lightweight, with vertical grip, which ensures maximum freedom of action and movement. This camcorder allows you to record video in full HD, so with a maximum resolution of 1,920 x 1,080 pixels, and in the iFrame format, perfect for uploading to YouTube.
And provided, also, a USB interface, electronic image stabilizer, support for memory cards SD, SDHC and SDHX, 2-inch LCD display with a resolution of 153,600 pixels, 8-megapixel photo recording and 4x digital zoom.
Panasonic TA-1: Design
The Panasonic TA-1 is a digital camcorder by the very compact dimensions and suitable to take with him. , Measuring 53 mm wide, 104 mm high and 17.8 mm deep, while the weight is 93 grams without battery and card. It has, then, a 2-inch LCD display with a resolution of 153,600 pixels.
Panasonic TA-1: Features and Functionality
The Panasonic TA-1 is a compact digital camera that the manufacturer has presented very recently, just in september. It is a model very special and different from all the others offered by this manufacturer, because it has a compact body and vertical grip, a grip for easy and comfortable.
But before we talk about functions and use, are analyzed the technical data of this camera, which include, above all, a MOS sensor 1/4, 1 inch in size and with a total resolution of 5.33 megapixels and effective at 2.93 megapixel camera for both video and for video images in 16:9 and 2.19 megapixels for video and 5.08-megapixel photos in 4:3 pearls.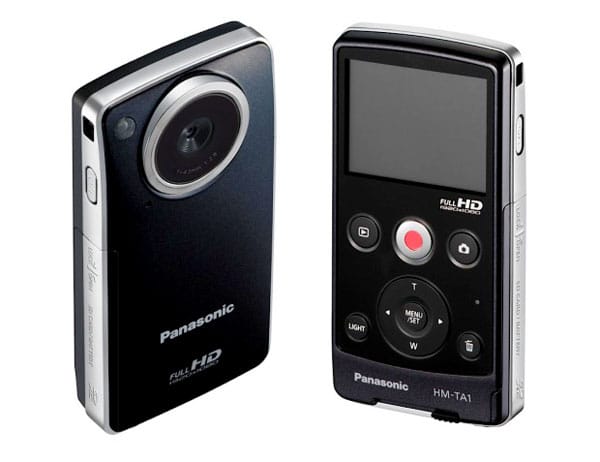 In other words, with the Panasonic TA-1 is possible to obtain video footage in Full HD, so with a maximum resolution of 1,920 x 1,080 pixels, and photos with a maximum resolution of 3,264 x 2,448 pixels, so it is a fair quality. Continuing with the specifications, this camera also has a 4x digital zoom and a lens that has a fixed aperture of f2.8 at a focal length and also fixed and equivalent on a 35 mm to 49 mm for movies and pictures in 16:9 and 59 mm for movies in 4:3 and 39 mm for photos in 4:3.
Speaking of features, this camera provides an electronic image stabilizer, which detects and compensates for hand-shake to ensure sharp photos every time, but its main feature is to allow easy uploading of photos and videos on YouTube, thanks to the USB port via which can easily connect it to your computer.
Finally, it is equipped with auto focus, white balance and microphone. Photos and videos are stored directly on the type of external memory cards Secure Digital, SDHC or SDXC new. also, the purchase package includes AV cable, USB cable and rechargeable battery.
Conclusion
The Panasonic TA-1 is a compact camera with vertical grip, easy to use and able to ensure Full HD video clips. Among other specifications, we can highlight the modern design, USB charging and easy uploading to YouTube. For the rest, there is not much to note.
Where to Buy Panasonic TA-1
---

---

---
PROS : Charging via PC; iFrame mode; Easy upload to YouTube.
CONS :
Zoom, Electronic Stability; Image quality; Display size.
Product prices and availability are subject to change. Any price and availablility information displayed on Amazon at the time of purchase will apply to the purchase of any products.