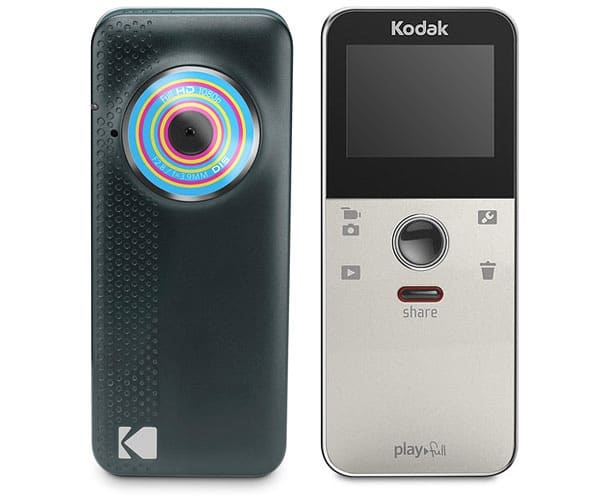 The Kodak PLAYFULL video camera is designed in the world and for social life lovers social. Thanks to the 5 MP HD sensor will be possible to 1080p Full HD video and photos, all in extremely small size that will allow to carry the camera anywhere and with a minimal footprint.
Thanks to the built-in digital image stabilizer, video will become more defined and less fuzzy. The camera Kodak PLAYFULL Through the "Share" button, after you connect your camcorder to your PC, you can share photos and videos on all your favorite social networks, as well as send them via e-mail.
Kodak PlayFull HD Video Camera: Design
The Kodak PLAYFULL is a compact digital camera, the extremely small size and rounded shapes. It has an anti-glare color LCD touch screen 38 mm with a resolution of 702,000 pixels with an aspect ratio of 4:3, the automatic brightness control. Its dimensions are 100 mm in height, 41.7 mm wide and 15.7 mm deep with an extremely low weight.
Kodak PlayFull HD Video Camera: Features and Functionality
The Kodak PLAYFULL is an extremely compact and stylish digital camera encased in a sleek and compact design. The camera can record 1080p HD video and capture images with a resolution of 5 MP 16:9 wide screen.
The camera allows you to use various resolutions to suit your needs: the 1080p format (ideal for playback on your HDTV), 720p at 60 fps (for quick action and slow motion), 720p at 30 fps (ideal for recording purposes generic high-definition) and WVGA (perfect to conserve space on your memory card or smaller files for use on the Web). This feature is not common to a different device hi-tech generation is the presence in the sales package of a HDMI cable that will allow us to immediately place to view the recordings on your HD TV.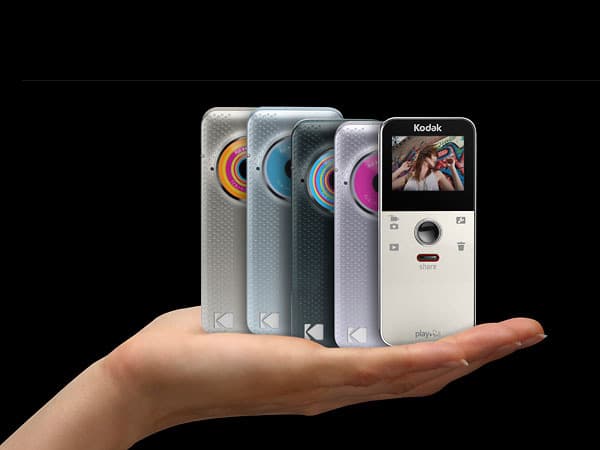 The Kodak PLAYFULL offer editing functionality directly at your fingertips that allow you to fine tune your movies, crop the unwanted details or remove individual pictures from videos. When the edited movie will be ready, you can charge it on their favorite social network's thanks to the Share.
Among click, effects are possible on Black and white, sepia, high saturation (bright colors and shiny), and 70s film (soft colors with a slightly greenish tinge and reduced graininess for a retro Aspects). The Kodak PLAYFULL has an LCD screen that is " protected " from sunlight, with a bright display with 38 mm, which automatically adjusts the lighting conditions in the scene, activating the glare of the LCD allows you to see the screen even in sunlight very intense.
Conclusion
Kodak PLAYFULL is a compact Full HD digital video camera whose most interesting is undoubtedly the price and portability, as well as small anti-reflective display that allows you to run directly editing the video recordings. The four effects are very good shooting allowed and allow a good customization, at least for a device of this type that makes portability and lightness of the winning features. All this in combination, as already said, with an unbeatable price. Interesting the purchase package that contains it to an HDMI cable.
Where to Buy Kodak PlayFull HD
---

---

---
PROS : HDMI cable included; Dimensions; Realization Full HD video.
CONS :
Internal memory; Battery Pack.
Product prices and availability are subject to change. Any price and availablility information displayed on Amazon at the time of purchase will apply to the purchase of any products.