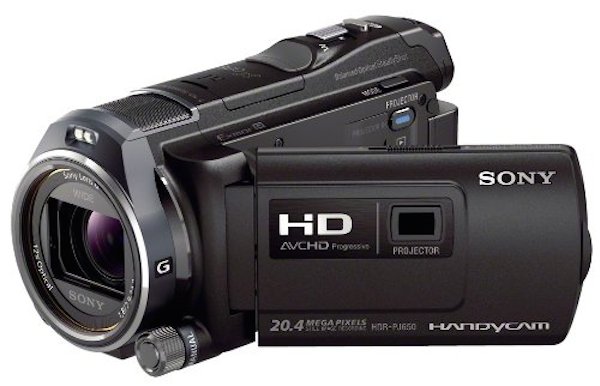 The Sony HDR-PJ650VE is a high-quality compact camera whose most interesting features are the integrated projector, the illuminated Exmor R CMOS sensor, the optical image stabilizer and GPS. It also has a HDMI interface, G lens with 12x optical zoom, BIONZ processor, ability to record Full HD video clips and take pictures with a maximum resolution of 20 megapixels, 3-inch touchscreen LCD display with a resolution of 921,000 pixels, flash and support for memory cards such as SD, SDHC, SDXC, Memory Stick PRO Duo and Memory Stick PRO-HG Duo.
Sony HDR-PJ650VE: Design
The Sony HDR-PJ650VE is not just a camera. It features a compact stylish camera body, with its livery. As for size, measuring 72.5 mm in height, 67 mm wide and 134 mm deep, while the weight is 450 grams without battery and card. It has, then, a 3-inch touchscreen LCD display with a resolution of 921,000 pixels and a built-in projector with a resolution of 640 x 360 pixels.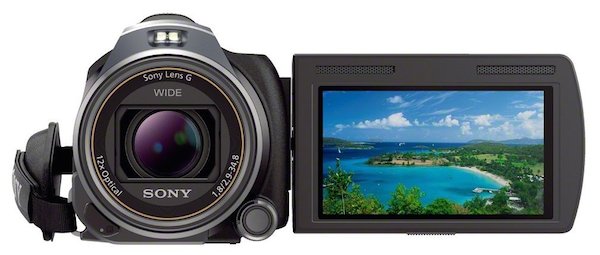 Sony HDR-PJ650VE – Features and Functionality
The Sony HDR-PJ650VE is one of the latest digital cameras made by the manufacturer in January, along with many other models in the same family as the Sony HDR-PJ320E and the Sony HDR-PJ420VE. It is a machine of the highest quality and with many interesting features and functions, first of all, the built-in projector.
But going in order, starting from the specifications, the camera features a CMOS sensor Exmor R backlit by one third, 91 inches in size and with an effective resolution of about 5,020 megapixels for photos and videos in 16:9 and about 3,760 megapixel camera for photos and video in a 4:3 aspect ratio. As for optics, it is a Sony G lens that has a hike equivalent focal length in 35mm 26.8 to 321.6 mm 32.8 to 393.6 mm in 16:9 and 4:3. Do not miss the 20x optical zoom and 160x digital zoom.
Going to the features and strengths of the Sony HDR-PJ650VE, you should definitely start from what distinguishes this model from the others in circulation, even from the same manufacturer, ie the integrated projector. This is a nice feature as it allows you to instantly play a movie just shot on any vertical surface available.
Another very good feature is the built-in GPS, thanks to which you can attach photos and videos to the information about the place in which they were made. The camera also features Wi-Fi compatibility, which means that connecting to a Wi-Fi adapter, you can send the video wirelessly to a smartphone or a tablet.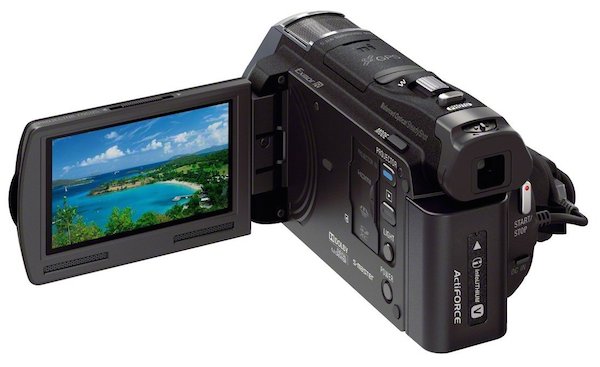 Speaking of functions closely related to photos and video, Sony HDR-PJ650VE has the balanced SteadyShot optical image stabilizer, which allows for perfect photos and videos and images even if the camera is moving, such as when you turn movies while walking or running.
There are also features such as Face Detection, which automatically detects faces in a shot and adjusts settings accordingly, and Smile Shutter, which records and would only be triggered when the person laughs. The iAuto mode automatically adjusts the settings for best results, detecting faces, scenes and lighting.
Speaking more closely the quality of the footage of the Sony HDR-PJ650VE it must be said that are recorded in Full HD, and is available at 25p and 50p progressive mode, which records video at a frequency of 25 or 50 frames per second, and is perfect for the resumption of sporting events.
Obviously, movies are recorded with Dolby Digital Surround stereo sound. With this camcorder, you can also take pictures with the exceptional resolution of 20.4 megapixels. Thanks to the USB port and HDMI interface, moreover, you can connect the camera to a TV or other devices, such as computers, to easily share pictures and videos. The movies and photos are recorded directly in the internal memory or on the memory card, choosing from Memory Stick, Memory Stick Pro Duo, SD, SDHC and SDXC.
The package purchase of the Sony HDR-PJ650VE includes, finally, the AC adapter, power cord, rechargeable battery, USB cable, HDMI mini cable and editing software PlayMemories Home can also be downloaded from the website.
Conclusion
The Sony HDR-PJ650VE is an excellent camera that has a high-quality sensor and video resolution and quality attractive, but its most noticeable features are the integrated projector and the GPS module. With regard to the Wi-Fi connectivity, you must purchase a separate adapter. Also of note the size and resolution of the display, the optical stabilizer, HDMI, progressive mode and pictures for more than 20 megapixels.
PROS : HDMI interface; Exmor R CMOS sensor backlit; High-resolution touchscreen display; Built-in projector; GPS.
CONS :
Wi-Fi connectivity only via adapter; High price.