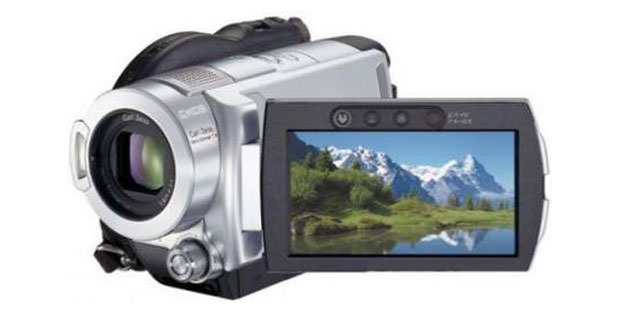 The Sony has a new camcorders that record in high definition (HD, High Definition) is: Sony HDR UX7. Sony HDR UX7 is the most advanced and has a 3.2-million-pixel sensor. It has a large 3.5 "screen with all the pros and cons of the display so great (excellent vision, voracious consumption of battery); recording to DVD-R and has 5.1 audio.
Features a Carl Zeiss Vario-Sonnar T a ClearVid CMOS sensor and the latest generation of HD images to ensure even more spectacular, characterized by higher sensitivity, a wider dynamic range and minimal burrs.
They also improve shooting in low-light conditions thanks to the new Auto Slow Shutter function that automatically boosts minimum illumination 2 lux compared with 5 lux UX1E of the previous model.
The integration of optical stabilizer "Super SteadyShot" (in the model UX7E) also allows you to take sharp photos, crystal-clear, blur-free, with a maximum resolution of 6.1 megapixels, for results that have nothing to envy to the photos taken with cameras digital.
Sony HDR UX7: Design
The new Sony HDR UX7 Camcorder has a full 3.5-inch LCD display, LCD and features Clear Photo Plus technology, can play a wider range of colors, and more easily frame and review shots, even the sun. To make it more practical all operations, are placed on the frame of the screen and the zoom buttons to start / stop recording. As for size, the camera measures 142 mm wide, 87 mm high and 72 mlilimetri depth, while the weight is 530 grams.
Sony HDR UX7: Features and functionality
In early January, Sony has launched two new high-definition camcorders, including the Sony HDR UX7. Featuring AVCHD to DVD, to film in high definition directly on standard 8cm DVD, while DVD technology R DL (Dual Layer) allows you to record almost an hour of pictures and HD audio (LP mode).
As for technical features, the HDR UX7 features a Carl Zeiss Vario-Sonnar T and a ClearVid sensor 1/3 CMOS generation that ensure high-quality images. The UX7 also includes a 10x optical zoom and 800x digital zoom, which together provide a capacity of well-800x magnification, without losing a single detail of the shooting scene.
But this new camera, as well as the other new model introduced at the same time, it has many features that help to increase the quality of video clips. For example, the new Auto Slow Shutter, which automatically boosts minimum illumination 2 lux compared with 5 lux UX1E of the previous model, or the Super SteadyShot optical image stabilizer, which also allows you to take sharp photos without blurring, with a resolution up to 2,304 x 1,728 pixels, for results that have nothing to envy to the photos taken with digital cameras.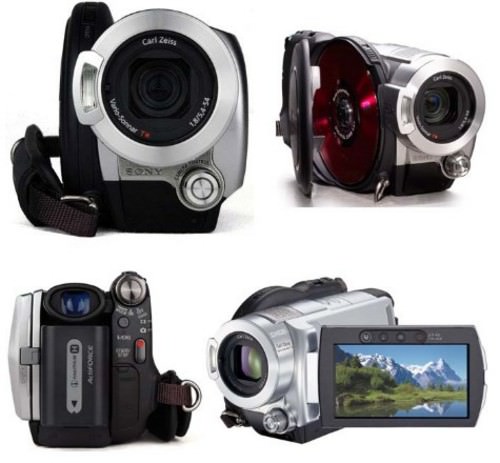 The Sony HDR UX7 also adopts xvColour mode, a technology developed by Sony and complies with the new international standard xvYCC (eXtended Video YCC), which almost doubles the range of colors accurately reproduced by video devices, covering almost 100% of natural colors.
The integration of technology xvColour also guarantees direct compatibility with latest televisions and displays that support the xvYCC standard. This camcorder also features a built-in microphone allows you to record audio in 5.1 channel surround sound, the perfect solution for reviewing movies on your home theater system with HD cinematic effects.
Other features to be highlighted are the built-in flash for photography, slide to flash interface (Active Interface Shoe) and the lens cover with sliding lock automatically to protect the lens when not using the camera. To store images then there is the slot for the support of the Memory Stick Duo and Memory Stick Pro. Alternatively for HD shooting, also on normal DVD you can also record images and audio in standard definition. Despite being equipped with many functions, it is still a camera easy to use.
Focus, exposure and white balance are adjustable with practice mode dial located towards the front of the unit, close to the lens. As for playback of recorded video, you can see them on newer HD-ready TVs, thanks to the built-in HDMI connector.
But that's not all, because the Sony HDR UX7 also offers the ability to record for several hours. Thanks to Sony InfoLITHIUM H Series batteries last generation, the user can record video for as many as 5 hours. The camcorder has video output, S-Video, component video output and HDMI output. Finally, in the sales package includes a rechargeable battery, a USB cable and an infrared remote control.
Conclusion
The new Sony HDR UX7 Camcorder is one of the first high-definition models, able to guarantee video footage and high-quality images. Record on 8cm DVD, and connecting it to the new HD-Ready TVs, allowing you to see your own movies as if you were at the movies, thanks to a sound quality out of the norm. Other features include the stabilizer and a new technology that achieves very realistic colors. The battery, thanks to new technology STAMINA, allow you to record up to 5 hours continuously.
Where to Buy Sony HDR UX7
---

---

---
PROS : Surround Sound; stabilizer; Battery life; AVCHD format.
CONS :
Price.
Product prices and availability are subject to change. Any price and availablility information displayed on Amazon at the time of purchase will apply to the purchase of any products.