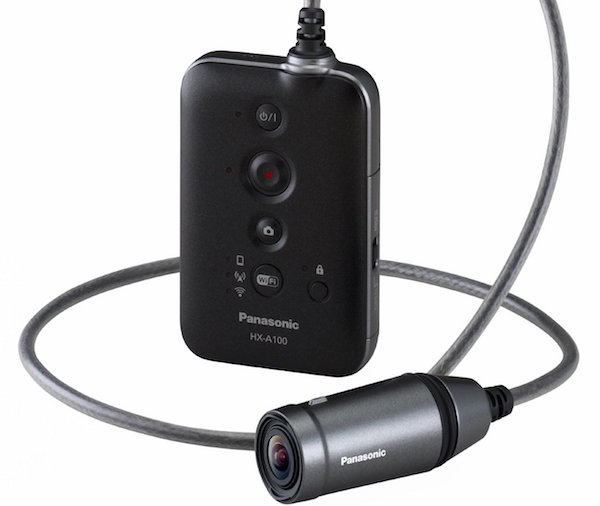 The Panasonic HX-A100 is an original digital camcorder to wear, perfect for then resume with ease any kind of sporting event but also the most important moments in the life of every day. It can be fixed, in addition, the ear hook is included, without necessarily having to be attached to a helmet.
The camcorder is also waterproof up to 1.5 meters deep, and resistant to dust and sand. Specifications include a BSI sensor to 3.32 megapixel camera, integrated Wi-Fi connectivity for quick loading on social networks, image stabilizer and the ability to record video in Full HD.
Panasonic HX-A100: Design
The Panasonic HX-A100 is a camera small and compact that it can be worn on the ear, with special hook, or attached to a helmet or a helmet. Light and elegant, is composed of two units. The first, which contains the battery and the memory, measuring 60 mm in width, 94 mm height and 25 mm in depth, while the other units, one with the lens, has a diameter of 30 mm and a length of 67 mm.
Panasonic HX-A100: Features and Capabilities
The Panasonic HX-A100 is a digital camera made by the producers during CES in January this year, along with many other models of various families. This is a very special machine, which can safely fall into the category of "camcorder", and its main feature is that it can be worn simply to shoot movies and take pictures even without hands.
Speaking of some technical data, the camera features a MOS-type image sensor BSI 1/4, 1 inch in size and with a total resolution of 3.32 megapixels, and 2.8 effective megapixels, both for the photos for videos. It also has an own goal with opening F2.5 equal to the focal length of 1.68 mm.
Among the features of Panasonic HX-A100 stand out above all the image stabilizer that compensates for the movement of the machine providing video and still photos and crisp, and the Level Shot, which automatically corrects skewed images. The camera is able to record video clips in MPEG-4 AVC with maximum resolution 1,920 x 1,080 at 60 frames per seconds.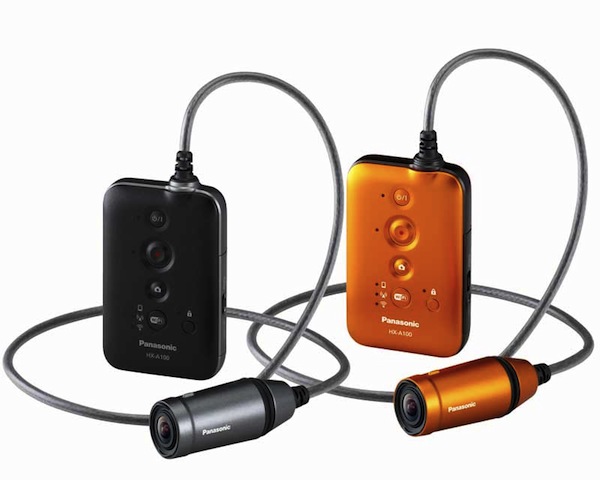 The photos in JPEG format, reach a resolution of 3,072 x 1,728. But as stated in the beginning, its uniqueness lies in the type of camera. It consists of two parts, one that includes the battery, memory, and other commands can be inserted easily in your pocket or you can ensure an arm through a special accessory, while the lens, very light, you can simply place ear with a hook or can be fixed to the helmet.
Among other things, the Panasonic HX-A100 is perfect for any use, both amateur and professional sports, daily, since it is waterproof up to 1.5 meters deep for up to 30 minutes, so it can be used for shooting diving, and is resistant to dust and sand, thanks to IPX8 certification.
The camcorder has, finally, Wi-Fi connectivity, thanks to which you can easily share on social networks their sporting achievements or just a movie important. Among other things, you can make live broadcasts while you are recording. The machine has, then, the SD card slot and USB port. The package includes rechargeable battery, USB cable, software, ear hook, the case strap, the band retractable and the regulator.
Conclusion
The Panasonic HX-A100 is certainly a camcorder very interesting for all those who want to resume their sporting achievements or just shoot without having to use your hands. The technical specifications are not exciting, moreover it is a model specifically designed to be used underwater or in harsh environments, such as sandy or dusty places.
Where to Buy Panasonic HX-A100
---

---
Panasonic HX-A100 HD Wearable Action Camera Digital Camcorder (Black)
Wearable HD Camcorder, Image stabilization, Micro SD card, built-in Wi-Fi, high...
Dust proof, 1.5M waterproof, 5.3 MP still image, smart phone compatibability,...
Easy wearing stylish wearable design, full HD/tilt and image stabilizer, low...
PROS : Waterproof, USB port, Full HD movies; Wearable; Resistant to dust and sand; Slot for memory cards.

CONS :
Few features, Design.
Product prices and availability are subject to change. Any price and availablility information displayed on Amazon at the time of purchase will apply to the purchase of any products.