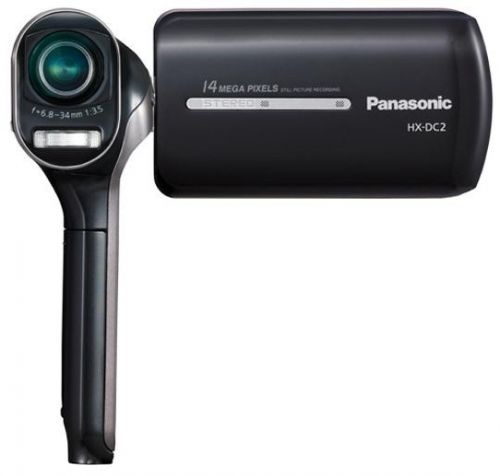 The Panasonic HX-DC2 is a Full HD Dual Camera that lets you take pictures and video at high resolution through the 3MOS sensor 1/2.3″ 14MP. All this and much more, allow this technological gem to be a great dual room, thanks to the Intelligent 15x Zoom and HDR system.
Rounding out the excellent technical equipment of the device will find the electric image stabilizer (Active EIS) that will allow us to obtain images with no flicker, panorama shooting, the continuous shooting function and Intelligent Auto (iA).
Panasonic HX-DC2: Design
The Panasonic HX-DC2 is equipped with a modern, ergonomic design and is available in black and white. Your dual camera is quite compact (8.62 x 12.08 x 3.81 cm) and weighs about 180 grams with battery and SD Card.
These dimensions allow the device to return a certain solidity and strength to those who use it, but without prevent their use in the toughest condition's thanks to the weight enough content. The materials used are of good quality, and this will immediately notice since first use.
Panasonic HX-DC2: Features and Functionality
The Panasonic HX-DC2 is a good dual camera that allows you to create Full HD video 1,920 x 1,080 pixels through the 3MOS image sensor 1/2.3″ with a total pixel count of 14.4 MP. The objective of Dual Camera has a focal length from F3.5 (wide angle) to F3.7 (telephoto) with 5x optical zoom and 15x Intelligent Zoom with no image degradation, these also thanks to the excellent Active EIS (Electronic Image Stabilizer) that avoids precisely blur and reducing flicker in the images.
That will automatically zoom 12x and 15x; very handy and useful Double Zoom Range button that allows you to switch from 15x Zoom function to another without having to go through complicated menus or otherwise uncomfortable during the implementation just movies.
The Dual Camera also allows you to create panoramic pictures 360°/180A in both horizontal and vertical shots running series that followed the camcorder overlaps. The camera section of the device deserves special attention due to its own characteristics, which include, in addition to those already mentioned, a lighting standard 1400lx, minimum illumination 12LX (with Scene mode off: 1/30) and minimum illumination mode with 4LX Low Light (1/15), the focus is both automatic and manual as well as white balance, which also boasts one of the automatic modes as follows: sunny, cloudy, interno1, interno2 and white set.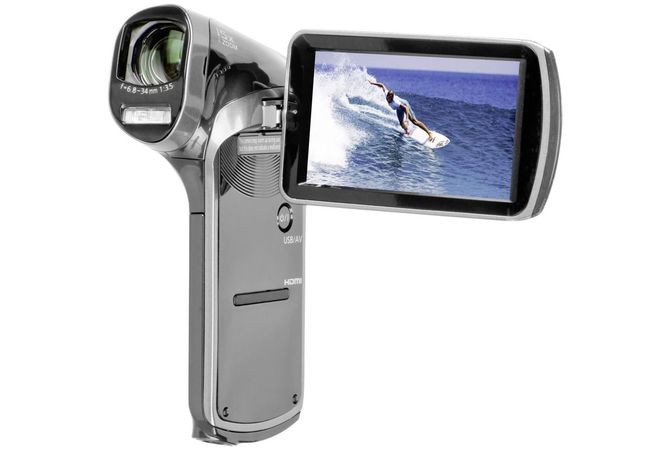 The shutter speed for moving images is 1/30-1/10000 while for still images is equal to 1/2-1/1500. The videos made with the cameras are in MPEG4 AVC/H.264 format with audio recorded through a microphone 2-channel stereo, while the still images are recorded in JPEG (DCF/Exif2.2). I own your own photographs, and videos can be easily viewed from the LCD side by 3 inches with a resolution of 230,400 pixels, or can be shared through the 3 outputs: AV, microHDMI or USB 2.0 Hi-Speed.
Conclusion
The Panasonic HX-DC2 is a full HD Dual Cameras generation will satisfy many users, some of which could be very demanding. In this Dual Camera lacks the character of the bigger wrinkles, but it is still a device of excellent quality with a weight and size very "comfortable". Excellent automatic functions such as the Intelligent 15x Zoom and stabilizer Active EIS that deliver video and photos without thoughts. Very useful panorama mode and Intelligent Auto. The distinctive design of this Dual Camera will surely contribute to make it one of the devices peak of the season.
Where to Buy Panasonic HX-DC2
---

---
PROS : Panorama mode; Port miniHDMI; Active EIS; HDR, Intelligent 15x Zoom, IA (Intelligent Auto).
CONS :
Dimensions.