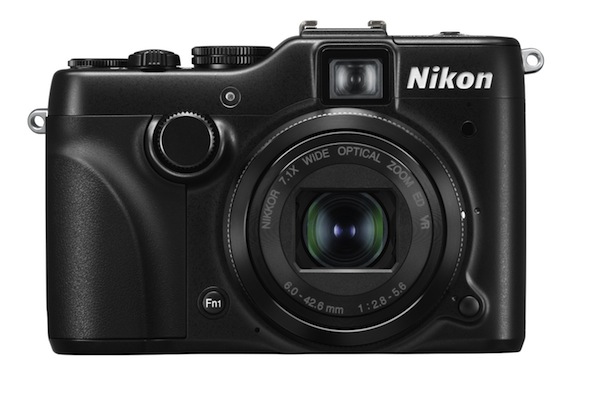 The new Nikon Coolpix P7100 is a new bridge camera with a 10 mega pixel image sensor 1/1, 7 inch interline transfer CCD that is maximized thanks to the graphics processor EXPEED C2. The zoom lens NIKKOR 7.1x wide-angle lens with two ED glass elements reduces chromatic aberration and almost entirely thanks to the neutral density. We  will have a greater exposure control. The camera also features an LCD high-resolution 7.5-inch swivel with a resolution of no less than 921,000 points.
Nikon Coolpix P7100: Design
The new Nikon Coolpix P7100 is one of the new bridge cameras, and Nikon's design is extremely functional and robust. The camera body looks " robust " and strong to the touch, but the most interesting aspect to the design of the camera is the high-resolution LCD display that can be oriented in any condition of use ensuring optimum efficiency. The display has a diagonal of 7.5 cm with a resolution of 921,000 points that provides 100% of the RGB color reproduction with a high-contrast ratio.
Nikon Coolpix P7100: Features and Functionality
The new Nikon Coolpix P7100 is a beautiful bridge camera from Nikon with a 7.5 cm LCD display with a resolution of 921000 points. Thanks to Nikon's Clear Color Display technology, the reflections will be reduced almost completely, and then it will be possible optimal viewing even under conditions of intense sunlight; excellent display protection for the glass that will not scratch the display itself.
The CCD image sensor with 10 mega pixels lets you capture outstandingly detailed image's thanks to more efficient and effective NIKKOR lens with wide-angle 7.1x optical zoom lens with two ED glass elements to reduce chromatic aberration and also thanks to the neutral density which allows a wider exposure control, including ensuring a high precision, sharp resolution and excellent high contrast even in low-light conditions.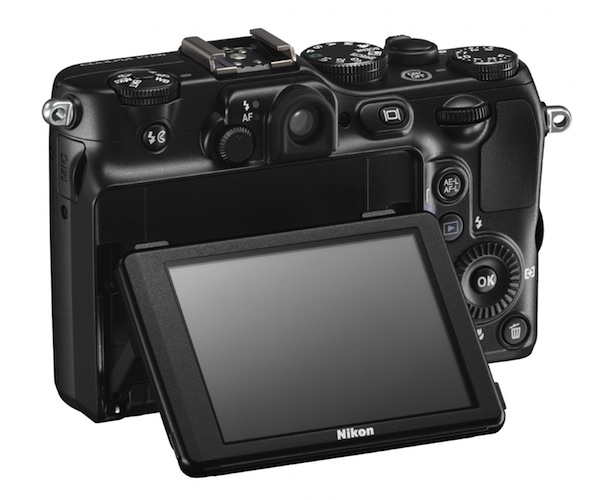 The objective corresponds to a 28-200 mm in 35 mm format classic. The camera also features the quick response function for a more streamlined workflow and easy clicks, which also allows you to quickly change function and offer an immediate start, excellent AF speed and shutter lag reduced.
The device also enables movies in 720p HD resolution using optical zoom and auto focus are available both to the recording at a speed of about 24 fps with white balance can be defined prior to registration. The AE function allows you to set the auto exposure preferred at any time.
As now all cameras Nikon Coolpix P7100 also has the technology for anti-blur in two different ways: the VR (Vibration Reduction) and Motion Detection (BSS) which compensate for camera shake and subject movement.
Excellent also the functionality of the front and rear command dial that allows you to easily access the camera settings as well as offering a practical manual control. The images can also be saved in RAW format, as is the case for SLR cameras-end much higher. The Nikon Coolpix P7100 is also compatible with Eye-Fi cards for direct transmission to external smartphone.
Conclusion
The new Nikon COOLPIX P7100 is a great camera Bridge with excellent technical features all controlled and interfaced by an excellent graphics processor, the new and efficient EXPEED C2 image quality and best movie recording, as well as high performance with exceptional sensitivity noise limited even at high ISO settings. Also excellent manual control, including a customizable zoom memory that lets you preset up to six focal lengths and switch between function.
Where to Buy Nikon Coolpix P7100
---

---

---
PROS : 7.1x optical zoom, RAW format, High-resolution display adjustable, CCD sensor 1/1, 7 inches, Functionality advanced HD video (720p), EXPEED C2 image processor.
CONS :
Battery Pack.
Product prices and availability are subject to change. Any price and availablility information displayed on Amazon at the time of purchase will apply to the purchase of any products.