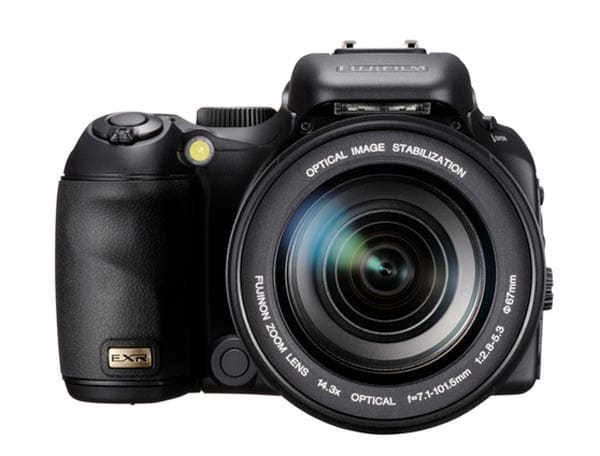 The Fujifilm FinePix S200EXR is a digital camera of the type " bridge " with a body similar to that of a reflex but with all the features of a compact. Heir to the Fujifilm Finepix S100fs, combines outstanding optical zoom Fujinon 14.3x, already present on the previous model, the innovative Super CCD EXR 12 mega pixel resolution.
Other specifications of the camera include a 2.7-inch LCD display with a resolution of 230,000 pixels, an optical viewfinder with 200,000 pixels resolution, dual image stabilization, support for RAW format, sensitivity up to ISO 12,800, 5 modes film simulation, the super intelligent flash and video clips with a resolution of 640×480 pixels.
Fujifilm FinePix S200EXR: Design
The Fujifilm FinePix S200EXR is a compact digital camera type "bridge" with a body similar to that of an SLR, thanks to a convenient handle for an easy grip. Always inherits from reflex, then, the optical viewfinder that aids the display. As to the latter, it is a 2.7-inch LCD with a resolution of 230,000 pixels. The size, finally, is 133 mm in width, 94 mm height and 145 mm in thickness, instead of the weight is 835 grams.
Fujifilm FinePix S200EXR: Features and Functionality
The Fujifilm FinePix S200EXR digital camera is a kind of " bridge " addressed to those looking for quality products without having to go at the expense of purchasing an SLR camera with accessories. Heir of Fujifilm Finepix S100fs, it is virtually a design while, from the point of view of specific, approaches the new Fujifilm Finepix F200EXR, especially as regards the type of sensor.
Starting right from the latter, it is a sensor Super CCD EXR 12 mega pixel, definitely innovative in that the manufacturer has attempted to create a union between the sensor and lens as close as possible to the human eye. This sensor can change its behavior to suit the subject resumed changing its characteristics depending upon the needs of the photographer.
In addition, it has three different modes, High Resolution that can pick up even the smallest details in full light conditions, Wide Dynamic Range, which combines two different images from 6 million pixels taken with different exposures while ensuring high levels of detail with high lights, and High Sensitivity and Low Noise, to ensure a perfect picture even in less than perfect lighting conditions.
As for other specifications, the Fujifilm FinePix S200EXR features a Fujinon lens that offers a focal length of 7.1 to 101.5 mm equivalent to 30.5 to 436 mm on a 35 mm and a maximum aperture of to f.2.8-F5.3. Very interesting optical zoom mounted on this camera, well 14.3x, which allows you to capture people in the far distance. In the optical zoom is added, then a digital zoom of approximately 2x.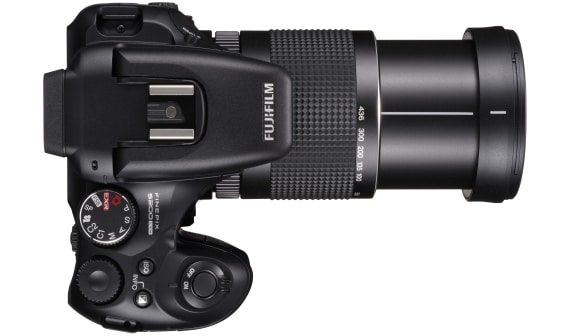 Turning to the functions offered by the camera is to be mentioned, first of all, the dual image stabilization system, which consists of the optical stabilizer, which reduces image blur caused by camera shake, and in the high sensitivity up to ISO 12,800, which contrasts the blurring caused by subject movement, ensuring a crisp, clear picture at all times. Since this is a bridge, then presenting different functions in common with the SLR.
The Fujifilm FinePix S200EXR is equipped with various manual settings, allowing you to individually select the exposure, colors, noise reduction and sharpness, among other things. Of particular interest is, then, the film simulation mode with 5diverse, ie Vivid, Standard, Soft, Black White and Sepia, which allow you to give the photos a particular shade.
Very interesting are also two special technologies, which give the user more creativity than traditional compact. The first is called Pro focus and allows the user to merge two or three shots, keeping the subject in focus and the background blurred leaving other objects, so it is ideal for portraits or nature photos, the second is the Pro Low -Light, which fixes the problems of noise in the shots in low light shooting in rapid succession as a sequence of four high-sensitivity image, which will be merged into a single photo.
The Fujifilm FinePix S200EXR is fitted, then, the new Super Intelligent Flash, which adjusts the level of flash for correct exposure and gives a perfect balance for both the subjects in the foreground for the background, and the Multi-Bracketing, which allows you to take several pictures choosing, then, the best one.
Finally, there also face detection technology that can recognize faces in a shot and adjusts accordingly the focus and exposure, and support for images in RAW format, which allows you not to miss not even the smallest detail. Finally, with this camera, you can create video clips with a maximum resolution of 640×480 pixels, so not in high definition.
As regards, the ability to store photos and videos, the camera has an internal memory of 47 MB, expandable via Secure Digital or SDHC. The package purchase, finally, includes a rechargeable lithium-ion battery, battery charger, a USB cable, a wrist strap and user manual. The lithium battery provides a maximum of 370 shots.
Conclusion
The optical zoom and high image sensor type EXR is the salient features of the Fujifilm FinePix S200EXR, a bridge of good quality and packed with features. Notable among this is the film mode, high sensitivity, the optical stabilizer, the optical viewfinder and support for the RAW format. It must be said, that the display is neither too big nor has a very high resolution to be a bridge and does not support HD video.
Where to Buy Fujifilm FinePix S200EXR
---

---

---
PROS : Optical viewfinder; OPTICAL ZOOM, Film Simulation Mode, Dual image stabilization, RAW format support; New EXR sensor.
CONS : N/A.
Product prices and availability are subject to change. Any price and availablility information displayed on Amazon at the time of purchase will apply to the purchase of any products.