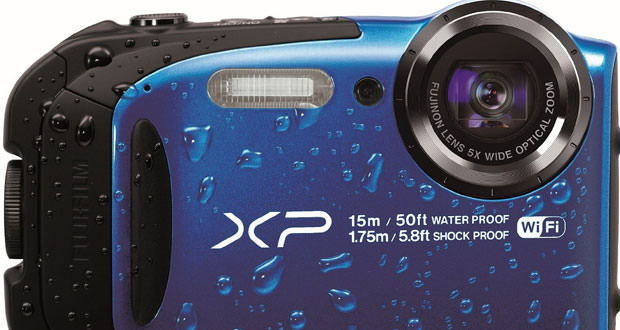 Fujifilm FinePix XP80 is a compact, water resistant to 15 meters, dust and shock resistance for use in difficult situations. With the approach of summer, Fujifilm has extended its line of cameras " extreme " presenting the new FinePix XP80. It is a compact able to resist to all atmospheric agents and that lends itself to be taken anywhere: the beach, in the pool, in the rain or, for those who already found the winter season, in the mountains on the snow.
Fujifilm FinePix XP80: Technical Specifications
The Fujifilm FinePix XP80 integrates a BSI CMOS image sensor with 16 megapixels, with a diagonal of 1/2.3″, traditional for compact of this band. The videos can be recorded in resolutions up to 1080p with 60 frames per second.
The lens is a zoom equivalent to 28-140 mm and offers both a wide angle that a telephoto appreciable, but characterized by a maximum brightness is not particularly good, ranging, respectively, from f/3.9 to f/4.9.
The rear screen is a 2.7-inch diagonal LCD, with only 460,000 dots resolution. For emergencies, the FinePix XP80 offers a 96 MB built-in memory (capable of storing about 15 shots at full resolution). This antenna also Wi-Fi, to ensure communications with the smart device. The technical details obviously is supplemented by the " resistors " : the XP80 is capable of withstanding immersion in water up to 15m, it falls from a maximum height of 1.75 m, dust or sand and at temperatures up to -10°.
Design and Construction
The build quality, the keystone of every camera " Battleship ", is certainly good for the price offered by the Fujifilm FinePix XP80. The camera is very solid, the isolation mechanism of the compartment that houses the memory card, and the connections are well-made and the release system with two movements (pressure and rotation) prevents accidental opening. The addition of a metal connection, to ensure if necessary the XP80 at the wrist with laces or hooks, is appreciable.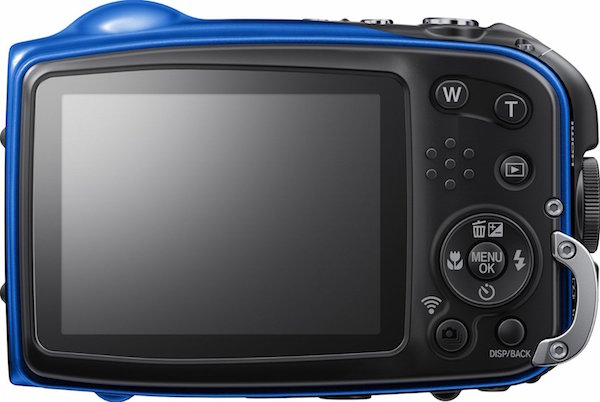 The machine is covered by a rubberized pleasant texture which, besides protecting the shell in any falls, also offers a socket rather firm. Obviously, the overall design is a bit 'bulky, and the practicability of the commands is slightly compromised from sealing, as with all products of this type. The keys are a bit small and " gummy ", not extraordinarily reactive to pressure, but overall sufficiently usable.
The display is sadly disappointing. Both the resolution that the visibility is not very high: especially when you tilt the camera, the contrasts become rapidly unpacked and compose their shots is not easy. From the point of view of the design, you can also make a note to the lens position: lying in the upper right, the latter can easily be obstructed involuntarily, when you hold the camera with both hands.

Fujifilm FinePix XP80: Performance and Image quality
The performance of the Fujifilm FinePix XP80 is characterized by ups and downs. If auto focus is relatively slow, but an acceptable margin, unfortunately it should be noted as well as the easy navigation of captured images is really hesitant. With a memory card is not particularly fast, you can wait a second scrolling between images and the other.
The image quality is better. When viewed at 100% resolution, the pictures show a remarkable presence of noise and a detail also degraded values ​​ISO base, but in traditional dimensions (presentation on monitor or small prints) images are significant for exposure and color values, while showing in some cases a saturation too pronounced. Even movies are discrete, perhaps even more satisfying still images: the amount of detail is good. The fluidity of 60 fps is appreciated and even audio, usually very muted cameras " battleships ", is quite clear.
Conclusions
The Fujifilm FinePix XP80 is a decent camera waterproof and shockproof. It is a reasonable offer for anyone looking for such a tool to take along on vacation or for their diving cameras. Obviously, the fund's performance does not compare with that of the best compact generic of the same price range, so the advice, as always, is to turn to such an instrument only if it really needs its peculiarities.
Where to Buy Fujifilm FinePix XP80
---

---

---
Fujifilm FinePix XP80 Waterproof Digital Camera with 2.7-Inch LCD (Blue)
4 Way Proof - Waterproof 50 ft / 15m, Freeze proof 14 Degree F / -10 DegreeC,...
16.2 megapixel backlit CMOS sensor delivershigh-quality images in low light.
Continuous shooting mode is capable of capturing up to 10.0fps (maximumrecording...
Full HD Movies with one-touch movie button.
Connect to your smartphone or tablet for extra enjoyment for Remote Shooting and...
PROS : Water proof up to 15m and shockproof, Good 1080p video at 60fps, Wi-Fi integrated.
CONS :
Improved screen, Slow operations, A lot of noise in low light..[/notification]
Product prices and availability are subject to change. Any price and availablility information displayed on Amazon at the time of purchase will apply to the purchase of any products.