Tablets
Microsoft Surface Pro: Review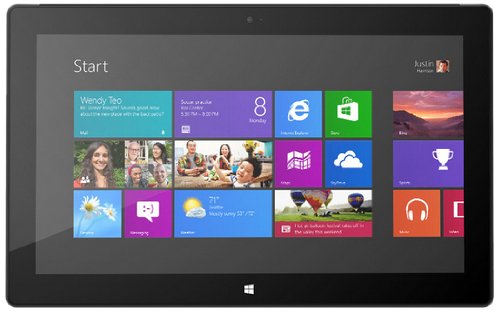 Microsoft Surface Pro is a hybrid Ultrabook features a unique form factor for a laptop based on Windows 8 – 64bit and a great screen. 
Giving a specific location to a product by its nature ambiguous as the Microsoft Surface Pro is not simple. What initially has all the appearance of a tablet is an Ultrabook, but without a keyboard. If you are confused, it is normal, as is the fact that the project has collected Microsoft conflicting opinions just for this reason.
With the Surface, Microsoft declined what is your vision of the future laptop, ideal for exploiting the full potential of Windows 8 and its live tile, using both the office and the comfort of sitting in an armchair. The first attempt came out on the market was the Surface RT that did not convince everyone because of a hardware profile as it was at least limited its operating system, but we liked it.
The Microsoft Surface Pro seems to do things in order. In addition to Windows 8 64-bit, rests on a hardware profile of a good standard, on par with many mid-range Ultrabook: Intel Core i5-3317U 1.7GHz, integrated graphics card Intel HD Graphics 4000, 4 GB of RAM and 64 GB or 128 GB of storage space. Compared to RT, then, leaves the Nvidia Tegra 3 processors and doubles the RAM and also switch to a higher-resolution  screen (1,920 × 1,080 pixels), one USB 3.0, and adds a mini-DisplayPort and a Wacom pen.
Microsoft Surface Pro: Design and Quality of the Components
The Surface Pro is very similar to the Surface RT because it is made with the same design and the same surface (called VaporMG), but you just have to study it carefully to become aware of some differences: it is thicker than 4 mm (13.5 mm in total), weighs 227 g in most of his younger brothers (with its 907 g) and includes a retractable rear support, which keeps it tilted at an angle ideal when placed on a flat surface, making it effective even in the womb. When using as a tablet, the weight is well balanced, so the grip is comfortable in your hand, but only for short periods, given the considerable weight.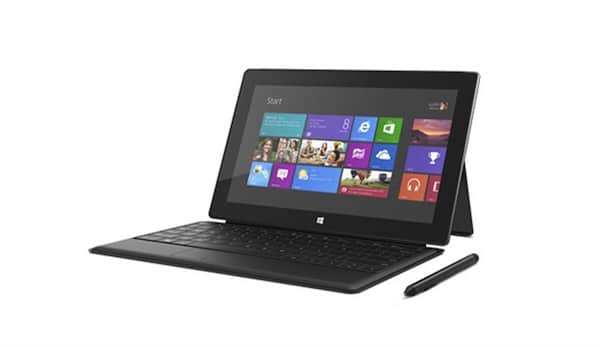 The build quality is, overall, excellent. The Surface Pro is solid, sturdy, stylish and also minimalist, given him even the small number of buttons and ports on top (Landscape mode) we find the power button on / stand-by mode and the mono speaker (the sound that plays is clear but not particularly rich while the volume is high), on the right slot for microSD cards, the magnetic grip for the charger and the mini display, left audio jack of 3.5 mm, the volume rocker and the power USB 3.0 while below, the only magnetic detent for the keyboard.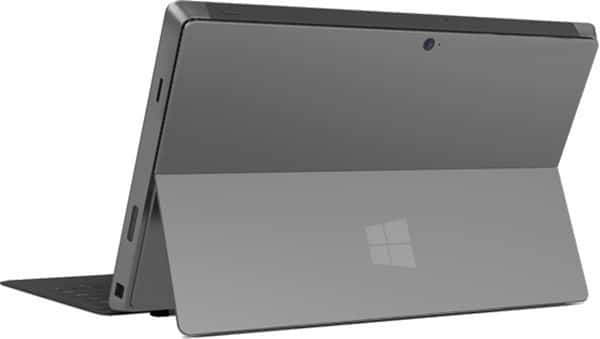 The back has an HD webcam (720p), which can also act as a camera (1.2 megapixel), although with very convincing results, and a microphone. A second webcam of the same resolution but wide angle – making it ideal for video chat with Skype – it's located on the opposite side. Of course,  there is the display on the front, an excellent panel 10.6-inch Full HD (1,920 × 1,080 pixels) characterized by a very dark black point and can play colors, black and contrast levels almost perfect, with a viewing angle of the same level.
The ideal, in short, to enjoy movies and photos, but also very comfortable for reading documents and Web sites also responding to touch input (such as hand with the stylus) is excellent and is reflections content is high brightness it can be used also in the light of the sun. The user experience is so good, with all the strengths and weaknesses of Windows 8 now well known.
Microsoft Surface Pro: Performance
It is only when we come to evaluate the performance that dissolved any lingering doubts about its nature: the Surface Pro is essentially, an Ultrabook in the body of a tablet. Thanks to its hardware profile, the Pro is very fast and does not have any problem in performing all operations typically required in a notebook, by using Office Web browsing, while watching a movie in high resolution to encode a video or photo editing.
It's the only limit, among other things common to most of the Ultrabook, is not to  shine in the gaming field, where the integrated graphics chip Intel HD 4000 fails to support the workload required by the most demanding games.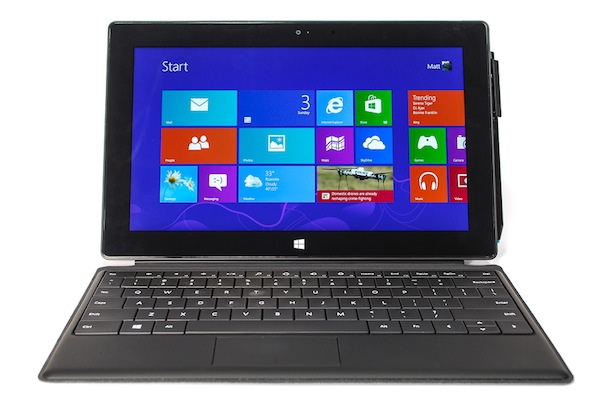 The adoption of an SSD further enhances performance, particularly for the loading of the app and file storage, and even start-up time and recovery are extremely short. A pity that the unit represents a storage space limit: you choose the 64GB model or 128 GB.
You  must keep in mind that the Surface Pro features the full version of Windows 8, which in turn includes the usual partition to restore, not to mention the different software and app pre-installed, including the bulky Office. This means that much of the space is already occupied (can be used, respectively, 29 GB and 89 GB of total) and will therefore be vital for the use of USB sticks and memory cards.
What less convincing of all, though, is the battery. It's a shame that Microsoft has not been able to do something better, but probably an accomplice of the available space. The  selected unit is fully able to meet the needs of an Ultrabook in terms of autonomy: with an average use, between a start of some applications, surfing the Internet via Wi-Fi, sending email, listening to music, connecting USB peripherals and average brightness level of the display, you barely exceed four hours; renouncing something.
We were able to push up to eight hours of work, while for watching a movie, we are down to just over 2 hours. Better to carry always carry the charger, which, fortunately, is quite pocket and also integrates a USB port with charging function, it takes about two hours for a full charge while in 30 minutes, you get about an hour of autonomy.
Conclusion
We have already pointed out that the Microsoft Surface Pro is and what is not, and should therefore be evaluated as such: it is a hybrid Ultrabook almost unique in its kind. Unless a hybrid is not exactly what you're looking for, do not believe a purchase to do at all costs. The Microsoft Surface Pro represents the best of both worlds.
It is not even the worst, mind you, but I do not believe nor Ultrabook particularly interesting, as it is crippled by the duration of its battery, or the ideal substitute of a tablet, given its considerable weight. Also offers a capacity not worthy, has only one USB port and has a very high cost: taken for granted that we can not do without the 128 GB version and keyboard (we would choose the version with physical buttons ), Just to get an idea, for the same money you can get a much more powerful Ultrabook or tablet top of the range along with a mid-range notebook.
Where to Buy Microsoft Surface Pro
---

---

---
78%
PROS : Screen very nice, original design, Windows 8 and 64bit Intel Core i5 enclosed in the form of a tablet, Wacom pen.
CONS :
Overweight use as a tablet, Battery life is insufficient, Noise and heat sometimes annoying, The absence of a suitable accommodation for the pen.
Product prices and availability are subject to change. Any price and availablility information displayed on Amazon at the time of purchase will apply to the purchase of any products.