Phones
Nokia Lumia 920: Review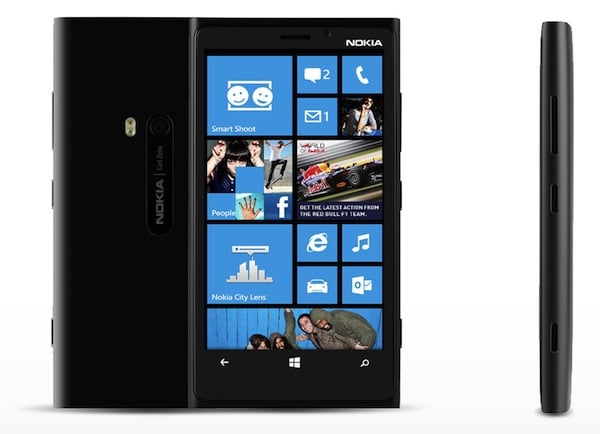 The Nokia Lumia 920 is a powerful smart phone that focuses on the photographic department, thanks to technology PureView Nokia and the 8.7 mega pixel camera with Carl Zeiss optics, image stabilizer and video clip's Full HD.
It also has dual-core 1.5 Ghz, Windows Phone 8, 1 GB RAM, 4.5-inch touch screen display with a resolution of 1,280 x 720 pixels and Corning Gorilla glass, internal memory of 32 GB, front camera 1.2 mega pixel camera, Wi-Fi connectivity and NFC, LTE band support, Bluetooth, GPS with advanced features and several innovative features such as Nokia City Lens and battery charging wireless.
Nokia Lumia 920: Design
The Nokia Lumia 920 smart phone is a beautifully designed, with Unibody and available in colors black, cyan and white. It has a 4.5-inch capacitive touch screen display with a resolution of 1,280×768 pixels and can display 16 million colors. As for size, measuring 130.3 mm in height, 70.8 mm in width and 10.7 mm in thickness. The weight is 185 grams.
Nokia Lumia 920: Features and Functionality
Nokia unveiled its flagship, the smart phone top of the line, the one that shows in the best of technology that this producer can offer. This is the Nokia Lumia 920, the successor of the Nokia Lumia 900, against which presents more or less the same design, but it offers significant improvements in terms of technical specifications, applications, features and technology.
Starting from the description of the technical specifications, the Lumia 920 is a smart phone that supports GSM frequencies, and the new band UMTS LTE, therefore, can ensure good reception all over the world and a top speed of navigation features. As regards the latter, has Internet Explorer Web browser and Wi-Fi connectivity, browsing for free by connecting to a hotspot nearby.
For the transfer of data over the Internet, the Nokia Lumia 920 is focusing on HSDPA, HSUPA, GPRS and EDGE. Finally, the data synchronization with those of other devices, you can use the USB port or Bluetooth wireless technology. The smart phone is based, ultimately, on a dual-core 1.5 Ghz, on the latest operating system, Windows Phone 8 and a 1 GB RAM. When the time comes to talk about the strengths of this phone, you have absolutely beginning with the photographic department.
This model has the award-winning technology PureView, which ensures an excellent quality in terms of pictures and video clips. Speaking of numbers, the mounted camera has a resolution of 8.7 mega pixels, with Zarl Zeiss optics, and allows you to take photos with a maximum resolution of 3,552 x 2,448 pixels.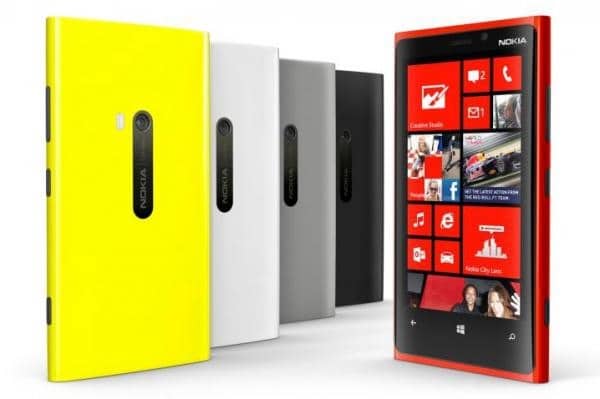 The camera of the Nokia Lumia 920 also has other features such as LED flash, geotagging, the optical image stabilizer and, of course, the possibility of making movies in Full HD video, so with resolution 1,920×1080 pixels. Then do not miss the front camera, with which you can make video calls. Definitely interesting design, thanks to the high quality of the materials with which it was built.
Remarkable then the touch screen display with high resolution and equipped with technology Puremotoion HD, of Corning Gorilla glass, which makes it resistant to scratches, and various sensors, such as accelerometer, ambient light sensor and the proximity.
Another striking feature of the Nokia Lumia 920 is undoubtedly the operating system, Windows Phone 8, which presents, like his predecessor, a home screen with the well-known live tiles, which are constantly updated and can be moved and customized to your liking.
Along with the Windows operating system are also preloaded apps from the classical computer, such as the Office suite in the mobile version, which allows you to receive, edit, and create documents in popular formats, or the web browser Internet Explorer, which ensures browsing experience very similar with the one that can be had from a normal computer.
As for the music department, the Nokia Lumia 920 is equipped with a media player who supports audio and video files in many formats, and a stereo FM radio with RDS. Do not miss the audio jack of 3.5 mm, through which you can use your favorite headphones, even if it is already included in the package sale a pair of in-ear type earphones very efficient.
I do not even miss the GPS and NFC. Finally, this smart phone includes an internal memory of 32 GB, unfortunately not expandable, and a rechargeable lithium-ion battery 200 mAh capable of providing a maximum range of 460 hours of standby time or 18.6 hours talk time. The package purchase, finally, includes charger, stereo headset, the Nokia connectivity cable, user's manual, a special pillow to charge your phone wirelessly and a staple for the extraction of miniSIM.
Conclusion
The Nokia Lumia 920 is a model obviously peak, which then presents the best that Nokia has been able to produce so far. The technology PureView undoubtedly gives it that little bit more, with a photo quality really high level. Definitely interesting support for LTE band, recently introduced, and the mode of wireless charging. The screen is definitely worth a note. For the rest, it has all high-level functions, worthy of a marathon like that. Note again the high autonomy.
Where to Buy Nokia Lumia 920
---

---

---
PROS : Wireless Charging the battery; Carl Zeiss lenses; LTE band support; Display with Corning Gorilla Glass, Nokia City Lens; Quality materials; PureView Technology; Autonomy, GPS with advanced functionality, Wi-Fi and NFC, the new operating system.
CONS :
Weight; Cover can not be opened; Memory not expandable.
Product prices and availability are subject to change. Any price and availablility information displayed on Amazon at the time of purchase will apply to the purchase of any products.