Phones
Samsung GT-S7500 Galaxy Ace Plus: Review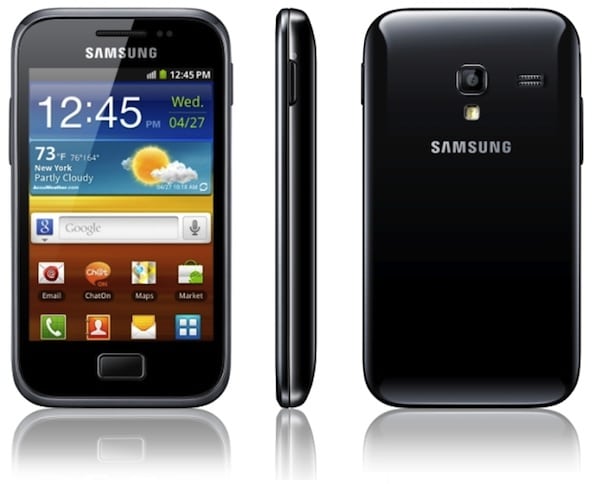 The Samsung GT-S7500 Galaxy Ace Plus is a mid-range smart phone based on Android 2.3 operating system and a 1 GHz processor. As for other features, has a 3.65-inch capacitive touch screen display with a resolution of 320×480 pixels, support for UMTS and HSDPA, Wi-Fi connectivity, Bluetooth, 5 mega pixel camera with optical zoom, LED flash and video clips, integrated GPS, media player, radio, accelerometer, proximity sensor, google applications and 4 GB internal memory, expandable with microSD cards up to 32 GB.
Samsung GT-S7500 Galaxy Ace Plus: Design
Compact and stylish, the Samsung GT-S7500 Galaxy Ace Plus is a smart phone dedicated especially to suit young but able to attract the attention of all ages, with its eye-catching design. The front is occupied by a 3.65-inch capacitive touch screen display with a resolution of 480×320 pixels and can display 262 thousand colors. The dimensions is 114.7 mm in height, 62.5 mm in width and 11.2 mm in thickness, for a weight of 115 grams.
Samsung GT-S7500 Galaxy Ace Plus: Features and Functionality
The Samsung GT-S7500 Galaxy Ace Plus is a smart phone launched by the manufacturer in January and belonging to the now well-known Galaxy family, which includes many products today. Compared to the model from which it derives, the Samsung Galaxy Ace S5830, no big news from the aesthetic point of view and also as regards the specification provides only small improvements.
Starting from those who are the technical data, the Galaxy Ace Plus is a smart phone that can exploit both the GSM and UMTS Triband to ensure excellent network coverage. For surfing the Internet, there are Google's browser and Wi-Fi connectivity, allowing you to surf for free using a hot spot this in your area.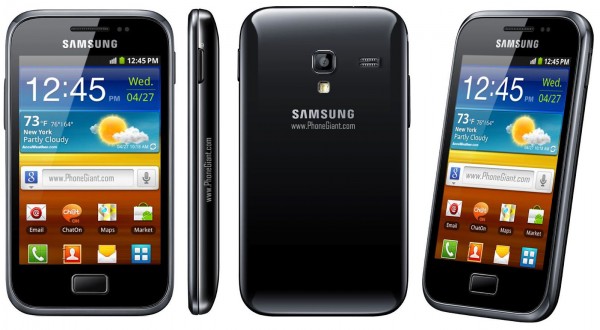 As for speed of data transfer on the Internet, the Samsung GT-S7500 Galaxy Ace Plus has the HSDPA technology, which ensures a maximum speed of 7.2 mbps. For data synchronization with other devices, are the USB port and Bluetooth technology. The smart phone is based ultimately on the Android operating system in version 2.3 and a 1 GHz processor, thus providing small but nice improvements over the previous model.
The design remains one of the strengths of even this new version of the Galaxy Ace, thanks mainly to the modern and attractive, with rounded edges and a touch screen display big enough and with enough resolution to make it easy browsing and reading of web pages, There are, of course, various sensors such as the accelerometer and that of brightness.
With regard to the various features of the Samsung GT-S7500 Galaxy Ace Plus, starting from the multimedia sector is worth mentioning the built-in camera with 5 mega pixel resolution, thanks to which you can take pictures with a maximum resolution of 2,560×1,920 pixels and create video clips, also if not in HD. The camera is also equipped with up to 5x digital zoom, flash, auto focus, and various photo effects.
Absent the secondary camera. It is not missing the chance to listen to their favorite music at any time, thanks to the media player and FM radio. Among other things, with the 3.5 mm connector you can use all kinds of standard headphones. Being smart young, cannot also be an access to social networks. To complete the picture we think of functions built-in GPS and various proprietary applications.
As regards, finally, saving photos, videos and other files, the Samsung GT-S7500 Galaxy Ace Plus is equipped with an excellent memory, a 4 GB, further expandable with microSD cards or up to 32 GB. As for autonomy, the smart phone is equipped with a lithium-ion battery 1300 mAh.
Conclusion
The Samsung Galaxy Ace Plus S7500 is a smart phone with good quality and affordable price. The strengths are the large internal memory, a camera with very good resolution, even if there are no HD movies, and a design that can attract attention. The other functions are not much different from the average and still allow you to surf the Internet at high speed and free as well as play movies and audio tracks.
PROS : LED Flash.
CONS :
No HD movies, No front camera.