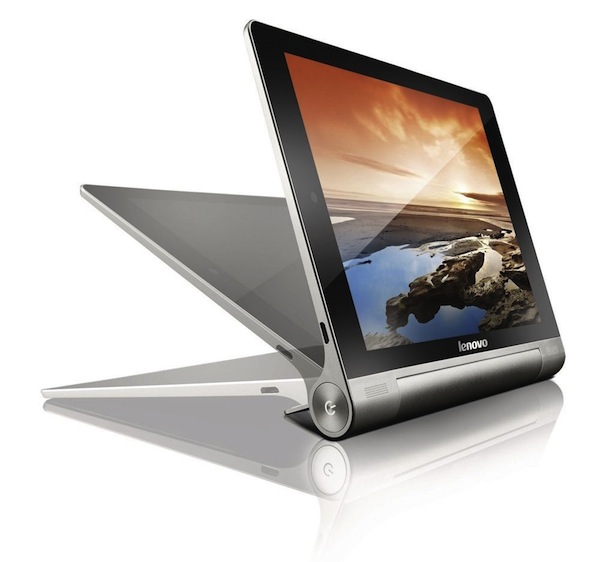 The Lenovo Yoga 10 is a slim and stylish tablet that affects the quality of the construction materials and the unusual design, with a cylinder at the base, which ensures a good grip on the device, and a stand removable, to take the tablet different positions. Specifications and features include 10.1-inch HD touchscreen display with IPS panel, quad-core processor 1.2 Ghz, Android OS 4.2, Wi-Fi connectivity, Bluetooth, 3G HSPA connectivity, Dolby audio, rear camera 5 megapixel camera, 1.6-megapixel front camera, 16GB of internal memory, expandable with microSD up to 64 GB and maximum range of less than 18 hours. Available optional Bluetooth's keyboard for use with a notebook.
Lenovo Yoga 10: Design
The Lenovo Yoga 10 is a modern tablet, compact, designed in a very elegant and refined, with a polycarbonate shell and aluminum and laser engraved. The front is occupied by a 10.1-inch capacitive touchscreen display, with a resolution of 1280×800 pixels, 10-point multitouch technology and IPS panel. Below is a cylinder evident that improves grip when holding the tablet with one hand and includes a powerful battery and an auction can extract to lay the tablet on a desk or table. The overall dimensions are compact, obviously apart from the cylinder and the weight is 605 grams.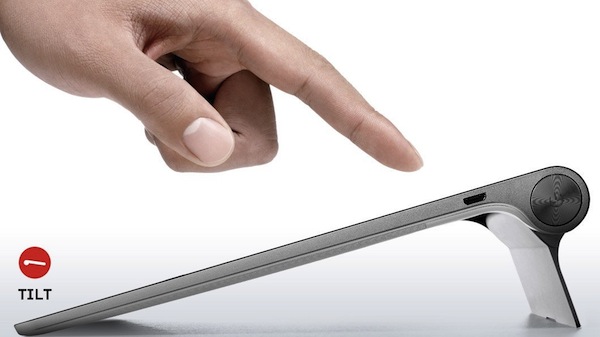 Lenovo Yoga 10: Features and Functionality
The Lenovo Yoga 10 is a very unique tablet design presented by the manufacturer in the month of November last year, along with the Lenovo Yoga 8, the smaller display. Its main characteristic is that its unusual shape, with a cylinder at the base and a stand removable, thanks to which it is possible to use the device in different positions, as will be better seen below.
For the moment, it is worth starting taking a look at the technical specifications, which include the quad-core processor MediaTek MT815 1.2 Ghz, RAM memory up to 1 GB, internal memory up to 16 GB, expandable via microSD cards up to 64 GB, and the Android operating system in version 4.2 Jelly Bean. There are, then, the Wi-Fi connectivity to browse for free on the Internet by connecting to a hotspot, and Bluetooth's technology, which allows you to connect your tablet instead to other devices and exchange data.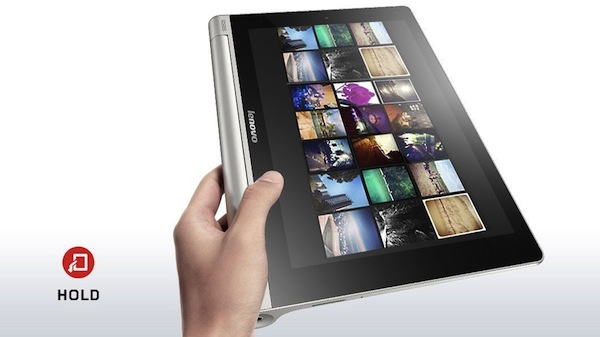 Coming back to the initial, the Lenovo Yoga 10 differs from all other models of tablet into circulation only for its design. First, it is to underline the construction quality and elegance, thanks to a polycarbonate shell and aluminum and laser-etched, which protects your tablet from scratches and facilitates the grip, and the chrome finish which gives it a very sophisticated look.
The real news is in the cylinder at the base of the tablet that allows you to hold the device with one hand in a truly ergonomic, having perfect control of all functions. But that's not all, rotating the cylinder, it is possible to extract an auction that allows you to adjust the tablet in different positions depending on the use you want to make.
For example, placing the tablet on a table tilted mode, you have the perfect angle for working, writing or playing, while the standby mode is ideal for watching videos and make video calls. Finally, the cylinder includes in its interior a large battery and durable, able to ensure a maximum range of less than 18 hours.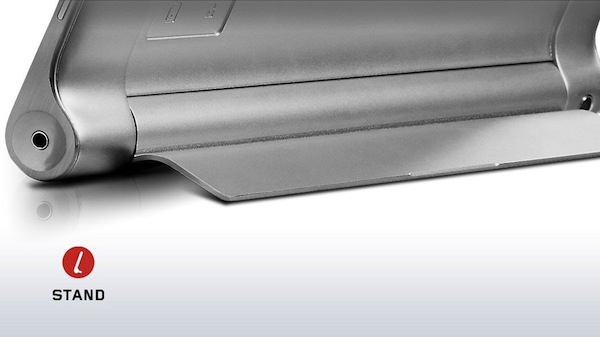 As for the rest of the features, the Lenovo Yoga 10 is also equipped with a rear camera with a resolution of 5 megapixels with autofocus and a front camera of 1.6 megapixels. There are, finally, microUSB port, 3.5mm audio jack, built-in GPS, built-in microphone with noise attenuation technology of the DS1 Dolby sound system that ensures a high-quality audio. Also interesting is the presence of the optional 3G module. The manufacturer has put on the market as a handy carrying case with Bluetooth's keyboard to make it even easier to use the tablet.
Conclusion
The Lenovo Yoga 10 is a tablet that has features and capabilities of the average level that is particularly notable for its design. The shell is made with quality materials. It is elegant and refined and laser engraved. The prominent element is this famous cylinder, which not only contains an internal battery 18 hours of autonomy but, once rotated, allows to extract a medium to be used for placing the tablet on a table, in different positions, without having to purchase and use of accessories.
Where to Buy Lenovo Yoga 10 Tablet
---

---
Lenovo Yoga Multimode 10-inch Tablet
Epic 18-hour battery life
Multiple usage modes: Hold, Tilt, and Stand
Android 4.2 Jelly Bean, 10.1-inch Display
MediaTek MT8389 Quad Core Processor (1.2GHz)
16 GB Flash Memory, 1 GB RAM Memory
PROS : Construction materials, Quad-core processor, Optional 3G module, GPS, High autonomy, Internal support to support the tablet.
CONS :
RAM is not very high, Quality front camera, No NFC module, No HDMI port.
Product prices and availability are subject to change. Any price and availablility information displayed on Amazon at the time of purchase will apply to the purchase of any products.